East Bengal came back from behind and scored twice in the extra time to beat Dempo 3-2 for their eighth Federation Cup triumph at the floodlit Kanchenjunga Stadium in Siliguri on Sunday night.
It was a sweet birthday gift to their Englishman coach Trevor Morgan who turned 56 today as his wards defied all odds scoring through Arnab Mondal (60th), Manandeep Singh (100th) and Edeh Chidi (109th) for a stunning win under slippery ground condition in a rain-hit summit clash.
Climax Lawrence gave Dempo the early advantage with a 51st minute strike and the Goan heavyweights remained in the hunt in the second-half of the extra time by reducing the margin through Mahesh Gawli in the 112th.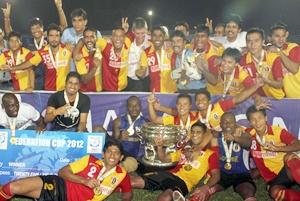 Despite their desperate attempts, Dempo could not get on the equaliser to hand East Bengal the title in their fourth consecutive final appearance.
Handicapped by the absence of the suspended duo of Uga Okpara and Gurwinder Singh, Gaikwad and Mondal took charge of the central defense and did it reasonably well for a goalless first 45 minutes.
But the I-League winners Dempo bounced back after the break with a Lawrence strike after the change over with a well co-ordinated effort.
A slight lapse in East Bengal defence and Dempo were quick to pounce on when Lawrence had a powerful right footer that ricocheted off a defender to find the back of the net.
But there was no let off from the East Bengal who kept on counter-attacking, resulting in a corner and the equaliser.
Nine minutes after conceding the goal, it was youngster Mondal who rose to the occasion with a neat header beyond Dempo goalkeeper Subhasish Roy Chowdhury's reach.
Mondal took the header from a back header of Harmonjot Khabra from a Mehtab Hossain corner for the equaliser that brought the roaring supporters back on their feet.
With 10 minutes left for the regulation time, Armando Colaco bolstered his side's forward line, bringing in their second foreigner Ryuji Sueoka in place of midfielder Clifford Miranda but without any change to the script as both teams headed to the extra time with 1-1 stalemate.
In the extra time, Singh followed a Lalrindika Ralte strike to find the goal for East Bengal's stunning turnaround.
In a rare lapse, Dempo custodian Subhasish failed to gather the ball as an alert Singh followed it up nicely to give East Bengal the lead.
Chidi then scored from a counter attack, putting it past the Dempo goalkeeper in a solitary effort to give East Bengal a 3-1 lead and almost settle the issue.
But Dempo showed tremendous fighting spirit when Gawli scored from a free kick with a brilliant header to beat East Bengal goalkeeper Abhijit Mondal.
Dempo almost got an equaliser in the closing minutes of the extra time but Cresson Antao failed to reach the ball as East Bengal held on for a superb win.