Zico has been promised the backing of the Brazilian Football Confederation (CBF) for his bid to run for the FIFA presidency if he can show he has the support of four other federations.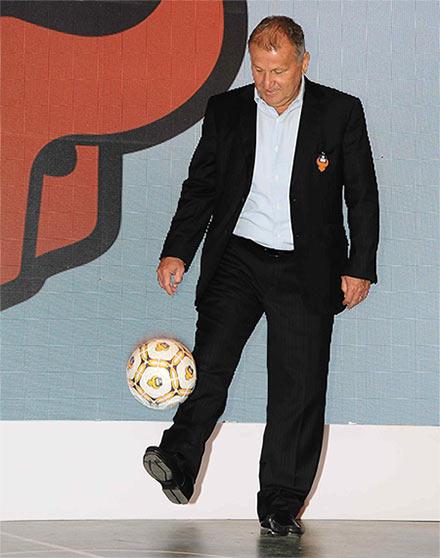 The former Brazil international visited the CBF headquarters in Rio de Janeiro and met president Marco Polo del Nero on Thursday in an attempt to get his candidacy off the ground.
"Zico has our support to look into a candidacy. If he can get the other four signatures, the CBF will endorse his request," Del Nero said in a statement published by the CBF.
Del Nero added that he had been in touch with Juan Angel Napout, president of the South American Football Confederation (Conmebol).
"I told Napout that we have an illustrious Brazilian with the intention of running for the FIFA presidency," he said.
Zico said he was happy with the response, even though it was conditional and appeared lukewarm.
"As a Brazilian I couldn't start this without hearing from my own confederation," he said.
"Having got their support it gives us motivation to go ahead. It's one step at a time and the first step was taken and it was a good one."
Candidates to replace outgoing FIFA president Sepp Blatter must have the backing of five national associations.
They have to formally register their bids by Oct. 26, four months before the election which will take place at an extraordinary Congress in Zurich on February 26.
FURTHER SUPPORT
Zico, who played for Brazil in three World Cups, has coached in Japan, India, Qatar, Uzbekistan, Greece, Turkey and Iraq. He said in a television interview on Tuesday that he was hoping to get further support from some of those countries.
UEFA president Michel Platini and South Korean Chung Mong-Joon said this week that they intend to stand in the election. Liberian FA president Musa Bility has also said he will stand.
Del Nero is a member of FIFA's executive committee but missed the last meeting on July 20, saying he needed to tackle domestic issues.
He also missed the FIFA Congress in May in Zurich, having left Switzerland shortly after his predecessor Jose Maria Marin was among seven people arrested at their hotel having been indicted on corruption charges in the United States.
Del Nero has repeatedly denied any involvement in the bribery schemes laid out in the US indictments.
Marin and five others are still detained while Swiss authorities consider a request from the United States for their extradition.
The seventh, former FIFA vice president Jeffrey Webb, has already been extradited, pleaded not guilty in a US federal court and been bailed on a $10 million bond.
Image: Brazil great and FC Goa coach Zico at a promotional event.
Photograph: PTI