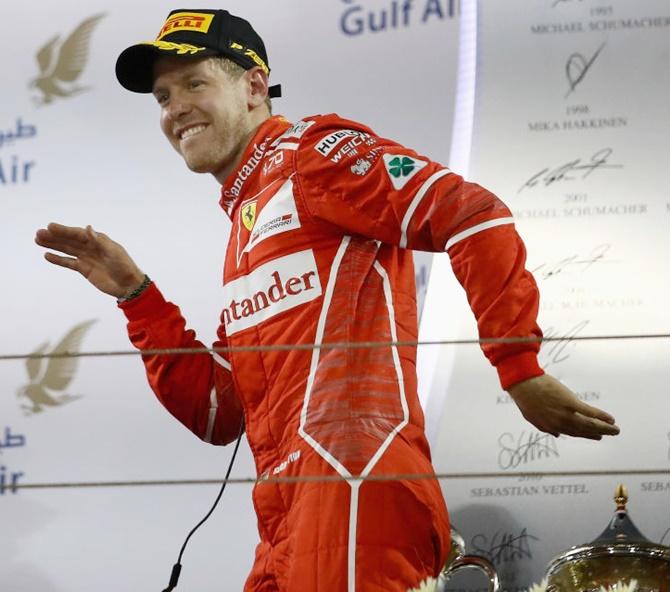 IMAGE: Ferrari's Sebastian Vettel celebrates . Photograph: Clive Mason/Getty Images
Ferrari's Sebastian Vettel won the Bahrain Grand Prix to go seven points clear at the top of the Formula One standings on Sunday, with Mercedes rival Lewis Hamilton staging a late charge to finish second after picking up a time penalty.
Hamilton's Finnish team mate Valtteri Bottas started on pole position for the first time in his career and ended up third.
The victory was Vettel's second of the season after the four-times world champion won the opener in Australia. Hamilton, who won in China last weekend, crossed the floodlit finish line 6.6 seconds behind.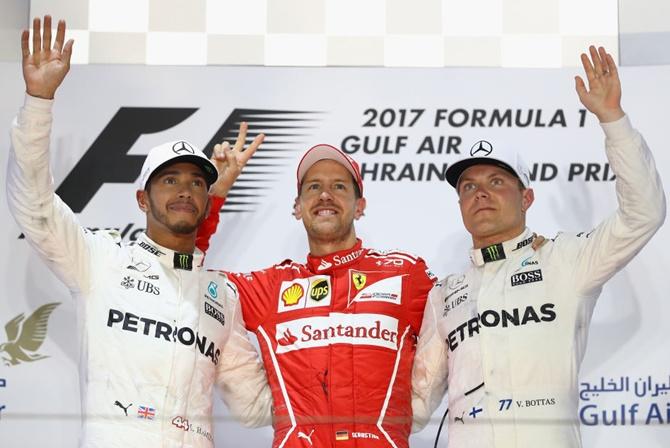 IMAGE: Top three finishers Sebastian Vettel of Germany and Ferrari, Lewis Hamilton of Great Britain and Mercedes GP and Valtteri Bottas of Finland and Mercedes GP on the podium during the Bahrain Formula One Grand Prix . Photograph: Clive Mason/Getty Images
Vettel's 44th win lifted him to 68 points, with Hamilton second on 61.
"Yes guys, that's what I'm talking about," whooped the German, who was helped by the safety car being deployed after his first pitstop with the Mercedes duo still out, as he took the chequered flag.
"It was a really great day. It was on the last half of the out lap when all the fireworks were going off that I was like 'I love what I do'," he said.
Hamilton's race was further compromised by a five-second penalty for driving unnecessarily slowly at the pit lane entry when he did come in, a deliberate move to create a gap with Bottas ahead in the queue.
The Briton served the penalty at his second stop, frustration evident from his shaking helmet, before charging back and taking more than one second a lap out of Vettel's advantage before running out of time.
"The pitlane was really my fault... I tried really hard to catch up but there was a long way to go," said the Briton, who thanked Bottas for his gentlemanly conduct in letting him through twice.
Mercedes team boss Toto Wolff said Bottas's hopes had been hit even before the lights went out on the grid when a problem with a generator left the Finn starting with the wrong tyre pressures.
"From then on we were on the back foot," he said.
Bottas kept the lead for the opening laps, with Vettel getting ahead of Hamilton into the first corner for second and then taking over after the pitstops.
"It was a great team effort today and I felt like we are quick. I tried to put Valtteri under pressure. But the early pit stop worked," said Vettel.
"Lewis obviously was a very big threat again towards the end... but the car was a dream today."
Ferrari's Kimi Raikkonen finished fourth with Australian Daniel Ricciardo fifth for Red Bull and Brazilian Felipe Massa sixth for Williams on the 75th birthday of team founder Frank Williams.
Mexican Sergio Perez finished seventh for Force India, his 13th successive points finish, with Frenchman Romain Grosjean eighth for Haas.
Germany's Nico Hulkenberg was ninth for Renault, that team's first points of the year, and French rookie Esteban Ocon bagged the final point for Force India.
McLaren's nightmare continued with Belgian Stoffel Vandoorne failing to start and Fernando Alonso retiring on the final laps but classified 14th.