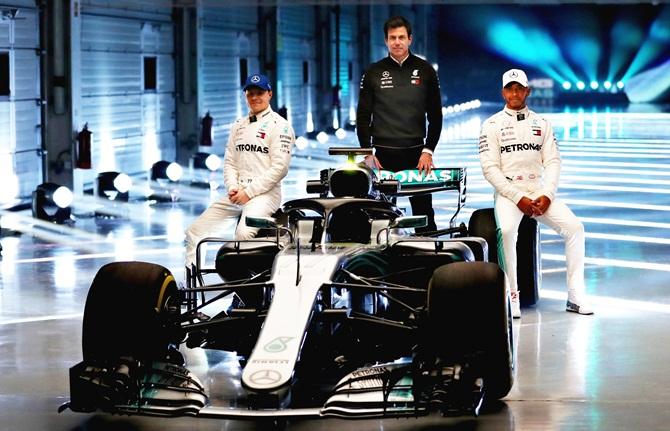 IMAGE: (Left to right) Mercedes GP's Finnish driver Valtteri Bottas, Mercedes GP's Executive Director Toto Wolff and Mercedes GP's British driver Lewis Hamilton pose during the launch of the Mercedes W09 car, at Silverstone Circuit in Northampton, England, on Thursday. Photograph: Mark Thompson/Getty Images
Lewis Hamilton expects his Formula One rivalry with Sebastian Vettel to become even more intense this season and says he is prepared for anything the Ferrari driver throws at him.
The battle between the two four-times world champions promises to be the storyline of the season starting in Australia on March 25.
Hamilton came out on top last year, a season that started out in mutual respect before tipping into 'road rage' and recrimination when they collided and banged wheels in Azerbaijan.
"You would have to expect that it could be worse," Hamilton told reporters when asked, at the launch of his Mercedes team's new F1 W09 car at Silverstone on Thursday, about the tension between the two.
"Always expect the worst and hopefully it will be better."
The Briton said the campaign was likely to be closer than ever but he would also be even better.
"Hopefully if I am performing at my best, then there will be issues -- because they (Ferrari) will be upset about it," he added.
Asked about potential 'mind games', Hamilton smiled.
"Honestly, I don't play mind games," he said. "I just drive faster."
The Briton spoke of his hunger, even if he still has some weight to lose before the first race, and commitment as well as the joys of his longest break in a decade.
Since November, the 33-year-old has been surfing in California and snowboarding in Japan as well as hanging out with friends and family on both sides of the Atlantic.
He enthused about the time spent chasing waves with 11-times world surf league champion Kelly Slater, an experience that was also painful.
"I go for the biggest waves and I get barrelled over," he grinned.
Hamilton has also kept a lower profile on social media, wiping his Twitter and Instagram accounts in late December after attracting criticism for comments about his young nephew wearing a pink dress.
He said the "clean slate" was planned and he would aim to strike a balance in future.
"I have been very open with my life for several years and it is always difficult to make a change because I have always been open," he added.
"But we are in a strange time in the world where things are magnified a lot more than they were in previous years. It is a critical time for the world.
"Social media is still the gateway to connect to fans, so it will be a part of my life. As to how deep I will go, we will see."
Mercedes and Hamilton hope to start season with new deal done
Four time Formula One world champion Lewis Hamilton and Mercedes hope to have a new long-term deal wrapped up before the season starts in Australia next month, both parties said on Thursday.
Speaking at the launch of the champions' new W09 car at a damp and cold Silverstone circuit, Hamilton indicated the signing could come in a matter of weeks.
"Hopefully we'll have something done before the beginning of the season, before the start of the first race," the 33-year-old Briton, whose current contract expires at the end of the year, told reporters.
"But again, we're just in no rush. There's no reason to rush anything, there's no panic.
"I'm not feeling under any pressure of any other drivers being there and (team boss) Toto (Wolff) and Mercedes have no reason to feel that I'm talking to anybody else."
Wolff told reporters separately that he had spoken to Hamilton regularly by phone and through messaging and hoped to have the deal done within "a few weeks" and "the sooner the better".
"He (Hamilton) has been with the team six years so we are talking about extending that to a very long time with the same driver in the same team," said the Austrian.
The season starts in Australia on March 25.
Hamilton has been conducting his own negotiations with the team and said last November, after winning his fourth championship in Mexico, that he expected the talks to be straightforward.
He explained on Thursday that he had not been away over the winter and preferred to discuss the detail in person. But he said there was no doubt about his commitment and that of the team.
"In the whole six years that I've been here, I've not spoken to another team once," he said.
"I know the team have been contacted by other drivers in the past, and probably still do today, and that's inevitable. But we always made it clear at the beginning if that I was to engage and look at my options, I would inform them.
"I've not needed to," he added.
Hamilton has won three of his titles with Mercedes, missing out narrowly to now-retired team mate Nico Rosberg in 2016.
He is now the most successful British driver of all time and favourite to become only the third five times champion after seven times title holder Michael Schumacher and the late Argentine Juan Manuel Fangio.