Disgraced cyclist Lance Armstrong is not telling the truth by denying his representatives offered a six-figure cash donation to the U.S. Anti Doping Agency (USADA), the body's former chief executive Terry Madden said on Saturday.
In the second part of Oprah Winfrey's interview with Armstrong, broadcast on Friday, the Texan denied the charge made by current USADA chief Travis Tygart that one of his representatives offered around $250,000 to the agency.
But in an interview on Saturday with ESPN.com, Madden said he remembered the offer clearly.
"Travis's office was about a five second walk from mine. He informed me and we immediately rejected the idea," the former USADA CEO said.
"I told him to go back and call the representative and inform him that, based on our ethics, we could not accept a donation from anyone we were testing or would test in the future.
"We later informed our board of directors and they confirmed we had made the right decision."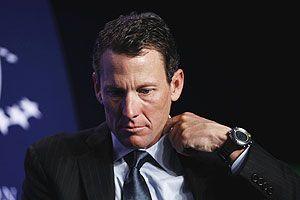 Madden, a lawyer, said he had no idea whether Armstrong personally knew of the representative's approach but said Armstrong's comment in Friday's interview was "another personal attack on Travis and USADA."
When asked directly in the interview with Winfrey about the Tygart's charge, Armstrong said, "No, that is not true."
Armstrong also said Tygart's claim was not included in the detailed dossier USADA presented last year on his doping activities.
"In the 1,000-page reasoned decision that they had issued, there was a lot of stuff in there, everything was in there, why wasn't that in there? Pretty big story. Oprah, it's not true."
Armstrong said he had checked and none of his associates had made the offer.
"Nobody, I had no knowledge of that but I asked around. Nobody, not true.
"I think the claim was $250,000, it was broad number but they narrowed it down. That's a lot of money. I would know," Armstrong said.
Photograph: Lucas Jackson/Reuters