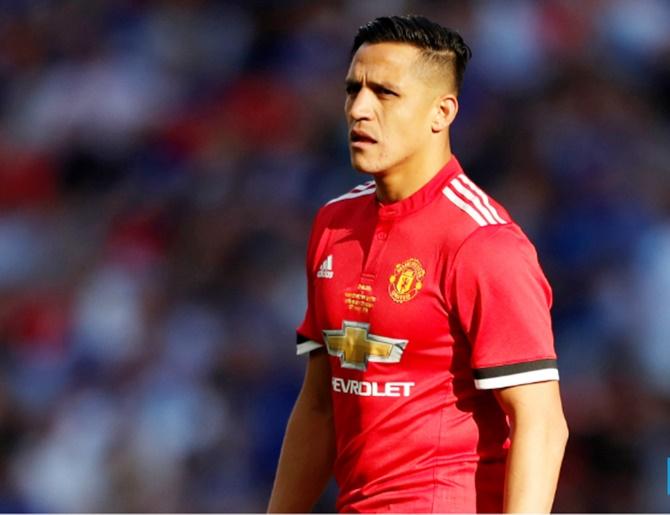 Manchester United's Alexis Sanchez is doubtful for Saturday's Premier League visit to Southampton after suffering a hamstring problem in training on Thursday, the club said on their website.
The injury to the Chile forward, who was left out of the squad for Tuesday's Champions League victory over Young Boys, "will require further investigation to confirm its severity", the club added.
Sanchez came off the bench in this month's league games against ManchesterCity and CrystalPalace but last started in the victory at Juventus in the Champions League on Nov. 7.
United are struggling in seventh place in the league with 21 points from 13 games ahead of the trip to St Mary's.
British media also reported on Thursday that United have exercised their option to extend goalkeeper David De Gea's contract for another year as talks continue on a long-term deal.
The Spain international's contract was due to finish at the end of the season, which would have allowed him to sign a pre-contract agreement with an overseas club from Jan. 1.
Manager Jose Mourinho on Tuesday hailed De Gea, 28, as the best keeper in the world after United clinched a place in the Champions League last 16 and said the Spaniard, whose superb save kept out the Swiss, wanted to remain at Old Trafford.
"...I know he wants to stay, I know his agent is happy to do what the player wants and I also know the board want him to stay and they are working on that so hopefully sooner or later they reach a conclusion," Mourinho told reporters.
Everton desperate to snap Anfield drought, says Coleman
Seamus Coleman says in-form Everton need to do their talking on the pitch on Sunday when they take on Liverpool looking for a first win in a Merseyside derby at Anfield this century.
Liverpool have dominated the derby at all venues in recent years with Everton winless in 17 matches in all competitions since a 2-0 Premier League victory in 2010.
On the other side of StanleyPark from their Goodison home, however, Everton supporters have not had a victory to celebrate since Kevin Campbell's goal gave them a 1-0 league win in September 1999.
"It was a long time ago, we need to look forward and we need to give the new players a bit of a taste of what it's like to win one of these games, and the fans as well," Coleman told Sky Sports.
"It's easy to come in here and say all the right things in an interview, I'm sure we have done over the last five or 10 years and not turned up on the day.
"We need to turn up on Sunday and do our talking on the pitch. This is a massive game for our city and we've been on the receiving end too many times."
Marco Silva's side will be boosted by their recent displays in the league, having held title contenders Chelsea to a 0-0 draw at StamfordBridge and ground out a 1-0 win against CardiffCity in their last two games.
Those results lifted Everton to sixth in the table with 22 points, 11 points behind second-placed Liverpool who are still unbeaten in the league.
Coleman said fans could expect the usual feisty encounter on Sunday.
"There'll be a few tackles going in this weekend but we're looking forward to playing our game," the right back added.
"The manager sets up to try to win the game, no matter who we've played this season, and that'll be no different I'm sure on Sunday."
Southampton's Hughes unfazed by sack speculation
Southampton boss Mark Hughes is unconcerned by the speculation surrounding his future at the Premier League club and believes his team are on the verge of turning a corner in terms of results, he said on Thursday.
Southampton head into Saturday's home game against Manchester United third-bottom in the table, having won only one league match all season and none at their St Mary's Stadium.
The victory came against CrystalPalace on Sept. 1 and they have had four draws and five defeats since, including a 3-2 loss to basement side Fulham last time out that ratcheted up the pressure on their Welsh manager.
The Times reported on Wednesday that the club's hierarchy have spoken to former Fiorentina boss Paulo Sousa about replacing Hughes, whose side face four of the current top five in the coming weeks.
"I'm not the only manager in charge of a football club which is down at the bottom and maybe is underachieving at the moment," Hughes told a news conference.
"I seem to be getting the brunt of the speculation, rightly or wrongly but I've been in the game a long time. It doesn't faze me... I think that's where experience comes in because it's water off a duck's back. I know how this game works.
"The reality is if people surmise a manager is under pressure almost every sports agent... will put forward clients and try and get in contact with the powers that be and say 'this is the right guy if you're thinking of making a change'."
Southampton are struggling for goals, with 10 in 13 league games, and Hughes's misery has been compounded by a hamstring injury to on-loan striker Danny Ings, who missed their last two games and will miss the United game.
With left back Ryan Bertrand out with a back problem, the manager will also have to rejig his back line against his former club.
"We're very, very close. We've said that now for a number of weeks and we still believe that," Hughes said. "The pressure will build until we get maximum points from Premier League games, but we're not very far away."