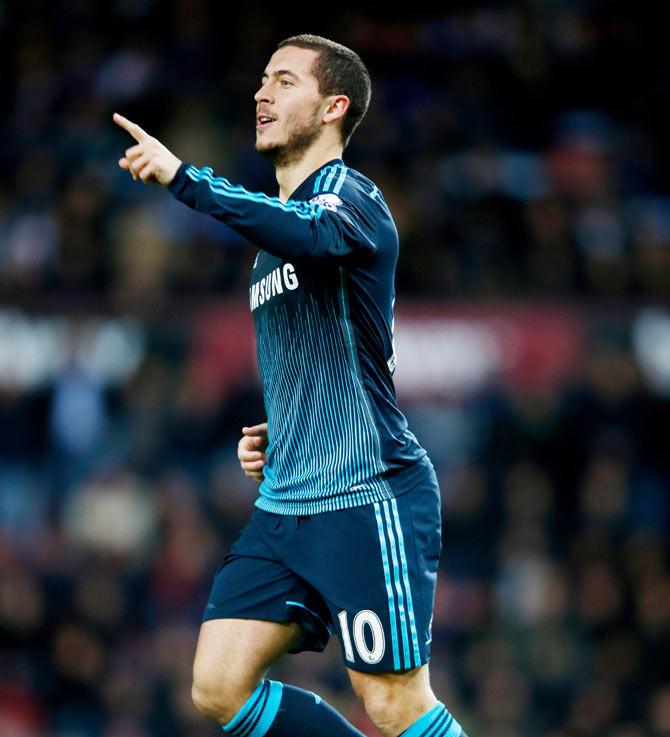 Chelsea's Eden Hazard. Photograph: Clive Rose/Getty Images
Chelsea's Belgium forward won Eden Hazard England's PFA player of the year award ahead of Tottenham Hotspur's Harry Kane and Manchester United goalkeeper David De Gea on Sunday.
England striker Kane, 21, was voted young player of the year at the Professional Footballers' Association awards dinner with Hazard, 24, second and Liverpool's Philippe Coutinho, 22, third.
"I'm very happy," Hazard said.
"One day I wanted to be the best and this is what I did this season, I played very well, Chelsea played very well. I don't know if I deserved to win but it's good for me," the Belgian added.
"It's better to be voted for by the players because they know everything about football," added Hazard, who has played in all of table-topping Chelsea's 33 Premier League games this season, scoring 13 goals and 18 in all competitions.
"Personally I have played a good season, I have been there in the big games and I scored a lot of important goals, this is why I'm better this season."
Hazard has already helped Chelsea win the League Cup this term and they are two wins away from clinching the Premier League title for the first time since 2010.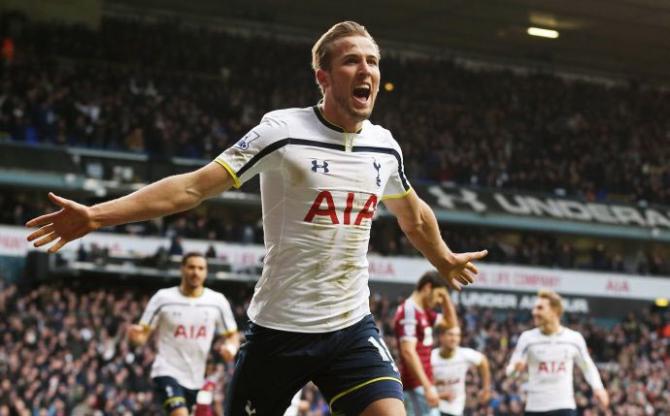 Harry Kane celebrates after scoring for Tottenham Hotspur. Photograph: Matthew Childs/Action Images via Reuters/strong>
Kane, who scored 79 seconds into his England debut, is the second-highest scorer in the league with 20 goals, one behind Manchester City's Sergio Aguero, and has 30 in all competitions.
"Amazing. A very proud moment for myself and my family as well. Hopefully, the first of many (awards) to come. I've got to keep working hard but to be recognised by the players is something special and definitely a night I won't forget.
"I've always believed in my ability and wanted to get the chance to prove myself. I've managed to ride the wave and this season has got better and better and this has topped it off. This is hopefully the beginning and there's more to come."
English PFA players of the year
2015 - Eden Hazard (Chelsea)
2014 - Luis Suarez (Liverpool)
2013 - Gareth Bale (Tottenham Hotspur)
2012 - Robin van Persie (Arsenal)
2011 - Gareth Bale (Tottenham Hotspur)
2010 - Wayne Rooney (Manchester United)
2009 - Ryan Giggs (Manchester United)
2008 - Cristiano Ronaldo (Manchester United)
2007 - Cristiano Ronaldo (Manchester United)
2006 - Steven Gerrard (Liverpool)
2005 - John Terry (Chelsea)
2004 - Thierry Henry (Arsenal)
2003 - Thierry Henry (Arsenal)
2002 - Ruud van Nistelrooy (Manchester United)
2001 - Teddy Sheringham (Manchester United)
2000 - Roy Keane (Manchester United)
1999 - David Ginola (Tottenham Hotspur)
1998 - Dennis Bergkamp (Arsenal)
1997 - Alan Shearer (Newcastle United)
1996 - Les Ferdinand (Newcastle United)
1995 - Alan Shearer (Blackburn Rovers)
1994 - Eric Cantona (Manchester United)
1993 - Paul McGrath (Aston Villa)
1992 - Gary Pallister (Manchester United)
1991 - Mark Hughes (Manchester United)
1990 - David Platt (Aston Villa)
1989 - Mark Hughes (Manchester United)
1988 - John Barnes (Liverpool)
1987 - Clive Allen (Tottenham Hotspur)
1986 - Gary Lineker (Everton)
1985 - Peter Reid (Everton)
1984 - Ian Rush (Liverpool)
1983 - Kenny Dalglish (Liverpool)
1982 - Kevin Keegan (Southampton)
1981 - John Wark (Ipswich Town)
1980 - Terry McDermott (Liverpool)
1979 - Liam Brady (Arsenal)
1978 - Peter Shilton (Nottingham Forest)
1977 - Andy Gray (Aston Villa)1976 - Pat Jennings (Tottenham Hotspur)
1975 - Colin Todd (Derby County)
1974 - Norman Hunter (Leeds United)