'One of the most important ingredients is strong presence and quality of track and field in schools.'
'In Jamaica and Kenya, there is a vibrant presence of track and field in schools. India can do the same.'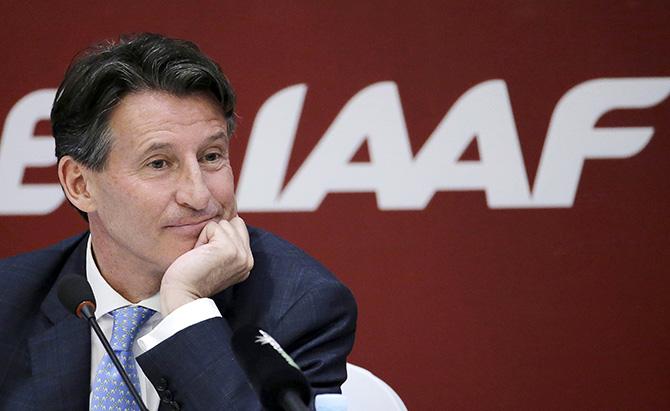 IMAGE: International Association of Athletics Federation president Sebastian Coe says the 2010 Commonwealth Games made a big impact in Indian athletics. Photograph: Jason Lee/Reuters
On his first official visit to a member country after assuming office in August, world athletics chief Sebastian Coe urged India to promote track and field at the school level if it wants to excel on the international stage.
Coe, who attended the executive committee meeting of the Athletics Federation of India on his two-day visit to the country, said India should have "ambitions" to achieve success despite not being able to win a medal at the Olympics.
Asked what India can learn from Jamaica and Kenya, which are regularly producing champion athletes, the 59-year-old president of the International Association of Athletics Federation said: "One of the most important ingredients is strong presence and quality of track and field in schools. In Jamaica and Kenya, there is a vibrant presence of track and field in schools. India can do the same.
"I have visited Jamaica many times and 50,000 people would watch school and college level championships there. One of the things I want to do as IAAF president is to sign MoUs with education ministers of countries to include track and field programmes in schools."
Coe, who won the 1,500m gold at the Olympics in 1980 at Moscow and 1984 at Los Angeles before becoming a vice-president of the IAAF in 2007, termed his visit to India as an emotional one.
"It is my first official visit to a member federation. For me it is an emotional visit, my (maternal) grandfather was an Indian (Punjabi) and my mother was born in Delhi. She stayed here till she was 10. I wanted to visit India in memory of her. I am delighted to be here," said the Briton, who last visited India in 2010.
Coe, who is accompanied by his wife, will meet Sports Ministry officials and the Director General of Sports Authority of India on Tuesday. It will be followed by a dinner, hosted in his honour by the AFI.
"If I have time, I and my wife will visit Hotel Marina at Connaught Place where my mother spent her childhood," he said.
Asked why India has not won a medal in the Olympics, he said, "It's very tough to win a medal in a World Championships or the Olympics. India has a huge potential and Indian athletes should be ambitious to achieve success at the world stage and I don't see why they cannot do it. They are not far from doing that."
Flanked by AFI president Adille Sumariwalla, who was elected to the IAAF Council in August, Coe said India will have to work to attract corporate sponsorship to raise the profile of the sport in the country.
"(Proposed) Indian Athletics League seems interesting if you have sponsors coming. Some of the world's biggest MNCs are in India and you need to engage with them. You have to have sponsorships, have regional championships and work to bring big events. You need to strengthen the competition structure.
"In the last 20 years, in every Championships there have been photo-finishes in many events to win medals. India have been doing well, be it in junior events, Asian Games and Commonwealth Games. The 2010 Commonwealth Games were a big success, especially in track and field events. I feel that the 2010 CWG made a big impact in Indian athletics with youngsters taking up athletics."
Coe is expected to have detailed discussions with the AFI top brass on how to take Indian athletics forward.
Athletics was hit hard by allegations of widespread doping in recent reports by Sunday Times in London and German broadcaster ARD, but Coe defended his sport, saying that "he would have the embarrassment of testing positive than not testing".
"I am not in a position to respond to these external reports. It's a technical and complicated area and WADA is looking into the issue. But every sport has issues. Our sport tested samples more than any other sport in the world. Usain Bolt is the most tested athlete in world and he is clean.
"But athletics is not just about dope testing. There are challenges and we can improved upon them. Our aim is to protect clean athletes.
"Athletics has been in the vanguard of creation of the WADA and Court of Arbitration for Sport. Many international federations looked up to us as an example," he added.
Asked about his comments of setting up of an independent anti-doping body in the run-up to his presidential elections, he said, "I had laid down 5-6 objectives which I want to implement in the first 100 days of my office.
"One is introducing more independence in our sample testing system. We have a long gap between positive test and sanction and it is too long. Because of this, there can be media speculation and I think we can have a faster system.
"We cannot do it alone, the national federations and national doping agencies have a big role. Educating young athletes is important and we are thinking of introducing a 'Values Commission' to educate young athletes against doping," he said.
He also brushed aside any fears of athletics losing its preeminence in Olympic sports after the retirement of Jamaican superstar Usain Bolt, who has indicated that he may call it quits after the 2016 World Athletics Championships.
"Of course, after Muhammad Ali, we have not seen any athlete in any sport who has caught the imagination of the world like Usain Bolt. But our sport is not all about Bolt.
"We have some of the most talented athletes in the world in any sport. Athletics will not come to an end after Bolt's retirement. The same thing happened when Ali was to retire. Everybody said what will happen to boxing after Ali's retirement but boxing survived Ali's retirement."