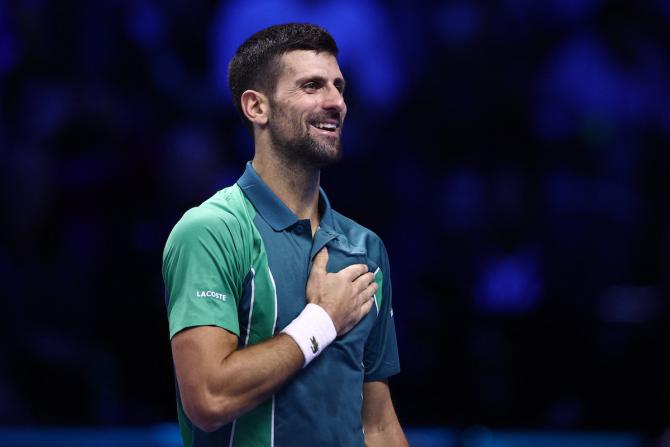 Novak Djokovic said he is hoping to put the cherry on top of a successful 2023 season with a record seventh ATP Finals title, after the world number one beat Carlos Alcaraz in the semi-final to set up a showdown with Jannik Sinner.
Djokovic has won the Australian Open, French Open and US Open this year to take his tally up to 24 Grand Slam titles and overtake rival Rafa Nadal. He also surpassed Steffi Graf's record for the most weeks as world number one.
"I had an almost perfect season, Grand Slam season," Djokovic told reporters after his 6-3 6-2 win over Alcaraz on Saturday.
"Ended the year as number one in the world, reached really all the objectives that I had, broke many records, made history of the sport. Of course, I'm thrilled with the season.
"But one more match to go. Hopefully I can crown the season with another win."
Djokovic will take on local favourite Sinner in the final later on Sunday, where the world number one will be out for revenge after losing to the Italian in the group stage.
"He has been the best player of the tournament so far. Won four out of four matches and played some great tennis. Obviously riding on the big wave of support of his Italian crowd here," Djokovic said.
"He's going for his first trophy. I'm going for my seventh in the year-end World Tour Finals. I've been in these situations before. Hopefully experience can help a bit.
"But I don't think it's going to prevail because he's been playing well, he's going to have crowd on his side. I know what I expect. I think having already a match against him in this kind of atmosphere helps me prepare better."