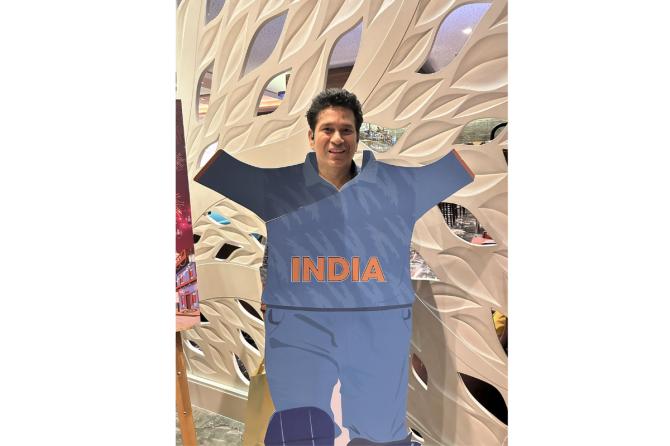 World Cup final fever has hit every Indian and like always it's the iconic Sachin Tendulkar leading the country in cheering for Team India as they prep to face Australia in the World Cup final in Ahmedabad on Sunday.
Prime Minister Narendra Modi also posted on X: 'All the best Team India! 140 crore Indians are cheering for you. May you shine bright, play well and uphold the spirit of sportsmanship.'
Among others who wished the team well were the leadership of the Congress.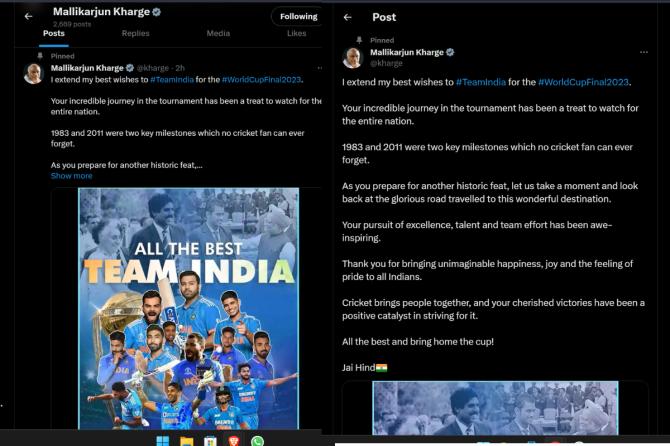 Congress President Malikarjun Kharge put out a message on X, while Congress Parliamentary Party chairperson Mrs Sonia Gandhi congratulated the team on reaching the final in a short video posted on X.
SEE: Sonia Gandhi sends her best wishes to Team India ahead of World Cup final on Sunday. VIDEO: Kind courtesy, Congress/X
'My dear Team India players, First of all, many congratulations to you for your game and teamwork during this World Cup. You have continuously given moments of happiness and pride to the entire country. There are big messages in your journey to the final match of this World Cup. That message is of unity, hard work and determination.
'I want to congratulate the players of Team India on their excellent performance. Now, when you are ready for the final match, the entire nation is standing with you and wishing for your success. My heartiest wishes to you. You have all the qualities to become a world champion. I have full confidence that Team India will win. Jai Hind.'
Former India player Mohammad Kaif wrote on X: In 2003, Sachin Paaji wasn't too excited to win the Player of the tournament Trophy, he wanted to beat Australia and bring home the World Cup. Hope Rohit will change that. Best of Luck to the tournament's best team. #INDvsAUSfinal.