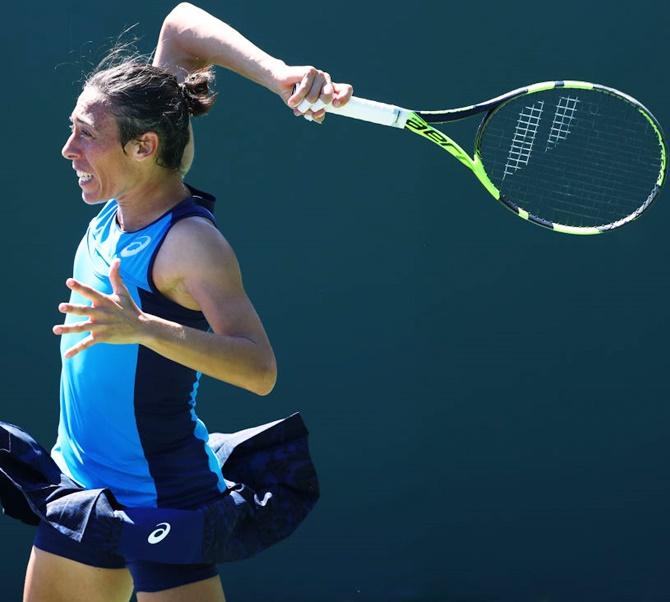 IMAGE: Francesca Schiavone of Italy in action. Photograph: Al Bello/Getty Images
Francesca Schiavone is considering giving her marriage -- with tennis, that is -- another chance.
After saying at the start of 2017 that this would be her final season, the 2010 French Open winner appeared to be reconsidering her options following her first-round defeat by defending champion Garbine Muguruza on Monday.
Asked if she could be back next year, Schiavone said, "Can be. You never know. For the moment, I want to live this moment this year.
"I have to see how I feel physically. It is not easy to wake up and run again for six hours and push yourself. But we will see. I think after the US Open I will ask myself what I want to do."
These question might be if she still loves tennis.
"I hate (tennis) sometimes. It's a big relationship. It's a love(r) that you have to love and then hate sometimes. It's like when you marry someone," she said.
After a poor start, Schiavone picked up herself and presented Muguruza with a proper challenge even if she went down 6-2, 6-4 on Court Philippe Chatrier.
"I think the first three games you could see that I couldn't put one ball in," said the Italian, who also reached the Paris final in 2011.
"And then I told myself 'wow, I feel like I'm 15 years old. Come on, it's the 18th time you play here.
Schiavone will turn 37 next month, but her opponent believes she is still capable of top level competition.
"I think she has spectacular body, also, to be able to do that," said Muguruza.