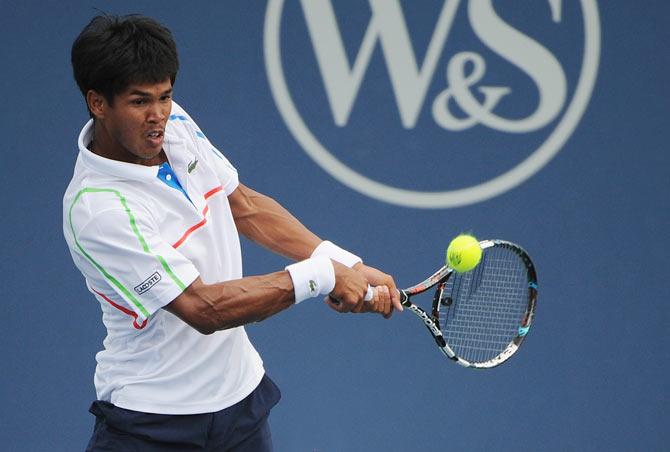 IMAGE: Somdev Devvarman of India. Photograph: Jonathan Moore/Getty Images
Former India Davis Cupper Somdev Devvarman has come down heavily on the All India Tennis Association (AITA) for the treatment meted out to teenaged player Sumit Nagal.
Defending Nagal, who has been dropped from the team for the upcoming New Zealand tie due to serious breach of discipline, and criticising AITA for publicly humiliating the player, Devvarman wrote in an open letter in the Indian Express that AITA could have dealt with the player privately.
Here is an excerpt from the letter:
Dear AITA,
After reading your latest article about information regarding Sumit Nagal I feel urged to publicly write to you and bring a few of my own concerns to your attention.
As you were openly bringing bad publicity to our young player Sumit Nagal, one has to wonder, what were you really trying to accomplish there? Were you trying to teach Sumit a lesson? Are you trying to make an example out of him? Are you trying to cover up the bad decision your selection committee made with picking only 5 players for the next Davis cup tie and leaving out our highest ranked player Rohan Bopanna? What is it you're exactly tying to accomplish is my question to you.
And to be very clear, what I'm trying to accomplish here with this article is to expose the AITA for the incompetent tennis running body they are. My sources tell me that Mr. Hiranmoy Chatterjee was the one who made those allegations against Sumit. Now lets take a step back Mr. Chatterjee and everyone else at AITA and look back at what all has transpired over the last 6 months.
You have accused Sumit of finishing his mini bar in Chandigarh. You have accused him of missing a practice as he was hungover. However he has categorically denied both of the accusations. You have accused him of bringing in his girlfriend to Delhi without permission. It is my understanding that our captain Anand Amritraj has dealt with every situation regarding Sumit and his mistakes have not been repeated.
Is Sumit Nagal perfect? Probably not! He hasn't done things perfectly by any means. But he is a good kid. He is a hard working kid and with the right guidance he has the potential to be a fantastic player for our country. Just another reminder here that Sumit has DENIED all these allegations made against him.
Now if you truly have a problem with a 19 year old, any sensible mature adult would sit him down in a room with some senior players, the captain and if need be the federation representative and explain to him what is acceptable and what is not. Doing so over a newspaper that's broadcasted throughout the country is hardly a way to teach a young player a lesson. Do you agree with me there? If yes, I once again ask you, what is the real point of your article by the PTI that brings in negative press to Sumit?
Also, just because you brought up the drinking issue, I am too tempted to mention this story from my own experiences. It was told to me by a very reliable source that during the World Group play off Davis cup match in Bangalore in 2014 sep, in the 4th rubber which I played went to 5 sets, as I was down 2 sets to 1, the AITA officials who sat in the front row, missed the entire fourth set and most of the 5th as they were getting late for their single malt party down at the club as they thought my match was done and I had no chance of coming back.
I am also aware that they will clearly deny my claim, but to those reading, do you think I'm making this up? Could you see these non-sportsmen Babus behave this way at a sporting event when India is playing? This information certainly didn't come as a surprise to me. I expect them to be unpolished. I also got a solid whiff of their single malt scotch as they poured over me with congratulations after the match. Dear readers, what do you think is a plausible scenario here?
Next up, and I'm far from done here.
I want to be clear once again. You have not chosen Sumit Nagal for the upcoming tie, because Sumit Nagal is NOT available to play. How do I know this? Because I have spent 2 weeks with Sumit in December helping him with his training and his rehab for the current shoulder injury he is recovering from.
If you had any interest in your players you should have this information. It's really not that hard to do. It just requires a little bit of the "caring about your players" factor that nobody from your organization has shown any interest in since I have been around.
Thank you for your time.
Always supporting whats in the best interest for growth of sport in india.
Sincerely,
Somdev Devvarman.