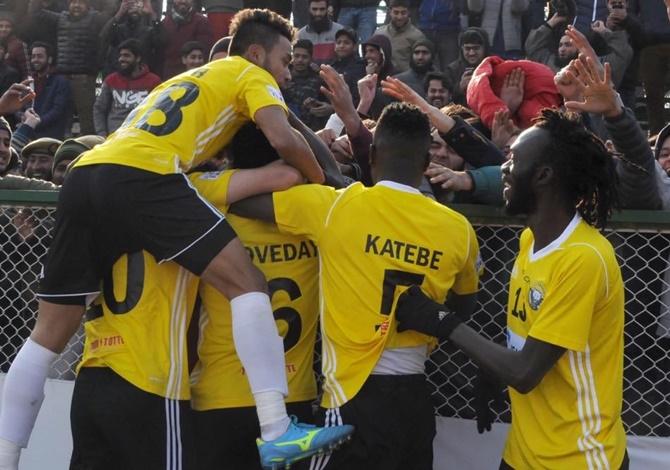 Real Kashmir FC overcame the mental turmoil arising out of uncertain situations back home as they beat Chennai City FC 1-0 through a last minute goal in the 129th Durand Cup fixture, in Kalyani, on Wednesday.
Danish Farooq's long range strike in the 90th minute gave the 'Snow Leopards' victory.
With a lockdown in force in Jammu and Kashmir in the aftermath of the scrapping of Article 370, Real Kashmir assembled for the first time this season late Monday night only to realise they're cut off from family members back home.
But it did not show in their performance as the David Robertson-coached side dominated against the reigning I-League champions, who fielded a reserve side full of local players.
The inexperience of Chennai City showed when goalkeeper Kabir T handled the ball outside the penalty box and was sent off in the 76th minute.
Seizing on the numerical advantage over the Chennai side, Real Kashmir stepped on the attack and in the 90th minute their star player Farooq sent a powerful right footer from a long range, which beat substitute goalkeeper Prateek Singh all ends up.
"We play professional football. You have to be professional. These sort of things keep happening. Tomorrow something else may happen. Football teaches you how to tackle these situations and play well despite the odds," Farooq said, reflecting on the situation back home.
Showering praise on their Scottish coach, he said it's Robertson job to keep the players in good mood despite all odds.
"Our team atmosphere is like this only, all thanks to our coach. He keeps everyone in good mood and never let us bog down by any pressure. He plays a big role. He keeps motivating us. Don't keep anything in mind just focus on the game," said Farooq.
"It's our first match of the season. We never knew what would be our result and we assembled after a long time. So I'm sure this win will boost our confidence. There's a positive atmosphere in the team," he said.
In their debut I-League season, Real Kashmir were in the title race at one stage before finishing third, behind Chennai City and East Bengal.
"Our off-season was going on and we met each other two days ago here at the hotel only. Our preparation just began with Durand Cup. Our main goal is I-league. This tournament will help us in getting fit," he said.
Hailed as the 'Ronaldo of Kashmir', Farooq had a stomach bug on the eve of the match as he struggled to get going early on a drenched afternoon in Kalyani.
Farooq and Subhas Singh both missed successive opportunities in a second minute move when the ball ricocheted off the post, in what was their best chance of the match.
But Farooq finally made it count to seal the three points before the final whistle to keep their semifinal hopes alive.
Dedicating the goal to the entire team members, support staff and owners, Farooq said: "They have been hardworking to make a good competitive team. They asked to put up a better show. We will try to do well in upcoming matches as well."
Real Kashmir play Army Green on August 10 and Chennai City will play FC Goa on August 14, both at Kalyani Stadium.
We played with heart and soul: Real Kashmir coach
Real Kashmir coach David Richardson said they 'played with heart and soul' during their season-opening match in the Durand Cup.
"We played with so much heart and soul, that's the secret of our success," Robertson said after the match.
Real Kashmir players assembled for the first time this season her Real Kashmir coach David Richardson said they 'played with heart and soul' during their season-opening match in the Durand Cup.
e late Monday night only to realise that they are cut off from family members back home due to telecommunication blackout in the aftermath of the scrapping of Article 370.
Despite the uncertainties back home, the mood in the Real Kashmir camp was spirited as the players who had come in three batches waited for their colleagues to reach at the team hotel.
"Everybody waited to meet each other, old friendships are back again in the lobby of the hotel and in the corridors they were all hugging each other and all talking and laughing with each other," said the Scottish coach.
"It shows you that just got special situation at the club. It has been built up over a couple years and maybe today we deifed some odds but it's what our club is made of," he said of the team.
"I think it has been built over the years, it's just heart and hunger that really made a success. Yes, they are a very talented group. It was a lot of good to get on this."
Robertson's counterpart Akbar Nawas, on the other hand, drew parallels with war-ravaged Iraq's AFC Asian Cup triumph in 2007 and said Real Kashmir players' biggest motivation was the situation back home.
"If you remember, Iraq won the Asian Cup by having similar circumstances. So that means when you have such circumstances, it might motivate you. But we don't go to the game and try to take advantage of that," Nawas said.
"I don't mix whatever that goes off the field. We are all very sad about whatever that is happening in Kashmir," the Singaporean added.
Talking about the preparations before this tournament, Robertson said, "Football-wise, we only trained for 90 minutes yesterday and we had not seen each other for three months. No fitness, no planning and we won the game with hunger and desire," Robertson said.
"A lot of players had come from long journeys from Africa, Europe and wherever. Regardless of whom you play against, to do that and on the first day or the second day of seeing each other is an incredible achievement."
"Guys like Danish, Farhan (Ganie), Loveday (Okechukwu), they played with so much heart. It's good that we got this so early in the season. So we are obviously delighted. We've set ourselves up."
Robertson said his side's goal would be to win the I-League this season. They were in title contention at one stage before finishing third.
"We still have got a long way for the I-League. We can't get carried away. There's no point peaking early, and then let ourselves down later. Our aim is to try and do better than last season."
"My players never failed to amaze me and surprise me in some ways, in terms of performances. Last season probably we had the lowest budget and finished third and maybe with four or five games, we could have won the championship," he said, hailing the team.
For the I-League champions Chennai City, the Durand Cup was meant to select the players for the upcoming I-League as they are giving chance to the local players.
"We had only a week or two of training sessions and I think there was about 12 to 13 new players. Only three players of last year's team was playing this time around. I think they give a good account of themselves," coach Nawas said.
With the team in the AFC Cup, Nawas said there was no point calling the foreigners for the Durand Cup.
"They will only join us towards the end of August because we and Bengaluru FC will be playing in the AFC. If I take this Durand Cup and bring in foreigners we will be in trouble. So we needed to plan properly."
Real Kashmir's pre-season may move out of Valley
Srinagar-based I-League club Real Kashmir FC may hold its pre-season training at either Jamshedpur or Mumbai in the wake of tense situation in the state, said the team's co-owner and chairman Sandeep Chattoo.
"We will love to go back to Srinagar. But if for any unfortunate reasons, we don't go back then we have options. We can take the team anywhere and do the pre-season," Chattoo said.
"We will just wait till the Durand Cup is over. By that time we will decide whether it will be feasible for us to go back and do the pre-season there before the I-League."
He further revealed that Real Kashmir had preliminary talks with the Jamshedpur's Tata Football Academy officials but nothing is official.
"We can go to Mumbai, we can go to Jamshedpur. There was an informal kind of discussion with them and the Tatas have been gracious enough to extend an invitation if required. Nothing official as of now," Chattoo said.
With the Valley completely locked down following the move, the team members are totally cut off from the region.
"We have absolutely no news about Srinagar as of today. We don't know what's happening there because we have no means to communicate with anybody there," Chattoo said.
Real Kashmir played their first match of the season without adequate practice as all the members assembled here on Monday for the first time after the last I-League, where the finished third in their maiden outing.
"Very happy and excited about the win. We were always confident about the squad and our coach. We were pleased to see the dedication of each and every player. They played with their heart and soul. That's why we have won today," Chattoo said.
"We are team from Srinagar, so obviously we will dedicate this win to Srinagar," he concluded.