Galaxy confirm Ibrahimovic signing, Swede says ready to win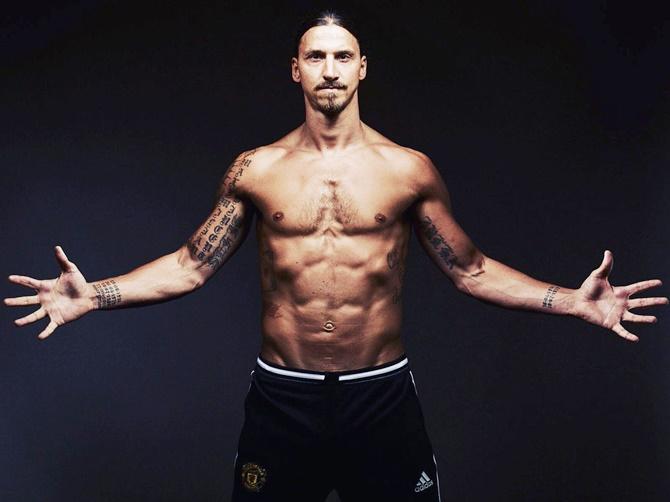 IMAGE: Zlatan Ibrahimovic becomes the latest high-profile player to move to the MLS. Photograph: Zlatan Ibrahimovic/Twitter
Zlatan Ibrahimovic says he is ready to win silverware with Los Angeles Galaxy after a full-page advert in Friday's LA Times confirmed his move to the MLS club from Manchester United.
The advert, in which Ibrahimovic was pictured in the white Galaxy kit, carried a message from the 36-year-old saying "Dear Los Angeles, you're welcome".
He becomes the latest high-profile player to move to the MLS in the latter part of his career -- following the likes of David Beckham, Steven Gerrard, Thierry Henry and Frank Lampard.
Former England captain Beckham won the MLS Cup twice after joining Galaxy in 2007 and became an iconic figure for the growth of the game in a country hooked on more traditional American sports like NFL and baseball.
Ibrahimovic, while in the latter stages of a glittering career, could have a similar impact.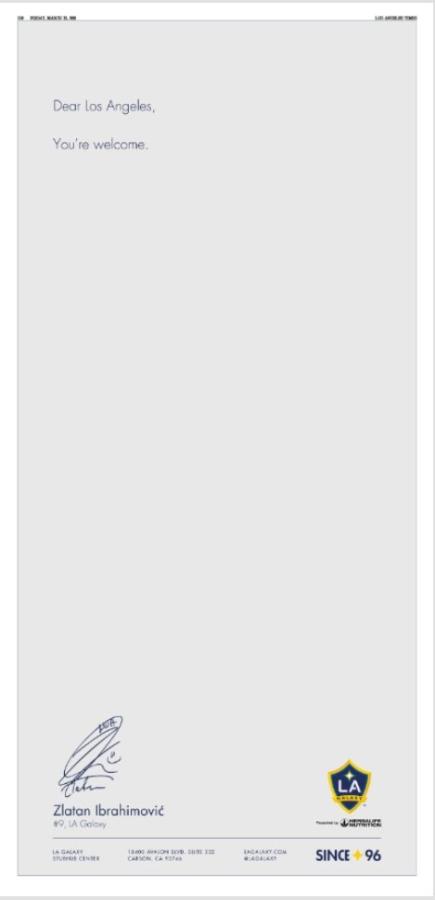 The Swede left United on Thursday when the Premier League club agreed to terminate his contract and said the move is about writing another chapter in a storied career in which he won league titles in Italy, the Netherlands, Spain and France.
"After being in Europe, winning 33 trophies, playing in the best teams in the world, playing with the best players in the world, I wanted to come to the US and play my game there," Ibrahimovic said in an interview in the LA Times.
"I wanted people to enjoy my game there and to win. And I chose the Galaxy to do that."
Dan Beckerman, the president of entertainment giant AEG, the Galaxy's parent organisation, said Ibrahimovic would become one of the biggest stars in the Hollywood city.
"He's giving up a lot to come here," Beckerman told the LA Times. He's made it clear he's coming here to win championships. It's not about the money."
"L.A. is a place for stars, and he's going to be one of the brightest stars that's ever played in this market. In any sport."
Ibrahimovic, who scored 62 goals in 116 games for Sweden and played for some of Europe's biggest clubs including Inter Milan, AC Milan, Barcelona and Paris St Germain, is reported to have accepted $3 million over two season to play for Galaxy, a huge wage cut from his United salary.
Ibrahimovic justified United's outlay when he scored 28 times in all competitions in his first season at Old Trafford.
But after a knee injury sustained nearly a year ago he has managed only seven appearances this season.
Despite that Ibrahimovic, who boasts nearly five million Twitter followers and owns a clothing brand, said he was ready for action.
"I am ready to go now," Ibrahimovic said. "First of all, I'm there to play football. I'm not there for something else. My first objective is to play football and do what I'm good at."
"I'm excited to come over and to get the experience with the Galaxy and to explore how the football is there. I want to be part of it and make it better."
Ibrahimovic's first action for Galaxy could even come against city rivals Los Angeles Football Club on March 31.