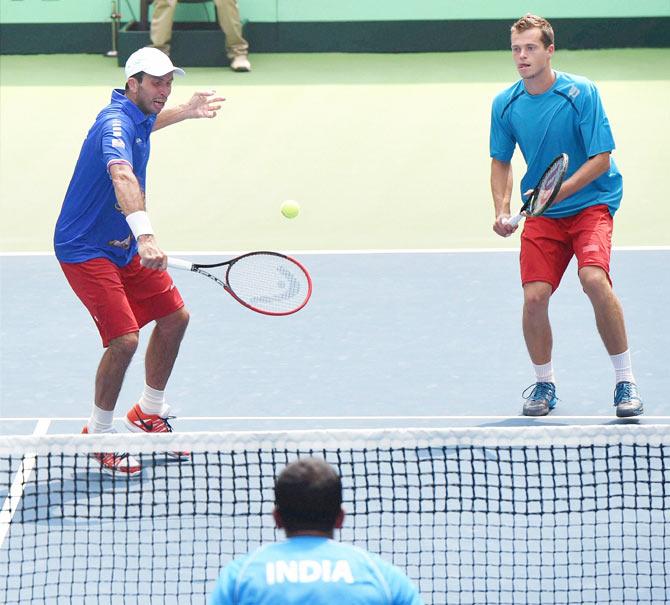 IMAGE: Czech Republic's Adam Pavlasek (right) and Radek Stepanek in action against India's Rohan Bopanna and Leander Paes during their doubles tennis match at the Davis Cup World Group play-off tie in New Delhi on Saturday. Photograph: Shirish Shete/PTI
Leander Paes was, on Saturday, gracious in defeat and conceded that Czech player Adam Pavlasek played "phenomenal" tennis in the Davis Cup doubles game in New Delhi.
It was one rubber in which India entered as favourites but the fancied team were tamed by the Czechs 5-7, 2-6, 2–6 in two hours and 10 minutes and Paes said they paid the price of underestimating Pavlasek.
"We were definitely the favourites to win this match. But I thought Adam played unbelievable today. Right through the match, Adam did well to win the points. There were three great players and one youngster on the court today and that youngster actually shone," Paes said at the post-match press conference.
"Radek played well, very smartly but Adam really stepped up and played excellent today. It has been a hard day for us. We have lost to a team we should not have. A youngster who actually came out and played phenomenal tennis today," he said.
Asked if the Indian team had expected Adam to partner Stepanek in doubles today, Paes said: "There was a discussion in the Czech team about playing Lukas Rosol today, big discussion before the match.
"We were not quite sure who was going to come up today but when we saw Adam warm up, we were so fired up to go after him that maybe we went after him a little too fast and a little too soon. And he got his rhythm too quick," he said.
"We came out with a strategy to obviously break him (Pavlasek) down and we almost did that. He was fragile in the first set, especially when serving for the first set at 5-4 and we managed to break him," said the 42-year-old.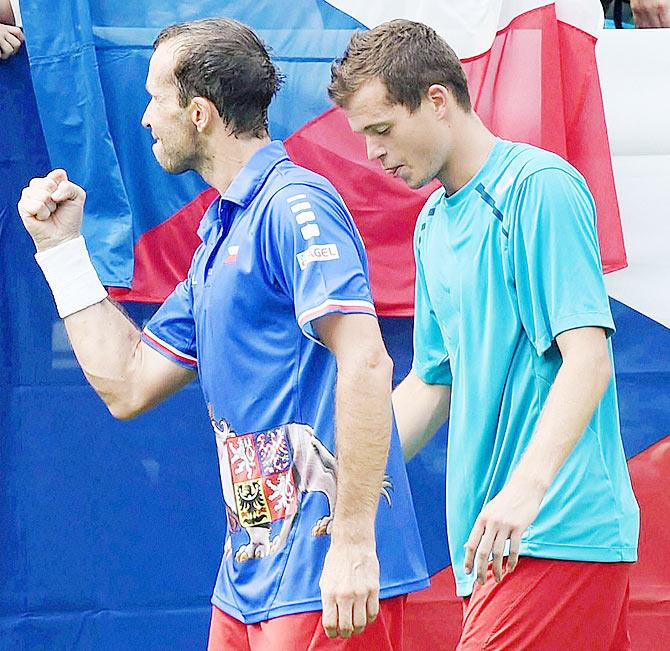 IMAGE: Czech Republics Adam Pavlasek (right) and Radek Stepanek celebrate after winning their doubles tennis match against India's Rohan Bopanna and Leander Paes during the second day's play at the Davis Cup World Group play-off tie in New Delhi on Saturday. Photograph: Shirish Shete/PTI
Paes, however, said that he and Bopanna had their moments in the game and they would have been victorious had they won some crucial points and maintained the momentum.
"We started out great, Radek was serving 1-2 0-30 and at that time, the first service game we had, all the pressure was mounting up. But at 0-30, Radek hit three excellent serves and Adam actually got into the play. He crossed on one Rohan's point and then crossed again on the next one and on 30-30, Radek hit a second serve on the line and that would have given us the break point," explained Paes.
"Momentum is such an important thing in doubles. Momentum is the key. If we had broken at that point and gone up, we would have been sitting here with a different story here," he said.
Paes said it would be interesting to see how Jiri Vesley, who struggled yesterday against Somdev Devvarman, turns out tomorrow in the reverse singles.
"What I saw from Vesley yesterday was not normal. I will be interested to see how Vesley comes out. It will be very interesting to see how players handle the heat tomorrow and what their playing styles are going to be. If Yuki (Bhambri) can keep Vesley on the court longer and longer, then it is a big chance we have to take the tie to the fifth match," he pointed out.
Asked if he was sure that the Czechs would play Vesley tomorrow, Paes said: "No. But they will. Because after Adam and Radek played today, I am not sure whether they would want to come out and play tomorrow. Heat and humidity is a big thing and after playing today, I don't think Radek will take that chance. Also as far Adam goes, I don't think the Czechs would take that chance. I may be wrong but I don't see any of the doubles guys coming out tomorrow."
Paes rejected any suggestion of inadequate practice as the cause of today's loss.
"As you look at teams coming together, this is probably the first match that Radek and Adam played together. As much as you are looking at our combination, whether we gel or not together, see how the opposition team never played a match together. But yet when they came in on the day, they won the big points," he said.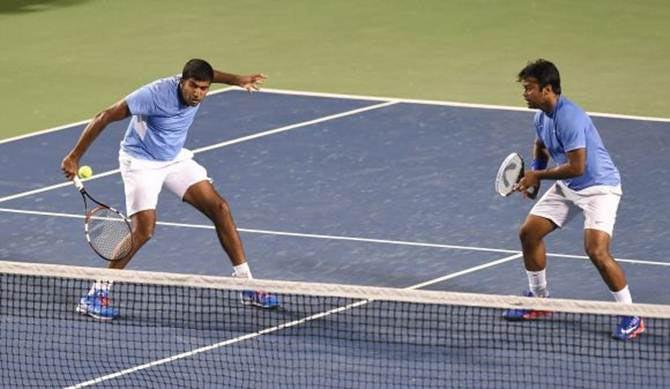 India's Rohan Bopanna (left) and Leander Paes in action. Photograph: PTI
"The difference was really the big points. I am not going to let Rohan take the full responsibility because it was the team and it is 50-50. I thought Rohan worked really hard and tried everything in his power to go after his shots. That's his style of playing. I am the one who creates him chances and then he goes for those chances. It is team work," said Paes.
Bopanna added: "On tours also we keep changing partners. It is not the question of whether we practice together or not. We understand the game pretty well, understand each other pretty well. So we adapt easily. Sometimes momentum also makes a big difference. Maybe, if I did not lose serve, it would have put more pressure on them. It is just that they played better than us today. Have to give credit to them.
"Sometimes you go out there and play your best tennis. You come from tournaments and try to adapt to conditions right away. You hope to play well. We are just going by one track record. Lee and Hesh (Mahesh Bhupathi) were exceptional for not only for India but had a great record worldwide. Every match is different, we go out there but sometimes it does not work, like today," he said.
Conceding that he could have played better, Bopanna said that he had put himself under pressure by trying to do too much.
"Personally the way I was been playing the last few weeks, I could have definitely played better. The way I playing in the US Open, so sometimes I think you put too much pressure on yourself and that's what may be I did," he explained.
"I expect myself to maintain a level. So, when you are trying to do too much that is when you take too much pressure on yourself. In US Open, I was serving great, but today I was missing a few first serves. Obviously trying to do too much but when you are on the court you go with your instincts. Unfortunately today it did not go our way and we had a tough loss," said Bopanna.