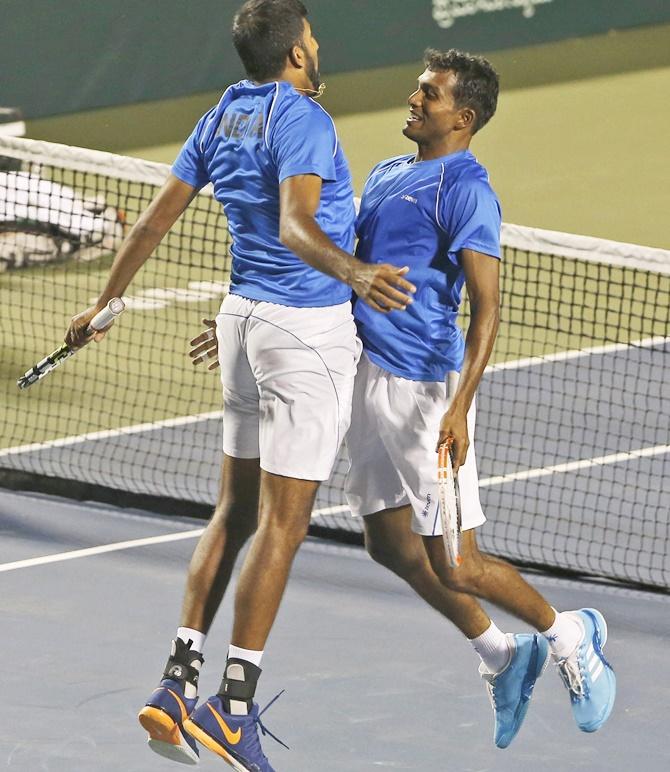 IMAGE: India's Rohan Bopanna, left, celebrates with his partner Sriram Balaji after their win over Uzbekistan. Photograph: PTI
India on Saturday sealed their place in the Davis Cup World Group Play-offs with Rohan Bopanna and N Sriram Balaji routing their rivals with clinical precision for an unassailable 3-0 lead against Uzbekistan, in Bengaluru.
Bopanna and debutant Balaji defeated Farrukh Dustov and Sanjar Fayziev 6-2, 6-4, 6-1 in the doubles rubber of the Asia/Oceania Group I second round contest at the KSLTA stadium.
Uzbekistan needed to win the doubles rubber to keep the tie alive but the Indians proved too good for the visitors with Balaji making an impressive debut.
Ramkumar Ramanathan and debutant Prajnesh Gunneswaran had handed India a comfortable 2-0 lead, on Friday, by winning the their singles against Temur Ismailov and Fayziev respectively.
Sunday's reverse singles now will have no bearing on the outcome of the tie and will be the best of three sets.
India have now qualified for the World Group Play-offs for the fourth straight year. They lost to top teams – Serbia (2014 in Bangalore), Czech Republic (2015 in New Delhi) and Spain (2016 in New Delhi) in previous three years in the
Play-offs.
The Play-offs will be held in September and India's next opponents will be known later when draw will be made in London.
It was a tremendous start for Mahesh Bhupathi as captain of the team. Bhupathi had chosen Bopanna over veteran Leander Paes, who is one win away from making the world record for most doubles victories in Davis Cup history.
Balaji not only served well he showed skills at the net and gradually started to return well. Bopanna, whose weapon is his booming serve, carried the teammate nicely and his single-handed returns proved too hot to handle for the Uzbeks.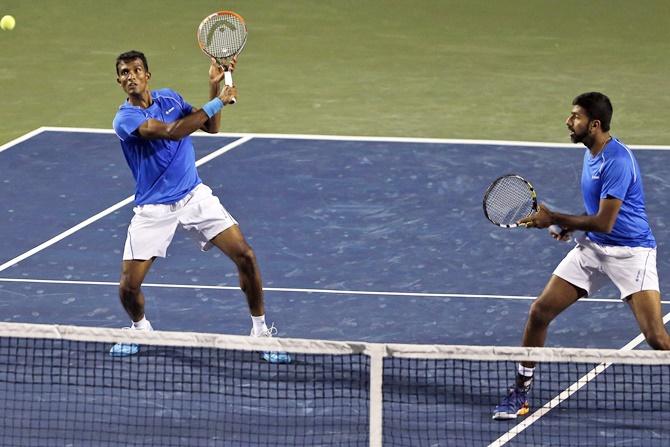 IMAGE: Rohan Bopanna, right, watches his partner Sriram Balaji return a shot. Photograph: PTI
The Indian duo decimated the Uzbekistan pair which was reflected in 16 aces they sent down against the rivals' just one. They also grabbed points on their first serves at the rate of 92 per cent compared to the rivals' 62.
The Indian duo also hardly bungled when they missed an opportunity on the pressured second serves. They served at the rate of 94 per cent as against Uzbekistan's 50 per cent.
Both Bopanna and Balaji served extremely well and it was key to their stupendous success. The ball zipped off the court and with Bopanna and Balaji being tall customers, they were able to extract bounce.
They targeted Fayziev throughout the match and the strategy paid off as they broke the Uzbek twice in the opening set.
Dustov fought hard but he too felt the heat and was broken in the 10th game of the second set, which was the best in the match. It was on serve till the ninth game when Dustov came out to serve to keep the set alive.
A foot fault at 15-30 and the following double fault put him down 15-40, facing two breakpoints. With Bopanna making superb returns, Dustov struggled to handle a ferocious shot from him and netted it, handing India a double set lead.
Uzbeks failed to post any fight in the third set with Bopanna and Balaji racing to a 4-0 lead with double break.
"We kept each other relaxed. Balaji served well and that was key. We did not let Fayziev settle. It didn't feel that Balaji was playing his first Davis Cup match," said Bopanna after the match.
"There was a lot of camaraderie in the team whether we were having dinner or recovery. It was a team effort. In doubles gelling well with your partner is key and that made the difference today," Bopanna added.
Balaji said he never felt nervous.
"I was very comfortable. I knew Bops will carry me and the captain was telling me what do and what not to. Both of us served well, the first serve percentage was very high," said the debutant.