CBI officials investigating Commonwealth Games (CWG) scam have indicated that they have found enough evidence against Suresh Kalmadi, former Commonwealth Games Organising Committee chairman, in various cases that are being investigated against him.
The Central Bureau of Investigation (CBI) on Tuesday quizzed Kalmadi for a second time in connection with alleged financial irregularities related to the sporting event.
Kalmadi was first questioned by the CBI on January 5.
"I would not comment whether he is going to be arrested or not. But he is certainly in the dock," said a top official of the premier investigating agency of the country.
"Yes, he has been called for questioning on various issues including the kitchen scam (regarding purchase of kitchen equipment during the Games). He has been with us since 11 in the morning," the officer said.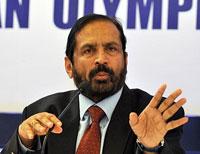 Media is agog with rumours that this is going to be final round of questioning and Kalmadi is likely to be nailed by the evening.
Rediff.com had carried exclusive report on Monday that the International Olympic Committee has ordered a comprehensive probe against Kalmadi by Ethos committee of the IOC and the Indian Olympic Association(IOA) has been intimated about the probe and it will be kept in the loop.
The agency had quizzed Kalmadi in connection with receiving kickbacks from A N Films to the tune of 50,000 pounds. Now his role in approving the money for kitchen equipments is under the scanner.
A high ranking officer of the CBI is likely to brief the media about the developments in the evening.