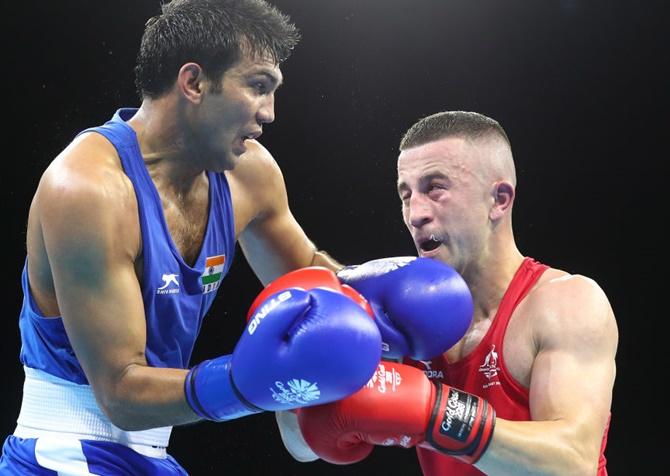 Veteran Manoj Kumar (69kg) assured himself the second Commonwealth Games medal of his career as four Indian boxers entered the semi-finals of the mega-event with contrasting victories in the quarter-finals, in Gold Coast, on Tuesday.
The debutant trio of Amit Panghal (49kg), Mohammed Hussamuddin (56kg) and the 19-year-old Naman Tanwar (91kg) and Satish Kumar (91+) joined Manoj in the semi-finals of the mega-event, where Indian boxers had won three silver and a bronze medal the last time around.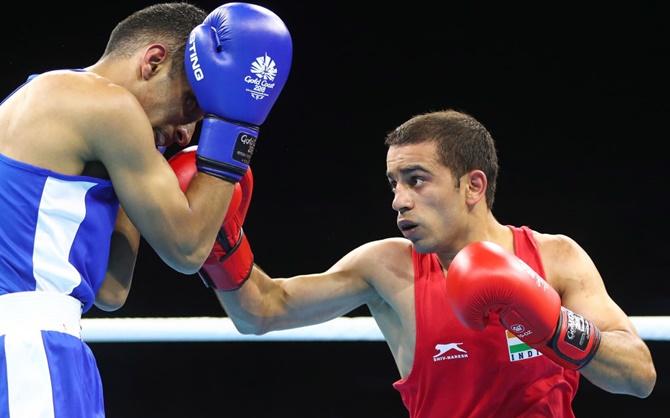 Amit defeated Scotland's Aqeel Ahmed in a split 4-1 verdict. The 19-year-old Naman, on the other hand, hammered Samoa's Frank Masoe 5-0 in his quarterfinal clash to move into the medal round.
"I didn't expect Ahmed to be this good. He surprised me with his speed and my counter-attack wasn't working at all. The coaches then told me to go all out aggressive which is what got me the results that I wanted," Amit said.
Chasing a third successive international gold, the 22-year-old from Haryana overcame a rusty start to turn the tables on his opponent.
"This is definitely going to be the biggest medal of my career so far. There is no doubt about that," said the World Championships quarter-finalists.
Amit had lost the opening round on a majority decision but came back strongly to clinch the bout and a spot in the semifinals in his maiden appearance at a multi-sport event.
He had won gold medals at the India Open and the Strandja Memorial Tournament in Bulgaria before coming into the Games.
Naman is a former bronze-medallist from the Youth World Championships and defeated Asian silver-medallist Sumit Sangwan in the national trial to clinch a spot in the team.
"I didn't have any prior knowledge of my opponent so I watched him for the first round and a half and then I got aggressive and stuck to my game plan," he said.
"My style of fighting is inspired by Melbourne (2006) Commonwealth Games gold medallist Akhil Kumar," he added for good measure.
The Delhi-boxer took to boxing to lose weight. He will be up against Australia's Jason Whateley in his semifinal clash on April 13.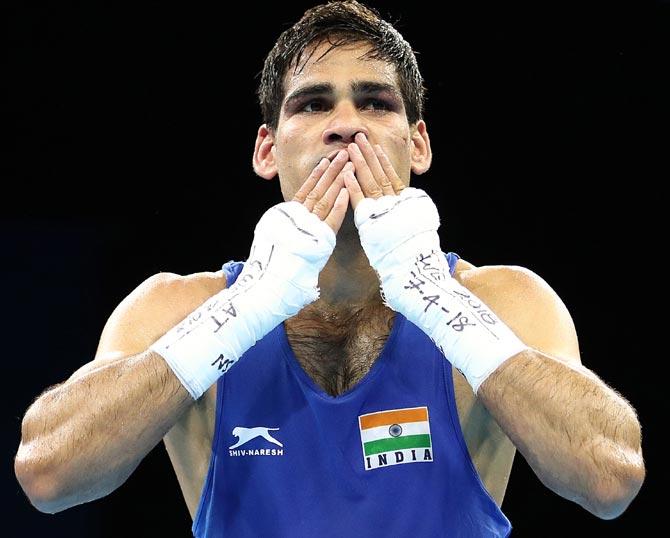 In the evening session, Manoj and Hussamuddin took the ring against Zambia's Everisto Mulenga and Australia's Terry Nickolas respectively.
Hussamuddin continued his rich vein of form to dismantle Mulenga 5-0 but Manoj had to toil hard against the crowd favourite who managed to clinch the final round from the Indian.
Both Manoj and Hussamuddin will be up against English opponents in their semi-finals bouts. While Manoj will face Pat McCormack, Hussamuddin will be up against Peter McGrail.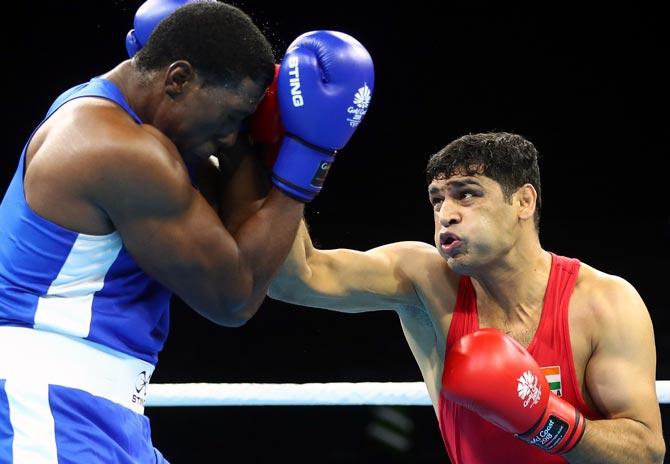 Later Asian Games bronze-medallist Satish defeated Trinidad and Tobago's Nigel Paul in his quarter-finals bout to book the fifth men's medal for India.
Earlier, M C Mary Kom (48kg) had assured herself of a medal at the event, winning her opening round clash.