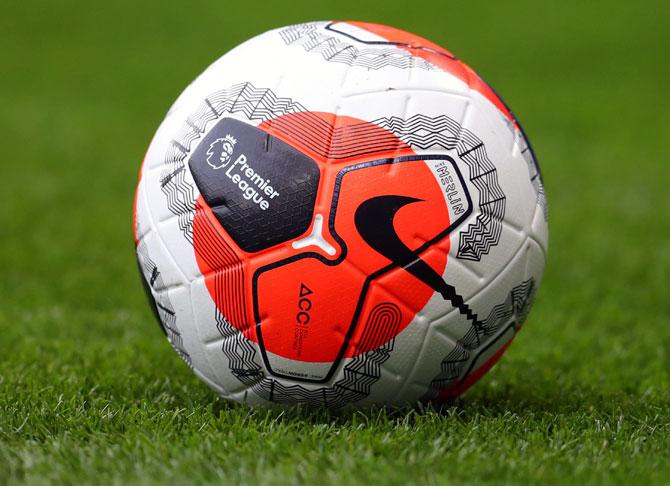 A third first-team player from Brighton & Hove Albion tested positive for COVID-19 on Saturday, the Premier League club's chief executive Paul Barber has confirmed.
Two Brighton players had contracted the novel coronavirus in March and April and the latest positive result could cast doubts on the Premier League's plans to resume the season that has been suspended due to the pandemic.
Clubs are due to meet on Monday to further discuss "Project Restart" which envisages a return to play in June once given the green light from government, with the remaining 92 matches held behind closed doors at neutral venues.
"It is a concern. Unfortunately, we've had a third player test positive yesterday," Barber told Sky Sports on Sunday.
"So, despite all of the measures that we've been taking over the past few weeks, where the players haven't been involved in any significant training at all, we've still suffered another player testing positive for the virus."
Manchester City's Sergio Aguero had said a number of players would be fearful of resuming the season amid the virus outbreak with more than 4.02 million people infected globally and over 276,000 dead.
"There are concerns and I think it's normal for all clubs to have those concerns. We want to make sure we do everything that we can to ensure those protocols are in place and are safe and secure and mitigate the risk as far as we can," Barber added.
Brighton, 15th in the standings, have five home games left including visits from Manchester United, Liverpool, Manchester City and Arsenal, and are among a number of top-flight clubs opposed to the idea of neutral venues.
Portuguese side Guimaraes report three positive cases for coronavirus
Three players from Portuguese top-flight side Vitoria Guimaraes have tested positive for COVID-19, the club said in a statement on Sunday.
The statement added that the three players were asymptomatic and had been advised by the club to self-isolate, while the rest of the squad would continue to carry out individual training after returning to work last week.
Vitoria's decision contrasts with German second-tier club Dynamo Dresden, who decided to place their entire squad in a two-week quarantine on Saturday following two positive coronavirus tests.
All AC Milan players test negative for coronavirus
AC Milan on Saturday confirmed that no first-team player or technical staff tested positive for coronavirus.
"AC Milan confirms that, based on all medical tests carried out to date on First Team players and technical staff, there have not been any positive cases of Covid-19," the club said in a statement.
"Players will continue their individual training programme at Milanello and medical screenings will be completed for all players and staff reporting for training over the coming days," the statement read.
Earlier on Thursday, Sampdoria announced that its four players have tested positive for coronavirus including one who had previously recovered from COVID-19. The club said all the four players are currently asymptomatic and have gone into isolation.
Serie A has been suspended since March due to the coronavirus pandemic, with no sign of the competition's return in the near future.
Italian Sports Minister Vincenzo Spadafora, in a Facebook post on May 3, said it is too early to talk about the resumption of Serie A.