Brazilian club Corinthians has joined the race to sign Carlos Tevez, making a 36 million pound shock bid for the ace Argentine striker.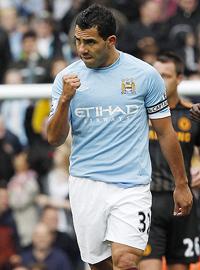 Tevez, 27, wants to quit Manchester City to be nearer his family back home. But it had been thought that no South American club would be able to afford him.
However, his former team Corinthians is putting their money on the table and now the way is open for Tevez to get the transfer he wants, The Sun reports.
"We think this will appeal to Carlos enormously. He's always said there are only two South American clubs he could play for - Corinthians or Boca Juniors," a Brazilian source said.
"He's already won everything there is to win in Europe - this is his chance to enjoy a hero's return to South America," the source added.
Corinthians pounced to sign Tevez from Boca Juniors for 13.5 million pounds in 2005.
But he quit to join West Ham in August 2006 in a controversial switch which led to new rules over third-party ownership.
Aston Villa prices 'not for sale' Downing at 20 million pounds
Meanwhile, Aston Villa has told Arsenal and Liverpool that the asking price for in-demand winger Stewart Downing is 20 million pounds.
The England ace, 26, has been told to stay at Villa Park unless the club's asking price is met, the Sun reports.
Villa sources said they are not interested in sparking off a bidding war and the board remains adamant that Downing is not for sale.
The Gunners are reportedly ready to pay 18 million pounds for Downing, but has rubbished reports of an offer being made.
Liverpool's offer of 15 million pounds for Downing was rejected last week, and they were expected to increase it to 16 million pounds.
They have also tried to tempt Villa by including fringe players in the deal, but new boss Alex McLeish is not interested in any kind of exchange.