Indian Grandmaster Viswanathan Anand's father Viswanathan Iyer on Wednesday termed his son's achievement of winning his fifth World  Championship title as the "proudest moment of our lives".
"It's the proudest moment of our lives," an elated father said moments after Anand showed immense resilience to beat challenger Boris Gelfand of Israel in a tense rapid chess tie-breaker in Moscow.
"I am extra proud... sensational. He has beaten the best of chess world. It's a unique achievement," Iyer said.
Asked about the new crop of players who have entered the chess world, Anand senior said, "The new crop has come in. He is in between the new and old generation."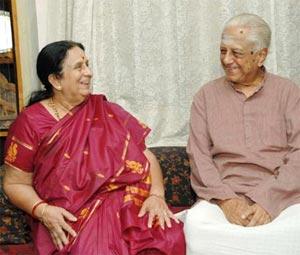 And about Anand's opponent Gelfand, Iyer said, "Gelfand has always been a tough player."
Mother Susheela Viswanathan, who has also been playing the role of mentor and guide to the chess legend since his childhood, too was on top of the world.
"Oh that (mentoring) was so many years ago... not anymore," she said when asked if she still considers herself Anand's mentor.
When asked if Anand's son Akhil will follow in his father's footsteps, Susheela replied: "It is for them to decide. The grandson has his own future."
Wife Aruna Anand too was ecstatic after his husband's achievement.
"It was a very tough match. Happy, that it has gone our way. It was very tense. You can imagine in tie-break, anything can happen. For tie-breaks, you can't prepare beforehand," Aruna said.
About the equation between Anand and Gelfand, Aruna said, "They are good friends and rivals for a long time. It's (the match) an indication that what high level the preparation was."
Image: Viswanathan Anand's parents, Susheela and Viswanathan Iyer.
Photograph: Rediff Archives