'My number one focus is to be mentally and physically fit. Travelling so much, meeting different people, being in different time zones takes a toll on the body.'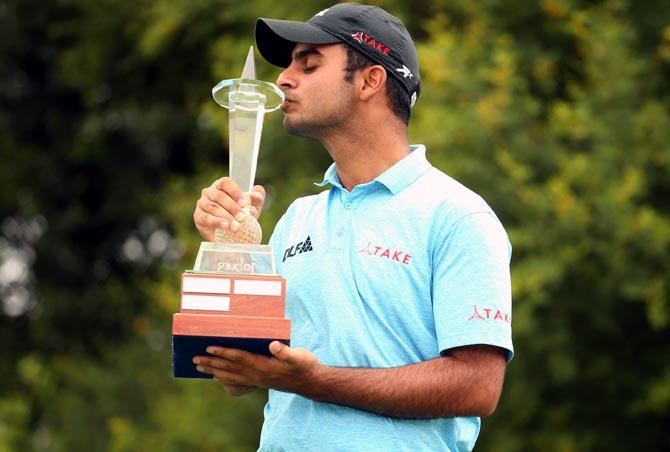 IMAGE: Shubankar Sharma kisses the trophy after winning the Joburg Open. Photograph: Luke Walker/Getty Images
Realising that a 'taxing' calendar can drain you completely, rising Indian golfer Shubhankar Sharma is now focussing on improving his mental toughness ahead of the new season, during which he is set to make his Major debut.

The 21-year-old ended the 2017 season with a bang by winning his maiden title on the Asian Tour at the JoBurg Open, an event co-sanctioned by the European Tour.
The three-stroke win over Erik van Rooyen earned him an entry into the 2018 Open Championship.

"My number one focus is to be mentally and physically fit. Travelling so much, meeting different people, being in different time zones takes a toll on the body," Shubhankar said on Thursday.

"Although I am young, taking long flights can be exhausting. Golf gets mentally taxing, you can be playing five days in a row for weeks with intense pressure of everyone watching," he added.

The youngster, based in Chandigarh, said consistency is the key to succeed on the demanding circuit.

"Golf is a tough sport, the top players finish in the top-10 every week and win 2-3 majors. You can keep having good weeks, consistency is very important, it is always a challenge as you are playing against the weather conditions."

Interestingly, Shubhankar was contemplating withdrawing from the JoBurg Open, which opened so many doors for him. He became only the fifth Indian to win a title on the European tour after Arjun Atwal, Jeev Milkha Singh, SSP Chowrasia and Anirban Lahiri.

"I was in Mauritius and the JoBurg event was next week. Mauritius to Johannesburg is not that long but Johannesburg to Indonesia - where the next title was scheduled - takes an entire day.

"That's why I was thinking of skipping it. No Indian went, I was the only one to go. I was pretty convinced I should take a week's rest or come back to India and play a tournament happening in Mumbai at the time. But I was playing well, so I decided to go and I am glad I went," he said.

Exuding confidence, Shubhankar said he was not surprised when he won the title.

"The plan was always to win as soon as possible. In golf you can have a great week but falter at the last stage. I turned Pro really early so it did not come as a shock to me when I won. I knew I had it in me to win," he said.