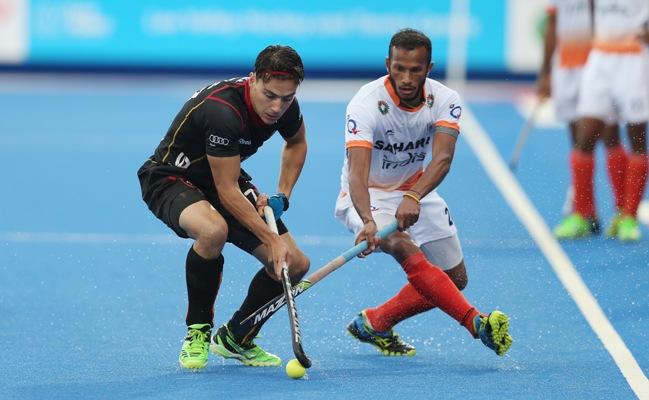 IMAGE: Thomas Briels of Belgium and Sunil Sowmarpet of India during the FIH Mens Hero Hockey Champions Trophy. Photograph: Alex Morton/Getty Images.
Indian captain PR Sreejesh's lacklustre show under the bar saw the team succumb to a 1-2 defeat by Belgium in the 36th Hero Champions Trophy at the Lee Valley Hockey Centre in London.
Sreejesh would be disappointed to concede two goals through his pads against the dominant Belgians, resulting in India's first loss in three outings of the ongoing Champions Trophy.
Alexander Hendrickx converted a penalty corner in the 25th minute and India equalised through Devender Walmiki five minutes later, but Jerome Truyens won the day for the Belgians through his field goal in the 44th.
This loss leaves India on four points from three outings. They next play South Korea on Tuesday.
This was the first win for Belgium in three outings. They join India and hosts Great Britain on four points each from three matches.
Britain outplayed South Korea 4-1 for their first win in the tournament, while World champions Australia consolidated their position atop the standings with a 4-3 victory over Germany.
Australia are now on seven points, while Germany are at the bottom of the standings with just two points. South Korea have logged three points in as many games.