Eight police officers needed hospital treatment and more than 15 soccer fans were arrested following violent clashes ahead of Wednesday's Champions League match between Scotland's Celtic and Dutch club Ajax Amsterdam on Wednesday.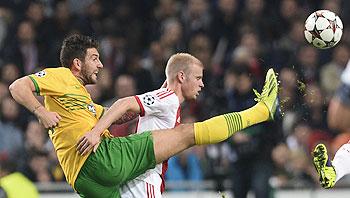 A spokesman for Amsterdam police said a large crowd of Celtic supporters turned on a group of plainclothes police officers in Dam Square, the city's historic heart shortly before 1700 GMT.
"The officers took quite a beating," said spokesman Rob van der Veen. "One of the officers was unconscious, another had his nose broken."
Earlier on Wednesday, the mayor of Amsterdam issued an emergency order allowing the police to remove people they judged to be a threat to public order.
Dutch media reported that fans attacked the police with thrown bottles and sticks. News portal nu.nl reported that fans of Belgian club Anderlecht and Germany's St Pauli were also in the city.
Large numbers of Dinamo Zagreb fans are also in Amsterdam before Thursday's Europa League match against Dutch club PSV Eindhoven.
Ajax Amsterdam beat Celtic 1-0 but Celtic still have chance to advance to the last 16 after Barcelona beat AC Milan 3-1.
Image: Celtic's Charlie Mulgrew (L) and Ajax Amsterdam's Davy Klaassen (R) fight for the ball during their Champions League match at Amsterdam Arena on Wednesday
Photograph: Toussaint Kluiters/Reuters