The last 10 Slams have all been won by Djokovic, Federer or Nadal.
Will this Wimbledon be different, asks Dhruv Munjal.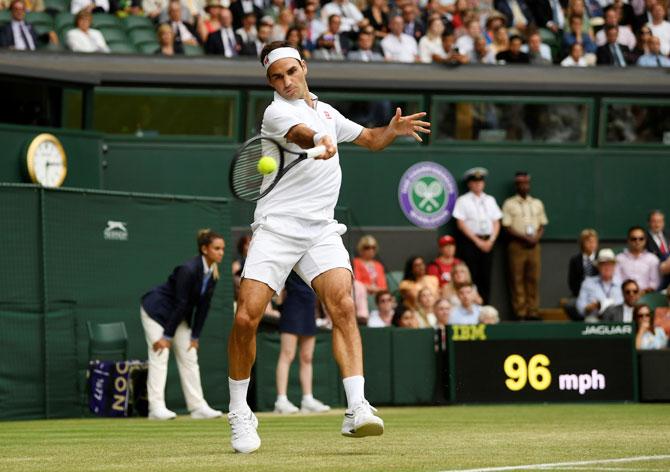 Novak Djokovic serves down the middle. The ball swerves a little and lands in Roger Federer's hitting arc.
The return is sent back with interest, with Djokovic then arrowing an off-forehand into Federer's backhand.
The Swiss retrieves with a wicked slice, but the Serb is up to the challenge.
A furious rally ensues and a few blows later, Djokovic, in a moment of rare vulnerability, pulls an easy forehand long. The top seed is broken.
Federer pumps his fist as his entourage rises in unison and cheers boisterously.
Federer subsequently holds and serves the set out -- winning an improbable five games on the trot, recovering from 2-5 to clinch the fourth 7-5.
Bradley Cooper, the popular Hollywood actor, blows his cheeks out in the crowd, barely being able to comprehend Federer's genius, and in this case, stubborn resistance.
Victoria Beckham, meanwhile, flanked by husband David, sits stone-faced, slightly embarrassed that she's at a tennis match instead of a majestic Roberto Cavalli fashion show somewhere in Milan or Paris.
Kate Middleton, the duchess of Cambridge, is more gracious, letting out a gentle applause.
The rest of the audience almost howls in jubilation, delighted that this is going the distance.
For those not blessed with an eidetic memory, this is not a recent encounter between the familiar foes that are Djokovic and Federer.
These events are from the Wimbledon final of 2014. (Just to finish the above story off, Djokovic's robotic relentlessness returned in the final set and he did just about enough to see off Federer for a second title at SW19.)
Five years on and you'd expect much would have changed. It has, in some ways: Cooper has twice been nominated for Best Actor at the Oscars since, Victoria Beckham has been awarded with an OBE, and Middleton has become mum to two more kids.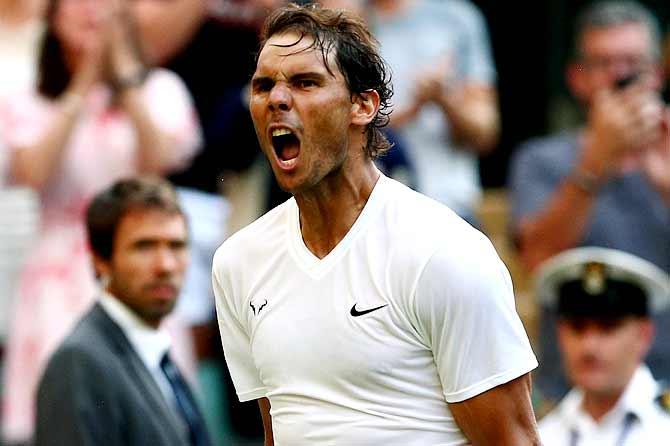 On the tennis front, however, things have remained largely the same.
Djokovic and Federer, seeded one and two, respectively, are still bossing it and will most likely square off in the final once again.
Rafael Nadal, still sulking from being seeded third despite being ranked two in the world, will naturally lurk in the background, but his fragility on grass in recent years probably makes him -- strange thing to say for an 18-time Grand Slam winner -- a dark horse of sorts.
We, of course, have been incredibly fortunate to watch the 'Big Three' -- no longer four due to Andy Murray's recurring injury problems -- notch up win after win in Grand Slams for the better part of 15 years now.
Their alarming consistency has made for truly magnificent tennis, and those who can't seem to agree that this is indeed men's tennis's golden age have obviously been watching some other sport.
But as compelling as their success has been, it wouldn't hurt if some of the younger players started challenging the Big Three's long-standing domination more consistently.
The lack of competition at the top is a well-established one; just that the problem gets greatly amplified ahead of a major. And, with good reason.
The last 10 Slams have all been won by Djokovic, Federer or Nadal.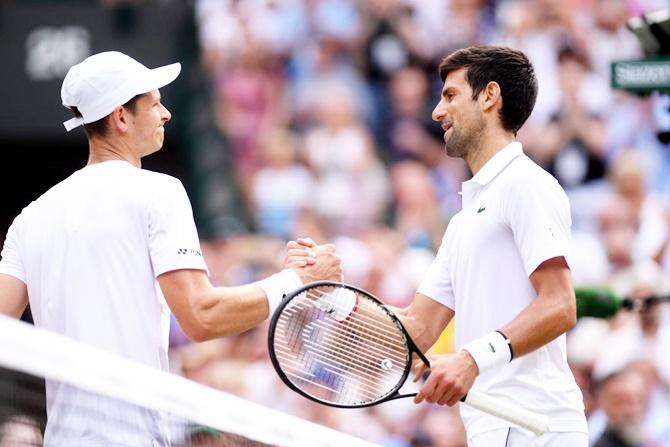 You'd have to go back as far as the 2016 US Open for a different outcome: Stan Wawrinka blasting Djokovic off court on one of those days when it seemed that the Serb was having to return blazing meteors instead of regular tennis balls.
Wawrinka, the only multiple Grand Slam winner outside the Big Three, and Murray, is normally quite handy when it comes to going toe-to-toe with the old guard, but even he, despite possessing an abnormally consistent power game, struggles to get over the line against the freaks that are Djokovic, Federer and Nadal.
The task sounds all the more ominous now that the three have form on their side.
Federer, who beat Wawrinka in the quarter-final at Roland Garros, swept his way to a 10th title in Halle.
The field wasn't the mightiest, but Federer used the warm-up event as an opportunity to gain much-needed match practice on grass, playing two tough three-setters against Jo-Wilfried Tsonga and Roberto Bautista Agut before dismantling an out-of-sorts David Goffin in the final.
Perhaps the two most significant takeaways from Federer's week in Germany were his serve -- he got broken just thrice the entire tournament -- and exquisite net play.
There is a general consensus among many tennis watchers that more than the groundstrokes, Federer's chances of a winning mind-bending ninth Wimbledon title rest on his serve and his ability to come in and finish points off early.
Nadal wasn't as lucky as his great rival, losing to Marin Cilic -- a very decent grass-court player who made the final in 2017 -- in an exhibition match at The Hurlingham Club in London.
Former British No 1 Greg Rusedski recently spoke about how the challenge for Nadal is to get through the first week.
That's only sensible since Nadal has traditionally had a slow start on grass -- if he comes out unscathed from the first few rounds, you can be sure to see the indomitable street fighter in him come alive.
Djokovic, on the other hand, hasn't played any tennis at all since his French Open loss to Dominic Thiem.
That'd genuinely worry you if it were some other player, but it's impossible to not put Djokovic among the favourites when he's won three of the last four Slams and has possibly the most well-rounded game on tour.
The trouble, if you're a neutral, is finding players who can not only compete with the Big Three but also devise ways to actually beat them.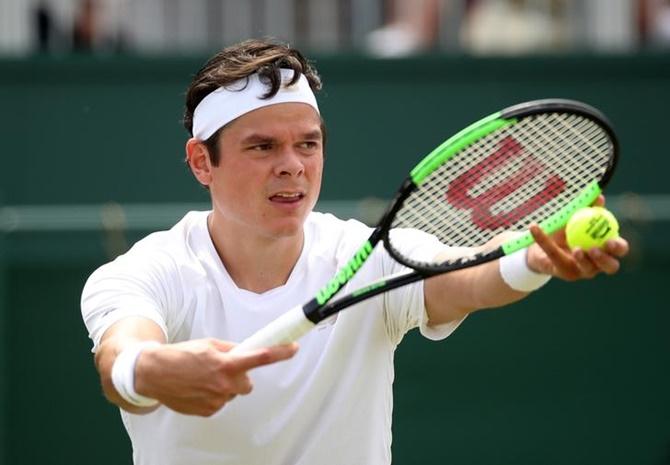 Alexander Zverev's name has been thrown around in that respect for a few years now, but the 22 year old has constantly found ways to implode from winning positions.
On other occasions -- rewind your brain to Milos Raonic in the Australian Open -- Zverev hasn't turned up at all.
Which is simply galling because in 2018 when Zverev defeated both Federer and Djokovic en route to victory at the ATP Finals, the German was believed to have turned a corner.
Turns out that the clock is still stuck, the hands desperate to get ticking again.
Stefanos Tsitsipas, another among the new breed, has shown greater promise, famously upsetting Federer in a ceaselessly thrilling round of 16 match at the Australian Open earlier in the year.
At the same stage against Wawrinka in Paris last month, the 20 year old from Athens was unfortunate to be at the wrong end of an 8-6 score line in an absorbing fifth set. Unlike Zverev, Tsitsipas has displayed the mental fortitude needed to thwart the Big Three.
Tsitsipas himself, though, has been heaping lavish praise on another precocious youngster, 18-year-old Felix Auger-Aliassime.
Tsitsipas is convinced that the Canadian, who is yet to win a Grand Slam match, will eventually take down the likes of Djokovic and Federer.
'He's the most difficult opponent I've ever faced... There's not much to come up with when you play against him. He's pretty much solid from everywhere,' he said after losing to Auger-Aliassime at Queen's. John McEnroe, in fact, sees him as a future World No 1.
While none of these guys -- barring a surprise -- looks quite ready to go all the way in a Slam, the Big Three will have to go past seasoned pros like Raonic.
What perhaps works even better is the ability to psych opponents out, an art that the Big Three have mastered over the years.
For anyone wanting to break their hold over the majors, a mental conditioning coach might come in handy.
Not to mention some decent ability with tennis racquet in hand.