Bindra realistic after the Haryanvi takes a set off Federer in US Open first round.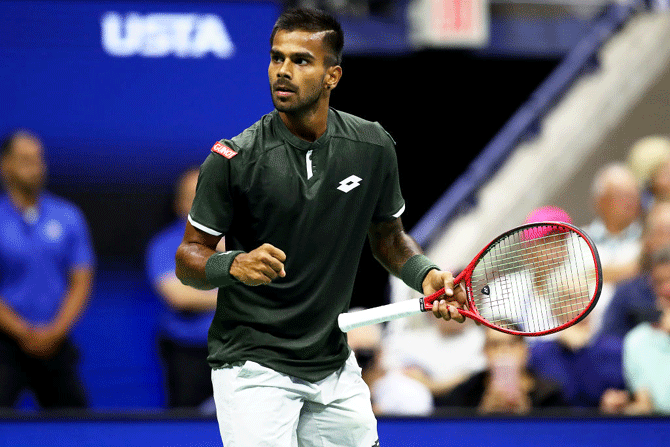 Olympian Abhinav Bindra on Tuesday backed the latest Indian tennis 'star', Sumit Nagal, but asked for tennis fans to put thing in perspective.
The 22-year-old Jhajjar-born, playing his opening round of the US Open against tennis great Roger Federer, took the first set off the 20-time Grand Slam champion, but eventually lost 4-6, 6-1, 6-2, 6-4.
190-ranked Nagal became only the fourth Indian to win a set in the main draw of a Grand Slam in the last 20 years and returns from the US Open not only richer by US$58,000.
India tennis fans were obviously chuffed at Nagal's spirited performance but Bindra urged people to be pragmatic.
"While we rightfully celebrate the spirited show of #SumitNagal let's not loose perspective. We need to a lot of work to do to produce a singles grand slam champion from India. Sumit shows us we can, we must follow through on it by creating champions! #Grassroots #science #talentid," Bindra wrote in a tweet.
Former India Davis Cupper, Somdev Devvarman though did not fully agree with the 2008 Olympic shooting champion.
"Sorry man. Politely disagree on part 2. While we should be excited that he's now playing at a high level, a grand slam title is very far away at this point. To put it in perspective, Nishikori hasn't won one yet. And yes, we do need to work harder and smarter on development.
"Also the larger questions, Do the administration know what it takes? Do they really care about the players? My feeling is they don't. Hence the uphill battle continues. But we gotta keep fighting the good fight," Devvarman wrote in reply to Bindra's tweet.
Devvarman has been a keen follower of Nagal's tennis.
Nagal made his Davis Cup debut against Spain in 2016.
Devvarman backed Nagal when the latter was dropped from the Indian Davis Cup squad in 2017 after reports claimed that he missed a practice session in July 2016 in Chandigarh during the tie against Korea, due to a hangover.
"You don't condemn an 18 year old for a mistake he made and make an example out of him. You teach him the right things and help him find his way and reach his potential. Pretty simple if you ask me," Devvarman wrote in another tweet.
He also got a vote of confidence from the great Federer himself.
"I think he knows what he can bring. That's why I think he's going to have a very solid career. But, of course it's not the game that comes out with the biggest surprises. It's really consistent. I think he did it very well tonight," Federer said after the match.
Nagal became only the only the fifth Indian male player after Devvarman, Yuki Bhambri, Saketh Myneni and Prajnesh Gunneswaran to feature in a Grand Slam singles main draw this decade.
Nagal had become the youngest Indian in 25 years to qualify for the main draw of a Grand Slam as he had defeated Brazil's Jaao Menezes 5-7, 6-4, 6-3. He had earlier won the Wimbledon Boys' doubles title in 2015.