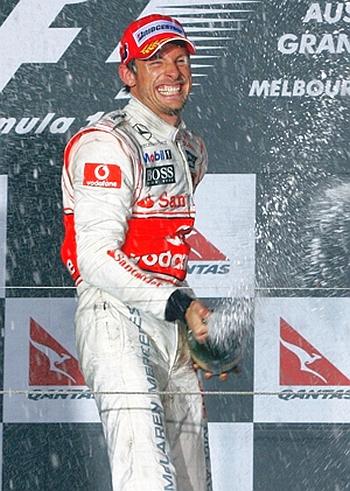 Formula One world champion Jenson Button has endorsed the idea of having a Russian Grand Prix after getting a feel of driving round the Kremlin on Sunday.
"This is not a day of work, it's a day of enjoyment," the Briton told reporters after taking a few leisurely laps in his race car round the Kremlin walls on his first trip to Moscow.
"I've always wanted to visit Moscow. I haven't seen much of the city as we only arrived two days ago.
"It would be a good idea (to have a Grand Prix here) as I definitely want to come back," the McLaren driver added.  
Moscow officials hoping to bring Formula One to the capital are negotiating with commercial supremo Bernie Ecclestone.
"We're aiming to have the race here as early as 2012," general director of Bavaria Moscow City Racing (BMCR) Derk Sauer said.
"The (race) contract is not done yet but we're getting very close," he added.
Ecclestone said last week that having a race in Russia was his priority.
Sauer said Moscow officials had enlisted the help of German circuit designer Hermann Tilke to build a race track around the Kremlin.
"It would be just like Monaco, a race around the city centre with the Kremlin in the background," Sauer said.
For a third year in a row, BMCR has organised the motor racing show in the centre of Moscow, trying to introduce Russians to the sport.
On Sunday, despite the hottest day of the year when the temperature reached 37 degrees Celsius (99 Fahrenheit), thousands of people turned out to watch Button and Renault's Russian rookie Vitaly Petrov show off their driving skills.