Brazil have won the Under-17 World Cup trophy thrice -- 1997, 1999 and 2003, while Spain are looking to win their maiden title.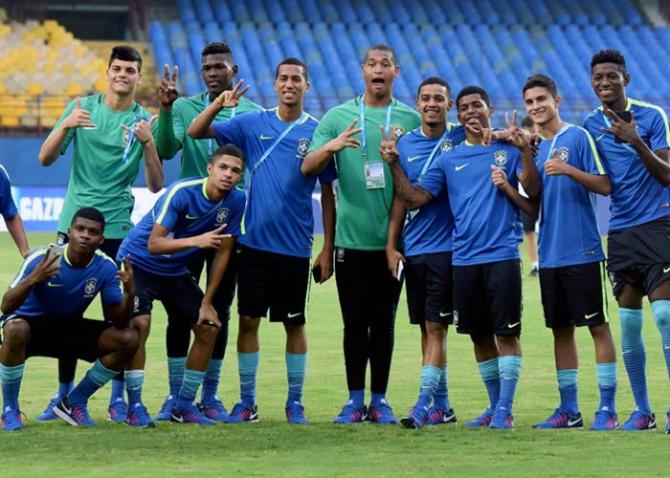 IMAGE: Brazil's players pose for photographers in Kochi. Photograph: PTI
Three-time champions Brazil and European powerhouse Spain will take on each other in a highly-anticipated marquee clash between title contenders of the FIFA Under-17 World Cup, in Kochi, on Saturday.

The football-mad Kochi could not have asked for anything better than this showdown between the South American champions Brazil and European qualifying tournament winners Spain at the Jawaharlal Nehru International Stadium.

Brazil are the overwhelming favourites of the fans in Kochi and Spain will virtually feel like playing in Rio de Janeiro or Sau Paulo.
But to their good fortune the crowd may not be as loud as usual because FIFA has forced the local organisers to reduce the capacity of the stadium to just 29,200 to comply with the world body's strict evacuation related rules.

However, the lucky ones who will be at the stadium on Saturday will get a chance to witness a fascinating contest between Brazilian attacking flare and Spanish 'tiki-taka' possession football in what could be a final before the final of this tournament.

Both Brazil and Spain are expected to finish as top two teams in Group D, which also has North Korea and Niger. But whoever wins the match will have the advantage and will have one foot in the knockout stage.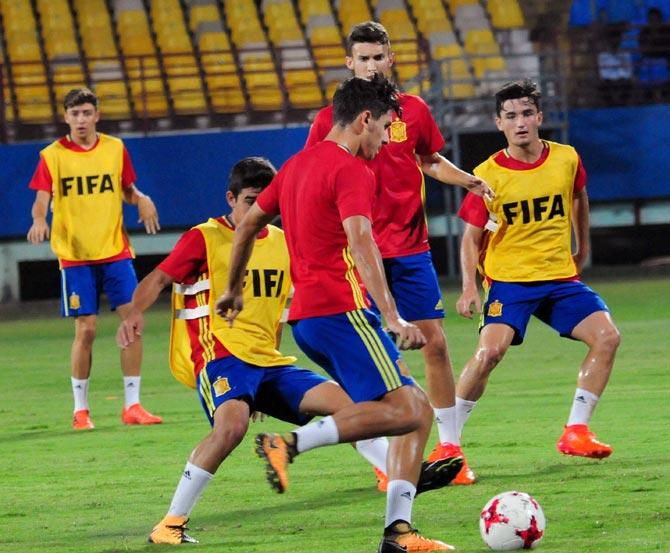 IMAGE: Spain's players during a training session. Photograph: PTI
Brazil are a formidable force even in the age group, having appeared 15 times in 16 editions before India and winning the Under-17 World Cup trophy thrice (1997, 1999 and 2003).

They finished runners-up in 1995 and 2005, third in 1985 and fourth in 2011. Their solitary absence came at Japan 1993.

In the last edition in 2015 in Chile, they were knocked out by eventual champions Nigeria in the quarter-finals.

Brazil went unbeaten in lifting this year's South American Under-17 title, winning seven matches and drawing two. They boasted both the leading goalscorer (Vinicius Junior with seven) and the player providing most assists (Alan with five). The Brazilians clinched the continental title with a 5-0 victory against hosts Chile.

The squad in India is practically unchanged from the one which won the South American qualifying tournament except the absence of Vinicius Junior. The top scorer and player of the tournament at the South American U-17 Championship has not been released for the World Cup by his club side Flamengo.

The core of this team has played five tournaments recently and the level of understanding among players is high.

In the absence of Vinicius Junior, another Flamengo youth team player Lincoln Correa dos Santos will be the man leading the Brazilians from the front.

The 16-year-old can play on both wings of the pitch.

Paulinho is another key player. One moment, he is bursting past his marker on the right wing to set up a goal; the next, he is providing a delicate finish from the centre-forward position.

Spain, on the other hand, are seeking to win their first FIFA U-17 World Cup title in their ninth appearance. A line of illustrious players of the calibre of Xavi Hernandez, Andreas Iniesta or Iker Casillas have not been able to lift the trophy at different editions.

Despite their record haul of three UEFA European U-17 Championships, Spain have never managed to win the FIFA U-17 World Cup. Runners-up in 1991, 2003 and 2007, La Rojita have curiously failed to qualify since finishing third in 2009.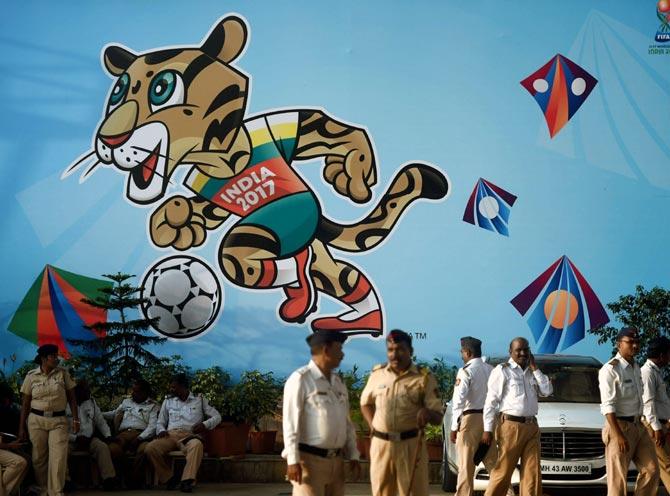 IMAGE: Policemen stand guard at the DY Patil stadium in Mumbai. Photograph: PTI
Spain qualified for the tournament by claiming the European U-17 crown in Croatia in May. It was touch and go on in that gane with Nacho Diaz equalising in injury time in the final to deny England, who had led since the 58th minute. Spain emerged victorious from the ensuing penalty shootout (4-1).

The La Rojita play a brand of football that is synonymous with the Iberian nation -- possession football. With six players from FC Barcelona's famous academy La Masia and five from Real's academy, the team is brimming with players who have the potential to be the future stars.

They have wonderkids like Barcelona's youth team player and captain Abel Ruiz and Valencia starlet Ferran Torres.

Ruiz is an attacking player and was one of the La Masia talents courted by top premier league clubs like Manchester City, Arsenal and Chelsea. He is more than just a goalscorer. It was under his leadership that Spain won their ninth UEFA European U-17 Championships earlier this year.

17-year-old Torres is another bright prospect in Spanish football at the moment and two La Liga giants -- Barcelona and Real Madrid -- have shown interest in the young striker.

Teams:

Brazil: Gabriel Brazao, Wesley, Vitao. Lucas Halter, Victor Bobsin, Weverson, Paulinho, Marcos Antonio, Lincoln, Alan, Lucao, Matheus Stockl, Rodrigo Guth, Luan Candido, Victor Yan, Rodrigo Nestor, Vitinho, Yuri Alberto, Brenner, Yuri Sena.

Spain: Alvaro Fernandez, Mateu Jaume, Juan Miranda, Hugo Guillamon, Victor Chust, Antonio Blanco, Ferran Torres, Mohamed Moukhliss, Abel Ruiz, Sergio Gomez, Nacho Diaz, Pedro Rui, Marc Vidal, Alvaro Garcia, Eric Garcia, Diego Pampin, Jose Lara, Cesar Gelabert, Carlos Beitia, Victor Perea, Alfonso Pastor.
Germany eye maiden Under-17 World Cup title

Formidable Germany have their task cut out when they take on Costa Rica in their campaign-opener of the FIFA U-17 World Cup in Margao, on Saturday.

Germany have made 10 appearances in the tournament but have not won the title so far.

They landed early in Margao to adjust themselves to the conditions and have been practicing yoga during their training sessions for the last four days.

Head coach Christian Wuck said he will take one match at a time and his side would first look to qualify for the knockout stage.

"Our first aim is to win against Costa Rica, Iran and Guinea and top the group in order to qualify for the knock out round," said Wuck.

"Players like Jann-Fiete Arp, Elias Abouchabaka and Dennis Jastrzembski who will be in action tomorrow are billed as the ones who will take up the mantle from illustrious names like Thomas Muller and Toni Kroos," added the former Bundesliga player.

"These youngsters are not burdened with the pressure of winning a World Cup. Instead, to play in India is seen as an opportunity to learn and develop not just their footballing skills but their personalities and even education," German team's media manager Ronny Zimmerman explained.

Costa Rica, who were the last team to arrive in Goa on October 3, had a training session at two different grounds during the last two days.

They will be making their 10th appearance in this tournament with the most successful period coming between 2001 and 2007, when they reached the knockout stage on every occasion.

Costa Rica won all four games as hosts of the Central American qualifying event to reach the 2017 CONCACAF Under-17 Championship on a hot streak.

They coasted through the initial group stage with another 100 per cent record defeating Cuba, Canada and Suriname to reach the classification round despite suffering a heavy 1-6 defeat at the hands of eventual champions Mexico.

They finished second courtesy their slender 2-1 win over Panama, and in the process advanced to India 2017.

Camacho Viquez, who took the reins of his country's U-17 side in 2016, is looking for a good show in this tournament.

"The boys are ready and give their best to win tomorrow," he said.

Teams:

Germany: Luca Plogmann, Alexander Nitzl, Pascal Hackethal, Dominik Becker, Jan Boller, Noah Awuku, Shaverdi Catin, Eric Majetshcek, Jan-Fiete ARP, Elias Abouchabaka, Nicolas Kuehn, Luis Klatte, Dennis Jastrzembski, Yannik Keitel, Kilian Ludewig, Lars Mai, maurice Malone, John Yeboah, Jessic Ngankam, Yann Bisseck and Marian Prins.

Costa Rica: Ricardo Montenegro, Andres Hernandez, Fernan Faerron, Karin Arce, Amferny Arias, Wabter Cortes, Morio Mora, Christian Munoz, Julen Cordero, Greivin Fonseca, Felipe Flores, Jose Alfaro, Brandon Calvo, Ronnier Bustomante, Josre Abarca, Andres Gomez, Yecxy Jarquin, Kevin Chamorro, Sebastian Castro, Alexander Roman and Daniel Chaon.