Blatter in Russia on first foreign visit since crisis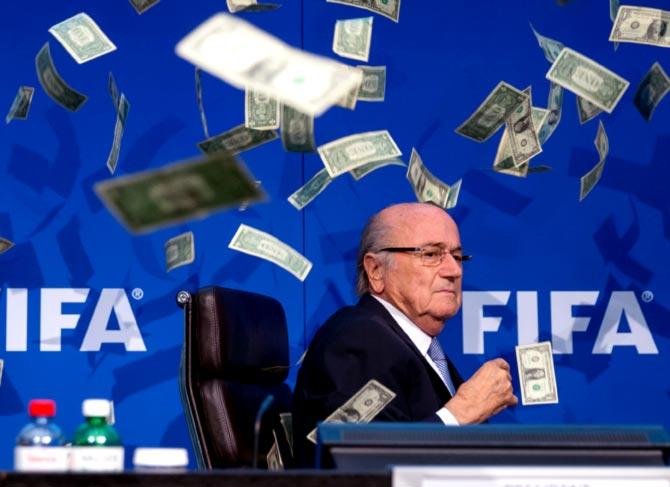 Sepp Blatter was showered with paper money in Zurich. Photograph: Philipp Schmidli/Getty Images
FIFA president Sepp Blatter arrived in St Petersburg on Thursday on his first official trip abroad since he announced on June 2 that he would step aside amid the worst crisis in his federation's history.
Blatter will be at Saturday's draw for the 2018 World Cup qualifying competition, an extravaganza which Russia President Vladimir Putin is also due to attend.
Since May, he has missed the world under-20 championships in New Zealand, the women's World Cup in Canada and the Copa America in Chile, tournaments he would routinely have attended.
A FIFA spokesperson confirmed to Reuters that Blatter had arrived.
A worldwide TV audience of around 100 million people in 170 countries will watch as the two men open proceedings at the draw for the competition, which will involve 206 of FIFA's 209 member nations.
Blatter said in a shock announcement on June 2 that he would lay down his mandate, only four days after being elected for a fifth term as FIFA president. He will remain in office until a successor is chosen at an extraordinary Congress on February 26.
His decision came less than one week after 14 sports marketing executives and soccer officials, including several from FIFA, were indicted in the United States on bribery, money laundering and wire fraud charges.
Seven of those accused were arrested by Swiss police in a dawn raid on a luxury Zurich hotel two days before the FIFA Congress where Sepp Blatter was re-elected.
Blatter has not been accused of any wrongdoing, but he has retained an attorney. Some lawyers with experience in international criminal cases have said Blatter would be ill-advised to travel after the US indictments were announced.
Blatter told the Welt am Sonntag newspaper in an interview earlier this month that he was playing safe.
"I won't take any travel risks until everything has been cleared up," he said.