Bhutia in AFC's video awareness campaign in fight against COVID-19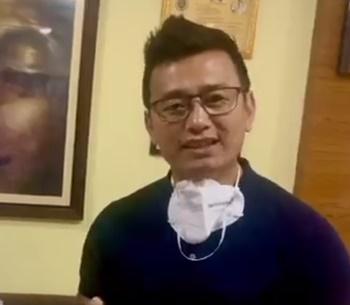 Former India captain Bhaichung Bhutia will feature in Asian Football Confederation's (AFC) public awareness campaign on the COVID-19 pandemic, the continental body said.
The #BreakTheChain campaign features some of Asia's biggest names in football, sharing inspiring messages of solidarity and timely reminders on the best health practices and guidelines put in place by the World Health Organization (WHO).
"The #BreakTheChain campaign features some of Asia's finest from all across the Continent, such as 2018 AFC Women's Player of the Year, Wang Shuang from China PR, Indian legend Bhaichung Bhutia and Jeonbuk Hyundai Motors' and 2016 AFC Champions League winner Lee Dong-gook with several more big names poised to join the series in the upcoming instalments," the AFC said in a statement.
Other Asian stalwarts featuring in the video awareness campaign include former Saudi Arabia talisman Yasser Al Qahtani, Hong Kong's history-making coach Chan Yuen Ting, as well as Australia forward Adam Taggart.
The campaign carries the message of solidarity in these challenging times and promotes the guidelines put in place by WHO to practice good personal hygiene, social distancing and where enforced, respecting the #StayAtHome rules.
Legendary Bhutia was the Indian football's posterboy for more than a decade before his retirement in 2011. He was the first Indian player to play 100 international matches before current national team skipper Sunil Chhetri surpassed him.
Bhutia was inducted in the Asian Football Hall of Fame by the AFC in 2014.
Mohun Bagan donate ₹ 20 lakh for fight against COVID-19
Designated I-League champions Mohun Bagan have announced a donoation of ₹ 20 lakh in the fight against the coronavirus pandemic.
"Mohun Bagan will donate ₹ 20 lakh towards the West Bengal State Emergency Relief Fund to be used to combat the deadly coronavirus pandemic," Mohun Bagan announced this on their official Facebook page.
"Football stands for unity. It also stands for humanity. We also make an appeal to all to come forward with voluntary donations to the State Government's Emergency Relief Fund," it added.
"These are challenging times for everyone and none should be left behind. Our contribution is just a start. We hope that others also join in supporting more families in need. Together we can overcome this crisis," Mohun Bagan general secretary Srinjoy Bose said in a statement on the club's website.
Finance Secretary Debashis Dutta added: "Be it good times or bad, our fans never stop supporting their beloved club. During this tough time we want to help the people who are fighting to make our lives easier. We can get through this together!"
"There are so many things people can do to support those affected right now. Big or small, every donation or act of service goes a long way. Our thoughts are with every single person and business affected right now."
Mohun Bagan have sealed their second I-League title with four rounds left before all sporting events were forced to a halt in the wake of the coronavirus pandemic.
As many sports personalities, organisation and clubs have come forward to join in the fight against COVID-19, another Kolkata club Aryan have chipped in with ₹ 2 lakh to the state relief fund.
The total number of positive coronavirus cases in India has climbed to 928 on Saturday, while the global count has been 597,000-plus.