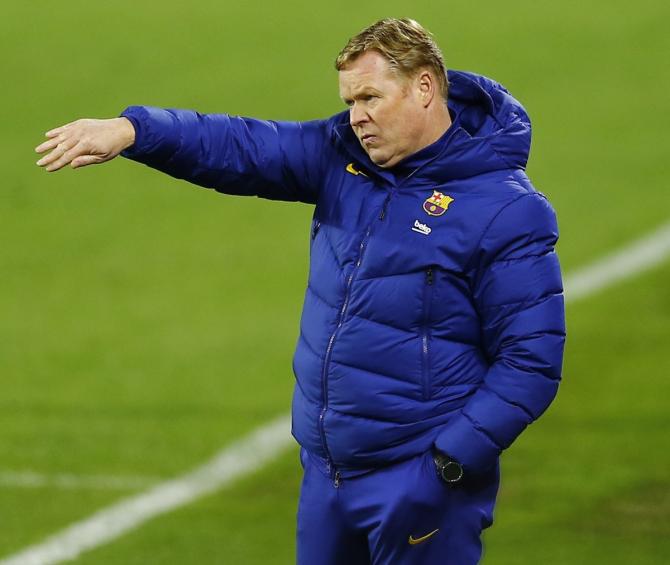 Barcelona coach Ronald Koeman has defended centre-back Gerard Pique's right to make comments about referees favouring Real Madrid.
Pique, who is injured, appeared on YouTube show Post United last week and was asked about a comment last year by former referee Eduardo Iturralde that 90% of referees in the country supported Real Madrid.
The defender said if that was the case then it was natural that match officials would give Real decisions, even if it was subconscious -- leading the Spanish FA (RFEF) to open a disciplinary investigation into Pique's remarks.
"It's not my problem. I won't get involved with Pique's comments, he's responsible and experienced enough to say (what he thinks)," Koeman told a news conference ahead of Saturday's La Liga game with Alaves at the Nou Camp.
"We have to be careful because you can get into trouble over small things. You have to try and be critical but always with respect and words that they can't do anything about."
Barca on Thursday posted a video on their Twitter account of an incident in their 2-0 defeat at Sevilla in the Copa del Rey semi-final, first leg in midweek that they believed should have been given as a penalty.
Koeman distanced himself from the post, although he said the referee got it wrong.
"It wasn't my decision to tweet the video. But for me it's a penalty. The referee said it was a foul outside the box; everyone saw that it was inside," he added.
"I don't understand why VAR doesn't step in. It's not that complicated. Mistakes can be made, no problem, we have to look forward."
Pique will miss the Basque side's visit as he continues to recover from a long-term knee injury.
Koeman will also be without Ronald Araujo, Martin Braithwaite, Philippe Coutinho, Sergi Roberto and Ansu Fati, but welcomes back Sergino Dest and Miralem Pjanic.
Packed schedule responsible for Neymar's injur: PSG's Pochettino
Paris St Germain forward Neymar's latest injury can be blamed on a hectic match schedule and the COVID-19 crisis, coach Mauricio Pochettino said on Friday.
Neymar has been ruled out for four weeks with a groin injury, meaning he will miss the first leg of PSG's Champions League last-16 tie at his former club Barcelona on Tuesday.
"When you look at the way injuries have increased it is because of the huge workload and the number of competitive games," Pochettino told a news conference on the eve of PSG's Ligue 1 game at home to Nice.
"We have played nine competitive games in about 40 days and of course the circumstances are special due to COVID-19."
Pochettino added that it had "not been contemplated" that Neymar, 29, would return to Brazil to nurse his injury.
Neymar was injured in a 1-0 win at Caen in the French Cup on Wednesday after a rough challenge by Steeve Yabo but the Ligue 2 side's coach Pascal Dupraz said his player did not cause the injury, adding that the Brazilian's provocative attitude was also to blame.
"He complains of taking kicks while he controls the ball on his feet because he is an artist," Dupraz said.
"He is clever, he adds more, he provokes.... what bothers me is that he is in the provocation and the invective."
For the Nice game, PSG are also without Angel Di Maria, who will also miss the Barca clash at Camp Nou clash on Tuesday, but welcome back keeper Keylor Navas.
They are third in the standings, three points behind leaders Lille who host Brest on Sunday.
Fabinho out as Liverpool suffer another injury blow
Liverpool have suffered another defensive injury as manager Juergen Klopp confirmed makeshift centre back Fabinho would miss Saturday's Premier League clash at Leicester City with a muscle problem.
Liverpool's defensive resources have been decimated this season with centre backs Virgil van Dijk, Joe Gomez and Joel Matip all ruled out with serious injuries, leaving Fabinho to fill in, at times alongside fellow midfielder Jordan Henderson.
The Brazilian, who along with Henderson, was an integral part of Klopp's industrious midfield pressing machine in their run to the title last season, will sit out the match at the King Power Stadium, where fourth-placed Liverpool face a Leicester side a spot above them in the table.
"Fab will not be available by the way, he's suffered a little muscle issue again so he'll be out for this game," Klopp told reporters on Friday.
Fabinho's absence could open the door for one or both of Liverpool's January signings Ozan Kabak, recruited from Schalke 04, and Ben Davies, from Preston North End, although Klopp is wary about the threat posed by Leicester striker Jamie Vardy.
Leicester's top scorer has returned following a minor hernia operation and is expected to start.
"Vardy is obviously a proper challenge the way he gets set up by his mates but you can only do it with the whole team," Klopp said.
"You have to avoid the passes to him. Jamie is a world class player in a specific area of the pitch."
Liverpool have lost four times in the new year, including their last three at Anfield after a 68-match unbeaten run at home.
Klopp's side were top of the league at the start of the year but now sit 10 points behind leaders Manchester City and a point above Chelsea in fifth.
"It's normal if you don't get results week in, week out that a few things drop. Rhythm is difficult when you have to keep bringing players in," Klopp said.
"Do Leicester prepare to face a team without confidence and rhythm? I don't think so... I spoke once about confidence and I wasn't really happy afterwards that I opened that box. You have to fight through a situation like this."