Serena Williams trounced Maria Kirilenko at the Australian Open on Monday, setting up an all-American quarter-final with her would-be successor Sloane Stephens after Andy Murray had put flagging Frenchman Gilles Simon out of his misery.
The 31-year-old Williams needed less than an hour to advance under lights at Rod Laver Arena with a 6-2, 6-0 victory, and will meet another woman in a hurry in teenager Stephens.
The wise-cracking 19-year-old has been touted as an heir to the 15-times Grand Slam champion Williams and bolstered her credentials with a mature 6-1, 3-6, 7-5 win over Serbia's Bojana Jovanovski in the afternoon sun at Hisense Arena.
But Williams fired a warning shot ahead of the generational battle, with her serve on fire and after bashing 22 winners against the 14th-seeded Russian.
"I think she's playing great," Williams said courtside of Stephens. "I think she has incredible talent, I actually admire her as well.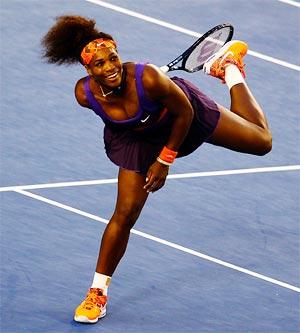 "I feel like I have nothing to lose and I'm just going to have fun when I play."
Stephens was just happy to advance to her maiden Grand Slam quarter-final, and secured a A$250,000 payday when her shrieking opponent duffed a return into the net.
"I'm sure my mum's had, like, four heart attacks," Stephens said courtside, raising a laugh from the crowd.
"I try to save all my money because I don't want to be old and broke. I'm still trying to save my money but I'll definitely buy something nice."
Murray appeared to derive little joy from his 6-1, 6-3, 6-1 clobbering of shattered 14th seed Simon, with the Frenchman reduced to a staggering wreck.
Simon had been exhausted by compatriot Gael Monfils in a five-set marathon in his previous match and was reduced to little more than cannon fodder as he slumped to his 10th straight loss to the Scot.
DREAM RUN
Murray's victory checked the Gallic juggernaut at Melbourne Park, but set up another match with a Frenchman after Jeremy Chardy's fairytale run continued with a 5-7, 6-3, 6-2, 6-2 win over 21st seeded Italian Andreas Seppi.
That secured Chardy's maiden Grand Slam quarter-final and ensured France would have two men in the last eight, with seventh seed Jo-Wilfried Tsonga grinding down ninth-seeded compatriot Richard Gasquet 6-4, 3-6, 6-3, 6-2.
Unfancied and unseeded, the scruffy-bearded Chardy, ranked 36th in the world, stunned sixth seed Juan Martin del Potro in his previous match and said he has nothing to lose against Murray.
"(It's) just like a dream," the thrilled 25-year-old told reporters. "I know I can beat everybody. So when I feel confident, I believe in me. Against Del Potro, I played a very good match. So it was good for my head."
World number one Victoria Azarenka was back at her ruthless best in a 6-1, 6-1 demolition of 47th-ranked Russian Elena Vesnina after being taken the distance in her previous match by American Jamie Hampton.
She faces a stiffer challenge in the quarter-finals against another Russian in Svetlana Kuznetsova, who sent 10th seed Caroline Wozniacki spinning out of the tournament and out of the top 10 when the next round of rankings are released.
Kuznetsova, the 2004 US Open champion and winner at Roland Garros in 2009, spent much of last year on crutches with a knee injury, and was thrilled to secure her third quarter-final at Melbourne Park.
"If you had asked me before coming to Australia I would have laughed, definitely," Kuznetsova said of her surprising run.
Photograph: Navesh Chitrakar/Reuters