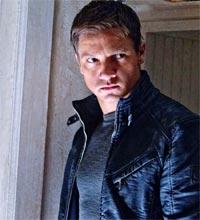 Is it time to welcome a new action hero?
With the solid opening of
The Bourne Legacy
, well known actor and two-time Oscar nominee Jeremy Renner (
The Hurt Locker
and
The Town
) has suddenly become a star. The gamble Universal Pictures took in making the latest film in the series without Matt Damon, who played Bourne in previous three films, seems to have paid off.
But even as Universal is saying it is ready to green light the next
Bourne
venture, Hollywood is waiting to see how the film -- which cost $125 million -- fares in the next few weeks especially since another action-packed thriller
The Expendables 2
opens next week. 
The new
Bourne
thriller took an impressive $40 million in North America in its first weekend. It opened in a handful of foreign territories and grossed a decent $7.5 million but the bigger markets in Europe and South America await the film in the next four weeks.
The film received a satisfying B grade by audiences interviewed by CinemaScope which takes weekly audience surveys in North America. The reviews were mostly mixed, with many complaining the movie was needlessly complicated, and that Renner lacked the magic of Matt Damon, who played the renegade amnesic spy in three films inspired by the Robert Ludlum novels.
Though the new film grossed considerably less than the $69 million three-day opening weekend for 2007's The Bourne Ultimatum, its solid opening is no small achievement considering how complex and complicated it is.
Damon got out of the fourth film in the series, along with director Paul Greengrass, because of the delays in green lighting the script for franchise that has earned almost $1 billion globally.
The new film is written and directed by Tony Gilroy, who worked on the screenplay of all four Bourne movies. 
Damon and Gilroy strained their relationship when the actor had said in a magazine interview that Gilroy's original script for 2007's The Bourne Ultimatum was "unreadable". He later apologised, but he and Gilroy haven't spoken since, per many news reports.
Some box office observers are suggesting Universal makes peace with Damon. 'The dream team scenario of a Bourne with both Damon and Renner would just be irresistible," said Paul Dergarabedian, box office analyst forHollywood.com.
Universal's big challenge was to create a story that did not ask Renner, whose profile has been going up in recent months thanks to his work in gigantic hit The Avengers and the mega hit in the latest Mission Impossible series, to play Jason Bourne essayed by Damon.
Instead, we have Aaron Cross.
Gilroy created the new character Aaron Cross and made him live in the secret and double crossing world as Jason Bourne.
'I'm not playing Jason Bourne: that's Matt Damon and always will be and he does it brilliantly,' Renner told the British newspaper Daily Telegraph. 'This is a new set of circumstances with a new character to tackle. Jason Bourne and Aaron Cross don't know each other. The only pressure for me was to physically be able to do what was required of me.'
Gilroy, who has also directed some of the top Hollywood actors such as Julia Roberts in the reasonably successful and acclaimed film, Duplicity and George Clooney in another successful venture, Michael Clayton, said of Renner: 'The reason he is such an amazing actor is that he is a complicated guy. He's sweet and he's hard and he lets himself draw on all of that.'
Some of the harshest words for the new film were found in Time Magazine in which Richard Corliss asserted that the film was more about trying to wring the franchise for more profits than it was an attempt to explore fresh narrative angles. He also said Renner was ill-suited to the big-budget action roles he has chosen in recent films.
Todd McCarthy offered some appreciation in the trade publication, The Hollywood Reporter. 'With Jeremy Renner stepping in to play another covert operative and franchise screenwriter Tony Gilroy taking over the directorial reins from Paul Greengrass, the same tone and look are maintained,' he argued, 'but the visceral excitement is muffled by familiarity, an insufficiently conceived lead character and the sheer weight of backstory and multiple layers of deception.''
The New York Times was even more generous. Manohla Dargis called the new film a 'solid salvage mission.'
'Yet Mr Gilroy, perhaps impatient to establish his own Bourne legacy, doesn't work off the franchise's foundation for long, instead veering off to juggle his many new faces and places,' she mused. 'By the time Rachel Weisz, as a scientist called Dr Marta Shearing, showed up in a lab coat, I stopped trying to parse every plot twist and just went with the action flow.'