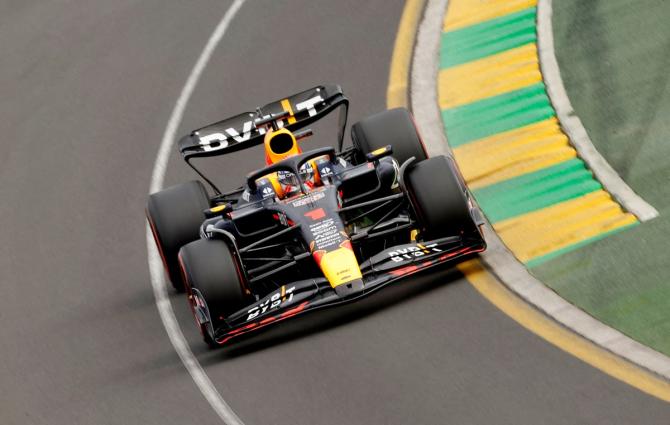 Formula One champion Max Verstappen took pole position for Red Bull at the Australian Grand Prix on Saturday after team mate Sergio Perez came crashing back to earth with a brake failure that left him last on the grid.
Mercedes driver George Russell will join Verstappen on the front row for Sunday's race at Albert Park after qualifying second ahead of team mate Lewis Hamilton.
Verstappen struggled for grip through qualifying but it all came together in his last effort as he roared around the lakeside circuit in one minute and 16.732 seconds, over two-tenths of a second quicker than Russell.
"Up until then it was just really tricky to find a grip," the Dutchman told reporters after celebrating his first pole at Albert Park and 22nd of his career.
"I only had time in the last run to go out and just go for it.
"This time it worked out, so very happy with that."
Red Bull have dominated the new season, with Verstappen claiming the first race in Bahrain and Perez the second in Saudi Arabia.
Perez, however, was eliminated in the first qualifying session on Saturday when he locked up braking into turn three during his first out lap and beached himself in gravel.
That came after a horror show for the Mexican in the third and final free practice as he skidded off repeatedly after spending much of the session confined to the garage as engineers worked on his car.
Mercedes, which failed to take a podium in either of the first two races and was well off Red Bull's pace, took huge encouragement from qualifying.
"I'm so happy with this," said seven-times world champion Hamilton. "I'm really proud of the team - to be up on the two front rows is a dream for us.
"To be this close to Red Bull is incredible.
"This gives everyone in the team a boost and a glimpse of hope."
The day was a minor reality check for Aston Martin and was outright disappointing for Ferrari.
Hamilton pipped his old rival Fernando Alonso, who will start fourth on the grid for Aston Martin ahead of Ferrari's fifth-placed Carlos Sainz.
Sainz's team mate Charles Leclerc will line up seventh behind Aston Martin's Lance Stroll.
Surprise package Alex Albon qualified eighth in an encouraging day for Williams, with Alpine's Pierre Gasly and Haas's Nico Hulkenberg rounding out the top 10.
Home fan hopes of a big race for McLaren's Oscar Piastri were dashed as the 21-year-old Melbourne rookie narrowly missed the cut into the second session of qualifying. He will start 16th on the grid.
Lando Norris qualified 13th as McLaren's early season struggles continued.
Frustrated Leclerc fails to fire Ferrari into F1 contention
Ferrari's Charles Leclerc expressed disappointment after he could only manage seventh in qualifying for the Formula One Australian Grand Prix on Saturday, as he and team mate Carlos Sainz once again failed to bridge the gap to Red Bull.
Reigning champion Max Verstappen took pole position for Red Bull, with Mercedes driver George Russell on the front row for Sunday's race at Albert Park after qualifying second ahead of team mate Lewis Hamilton.
Leclerc said he was frustrated after being caught behind Sainz during Saturday's third qualifying session, hampering his lap time.
"I don't know what happened in the second round of Q3, whether it was a miscommunication with Carlos," Leclerc told reporters. "But I found myself behind him for the first sector, which wasn't great."
He said the Ferrari was performing better in Albert Park than in its outing in Jeddah two weeks ago, blaming his own performance for his qualifying position as well as the miscommunication with Sainz.
"I feel like we are quite competitive, but I just didn't put everything together," Leclerc said.
"Honestly, the feeling is better, but again today I'm not particularly happy about the way I drove," he said. "I think the car was actually quite good."
Sainz, who will start in fifth behind fellow Spaniard Fernando Alonso, said Mercedes were much closer to contention than many realised.
"They are lot faster than what people think," he told Sky Sports.
"That car is quick. It is clearly not as quick as Red Bull, no one is, but if they put qualifying together they can be a very strong package."