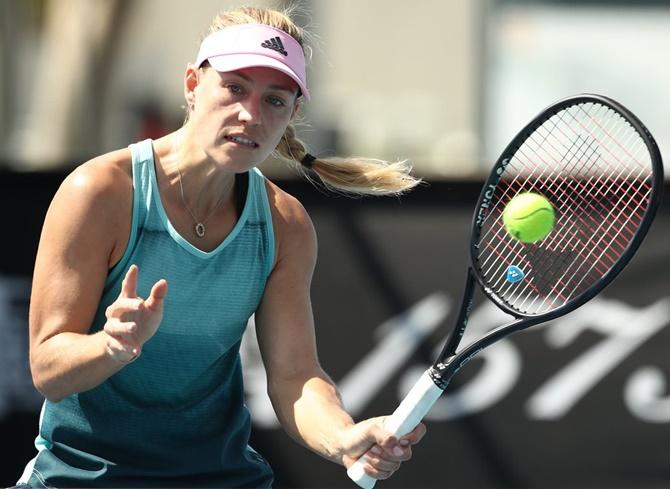 New coach Rainer Schuettler's experience as a former player at the top level has been invaluable for Wimbledon champion Angelique Kerber and the world number two believes her poor end to last season is truly behind her.
Kerber, a triple Grand Slam winner, parted ways with coach Wim Fissette ahead of the WTA Finals in Singapore due to differences of opinion regarding the future.
A month later Kerber announced former Australian Open finalist Schuettler as her new coach.
"I think he is (my) first coach that also played," Kerber said on Saturday during her pre-Australian Open news conference. "He knows how it is to being under pressure, to having the emotions on court."
"He understands my thinking. On court he is also a hard worker, he loves the sport like me. We are both really trying to do our best. We have the passion."
"To me, it's great to have Rainer on my team. I have a great team. I'm looking forward to the season right now."
After denying Serena Williams a record-equalling 24th Grand Slam title at Wimbledon in July, Kerber suffered a third round loss at the US Open, suffered early exits at four other tournaments and failed to progress from her group at the WTA Finals, prompting the change in coaching personnel.
She looked sharp again at the Hopman Cup in Perth last week, winning all four of her singles matches, even though Germany lost to Roger Federer's Switzerland in the final.
"I think I cannot compare this because, you know, after a long season, you are just trying to survive at the end, trying to push yourself, playing still good tennis," she said.
"But now we have a new season coming, and the motivation is really high again. You know, for me it's important to go on court and try to making the transit in my practice sessions to the match ones."
"I was really working hard in the pre-season, and now I'm looking forward to the competition and playing matches again."
The German, who turns 31 next week, won her maiden Grand Slam title at Melbourne Park in 2016, but she was not putting too much pressure on herself or looking too far ahead.
"I'm not putting too much expectation on me... I'm here to, like always, at the Grand Slams, find my rhythm, play the first round, try to do my best and then look day by day," she said.
"I know that I am playing good right now, that I had good matches, that I have the confidence. But still it's not easy to being here. The tournament starts from zero."
"You never know what's (going to) happen. Also the conditions are never so easy here in Melbourne. But, yeah, I'm looking forward."
Coach-less Halep admits behind curve at Melbourne Park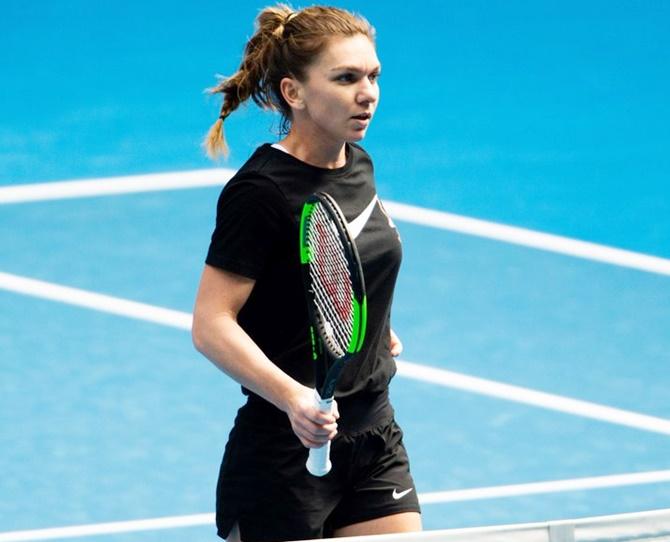 World number one Simona Halep, flying solo after parting ways with coach Darren Cahill, feels refreshed after a long lay-off to recover from a back injury but also concedes she has risked her Australian Open campaign with scant preparations.
French Open champion Halep warmed up for her run to the final at Melbourne Park last year by winning the Shenzhen Open in southern China but has played only one match since September, a 6-4 6-4 defeat to Australia's Ashleigh Barty at the Sydney International on Wednesday.
The top seed said her back had recovered '100 per cent' from a herniated disk aggravated at the China Open in September, however, she revealed she was also feeling a bit behind the curve.
"I am motivated. But it's a little bit different because last year I had about 10, 15 matches before Melbourne, now I have only one, which I lost," the Romanian told reporters at Melbourne Park on Saturday.
"I took the risk staying home a little bit longer. I rested because I felt like I'm exhausted after those tournaments and also the year that I had.
"I enjoyed the time at home a lot. Now I feel refreshed to start the year, but still I am a little bit back with everything, preparation and matches.
"But I don't complain. Everything was how I wanted. So now I have just to put my head down and to go and work."
Her opening shift is a daunting one, against Kaia Kanepi, the same woman who knocked her out of the first round of the US Open.
The shock loss to the unseeded Estonian made Halep the first top seed to fall at the first hurdle at Flushing Meadows.
Her former coach Cahill delivered the news of the re-match by text message after doing the draw at Melbourne Park on Thursday.
"You really want to know?" Halep smiled, after being asked how she reacted.
"I was at Nike taking my new shoes. When I saw the message, I was like, 'Okay, whatever. I just enjoy the moment with the shoes, then I'll think about the match'. That's it."
Cahill quit Halep's team for "family reasons" and the Romanian said she would proceed without a coach for the first few months of the season.
She was not interested in hiring coaches on short-term gigs, wanting to take time to pick the right one.
"For me it's a little bit tough to change the person I'm working every day because I get attached to the people, to my team. I cannot change fast," said Halep, a gallant loser to Caroline Wozniacki in the Melbourne final last year after carrying a painful ankle injury through the tournament.
"Every time you commit to someone in your team, you have to give 100 per cent."
"As I say always, at this level it is impossible without a coach. So maybe in the close future I will have someone. But for the moment, I'm just by myself."