A round-up of results from the final day of the World Athletics Championships at the Khalifa International Stadium in Doha on Sunday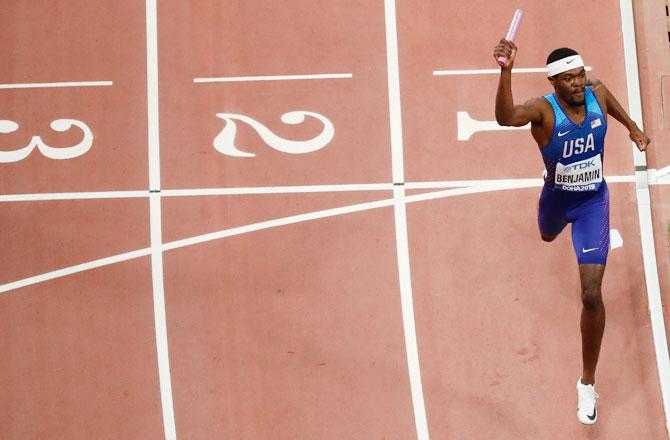 US reassert authority in men's 4x400m relay
The United States comfortably won the men's 4x400 metres relay gold at the world championships on Sunday, reasserting their authority in the event and ensuring they finished top of the medals table.
Rai Benjamin, silver medallist in the 400m hurdles, completed the win as he held off Jamaica's Demish Gaye around the final leg as the US won in 2:56.69 in the very last event of the championship.
Jamaica were second and Belgium, with brothers Dylan and Kevin Borlee running the closing legs, took bronze.
The US topped the medals table at the 10-day event with 14 golds followed by Kenya on five and Jamaica and China with three apiece.
The US had won six successive world titles until Trinidad & Tobago claimed the gold in London two years ago.
Michael Cherry put the U.S in control when he broke away from Nathan Allan on the second leg. Terry Thomas ran a brilliant third leg for Jamaica and managed to close the gap but Benjamin charged on the last leg to secure the US win.
"A lot of times we have not finished the job so tonight we were ready to face up to it collectively," said Wilbert London, who ran the first leg for the United States.
Britain failed to finish after fumbling the baton at the second exchange.
There was a mix-up between Toby Harries and Rabah Yousif and Harries crashed onto the track, still clutching the baton.
"I just lost the lift and I didn't place it directly in his hand. It's my fault and I went down," he said.
US storm to gold in women's 4x400m relay
The United States stormed to victory in the women's 4x400 metres relay at the world championships on Sunday after leading from the start to clock the best time this year.
US Olympic champion relay runner Phyllis Francis opened a comfortable lead before passing the baton to Sydney McLaughlin, silver medallist in the 400m hurdles at the worlds in Doha.
The US lead was retained by 400m hurdles world champion and world record holder Dalilah Muhammad, allowing Wadeline Jonathas to close out the race in 3 minutes 18:92 seconds.
McLaughlin and Muhammad only found out on Sunday morning that they would be competing in the relay, highlighting the depth of the US team.
"It's never definite for Team USA. There are a lot of great girls who can run," McLaughlin said after the race.
"It's really exciting especially with (the) Tokyo (Olympics) next year that anybody can do this relay."
Poland finished almost three seconds behind the United States, winning silver in a national record time of 3:21.89.
Jamaica finished third but were at first disqualified for lining up incorrectly in the second changeover, with their medal reallocated to fourth-place finishers Britain.
However, the Jamaicans were reinstated shortly after when it was ruled they had not gained an advantage from the violation.
The medal spot was returned to Jamaica, who ran a season's best time of 3:22.37, after a British appeal was rejected.
Ali leads US one-two in 100 metres hurdles
Nia Ali, back in the starting blocks after giving birth to her second child, powered to victory in the world championships 100 metres hurdles on Sunday, leading an American one-two finish.
Ali, who won silver at the 2016 Rio Olympics after having her first child, went one better in front of another full-house Khalifa Stadium, blazing across the line in a personal best time of 12.34 seconds.
World record holder Kendra Harrison, winner of 10 consecutive races this season, settled for silver in 12.46 edging out Jamaica's 2015 world champion Danielle Williams, who was clocked a 12.47.
The US was denied a possible podium sweep when Olympic champion Brianna McNeal was disqualified in the opening heats after a false start.
Ali was not the first mother to win gold at the world championships but she was certainly one of last collecting her medal on the final day of the 10-day meeting.
Jamaican 100m champion Shelly-Ann Fraser-Pryce and American team mate Allyson Felix in the 4x400m mixed relay had early struck a blow for working mothers adding to their world championship medal hauls.
"Shelly-Ann, Allyson, all the ladies who have come back from child birth are surely an inspiration for me and I am so excited to be able to pull off the world title," said Ali.
"Shelly-Ann, it was so inspirational for me to watch."
The evergreen Jamaican has been an inspiration for many women claiming her fourth 100m world championship gold medal (more than any other man or woman) to go along with two Olympic gold and perhaps more to come next year at the Tokyo Summer Games.
The 32-year-old now stands alone in terms of multiple world champions in one event, with her four titles one better than Usain Bolt and Americans Carl Lewis and Maurice Greene.
Back to school for Grenada's Peters after shock javelin win
Grenada's Anderson Peters pulled off a shock win in the javelin at the world athletics championships on Sunday after an unpredictable event where Olympic champion Thomas Rohler failed to reach the final.
Peters won with a throw of 86.89 as he gave the tiny Caribbean nation their second-ever world championship gold, following Kirani James' 400 metres win in 2011 - an event which inspired him to take up athletics.
However, he did not have much time to celebrate -- the 21-year-old studies at Mississippi state university and told reporters he had to sit exams next week.
"I've definitely missed some classes, I have a test on Tuesday," Peters said.
Estonia's Magnus Kirt was second with 86.21 although he retired from the competition after appearing to injure his shoulder with his fifth throw.
Kirt was wheeled off the field and unable to do a lap of honour although he took part in the medal ceremony with his arm in a sling.
Peters said he was inspired by watching James' performance in Daegu, South Korea, eight years ago.
"That was unbelievable for the whole country," he explained.
"He showed it's possible for anyone to become a world champion."
Peters said he was "shaking with nerves" during qualifying.
"I was so scared but having made the final I was a different guy today, I went out to be the world champion and here I am," he said.
"It means a lot to me and I'm sure it means a lot to my country."
"I always wanted to be a sprinter but I kept getting injuries, so my coach and I decided to try another event and we chose javelin and it turned out that I was pretty good at it," he added.
Germany, who had been expected to dominate the competition, instead had to settle for a bronze with defending champion Johannes Vetter who threw 85.37 after an injury-plagued season.
In addition to Rohler, European silver medallist and German champion Andreas Hofmann also failed to reach the final.
Kenyan Cheruiyot outclasses field to win 1,500 metres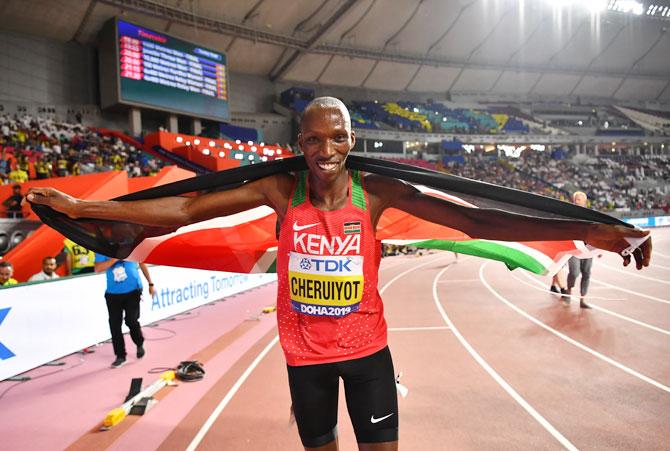 Kenyan Timothy Cheruiyot outclassed a field including two Olympic champions to win the men's 1,500 metres at the world championships on Sunday after taking silver two years ago.
The 23-year-old had a huge lead at the bell and never looked in danger over the final lap as he strode home in three minutes 29.26 seconds, more than two seconds clear, to claim Kenya's fifth straight win in the event.
Algeria's Taoufik Makhloufi, the 2012 Olympic champion, led the chasing pack to take silver in 3:31.38, delighting a noisy, flag-waving group of fans from the North African country on the first bend. Marcin Lewandowski set a Polish record to claim bronze.
Cheruiyot, also a silver medallist at the African Games and Commonwealth Games last year, said he took the initiative to avoid being jostled.
"You see that there is a lot of pushing so we were trying to avoid the challenges," he told reporters.
"I felt the support of Kenyans in the crowd and it was amazing. The Olympic season is coming so I need to work harder."
With Elijah Manangoi unable to defend his title after injuring an ankle in training, fellow Kenyan Cheruiyot was left as the clear favourite thanks to his devastating form this season which included a world leading time in Lausanne.
Cheruiyot, cheered on by a sizeable Kenyan contingent in a full house at the air-conditioned Khalifa stadium, took the lead from the gun and broke away along with compatriot Ronald Kwemoi.
He ran 55 seconds for the first 400m and 1:51 for 800, a risky move late in a season which has seen him run a succession of fast times in the Diamond League.
Still, he kept ramping up the pace, moved away from Kwemoi with 600m left and established a clear lead at the bell which he never looked like relinquishing.
Makhloufi, silver medallist at the 2016 Rio Olympics, led the chase around the final lap and held off Lewandowski, Norway's 19-year-old European champion Jakob Ingebrigtsen and British pair Jake Wightman and Josh Kerr to claim his first world championship medal.
Olympic champion Matt Centrowitz of the United States was eighth.
Uganda's Cheptegei snatches gold in men's 10,000m
Uganda's Joshua Cheptegei triumphed after a close battle in the 10,000 metres on Sunday, winning his first world title and bringing his country their second medal of the championships.
Cheptegei remained near the front of the pack for most of the race and surged in the final kilometre to pass leader Rhonex Kipruto before holding off Ethiopia's Yomif Kejelcha to finish in a world leading time of 26 minutes 48.36 seconds.
"It really means a lot to me," said Cheptegei, who won silver in 2017 behind Britain's Mo Farah.
"I've never been a world champion in the track. It's really a special moment."
Uganda won their first medal of the world championships on Monday when Halimah Nakaayi upset Ajee Wilson of the United States to take gold in the women's 800m.
Kejelcha finished second on Sunday behind Cheptegei, clinching silver with a personal best time of 26:49.34.
Kenya's Kipruto had to settle for bronze, having led for most of the race, crossing the finish line in 26:50.32.
Germany's Mihambo sails to women's long jump gold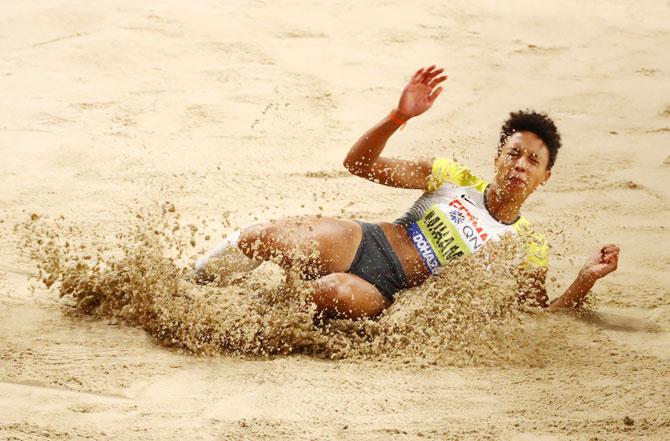 Malaika Mihambo took an all or nothing gamble as she soared to the world championship long jump gold on Sunday, with a leap the German said she may never see again.
Owner of the three best jumps of the season coming into the worlds, Mihambo made it four by flying 7.30 metres to land on top of the podium, adding the world title to her European crown.
"In training I don't remember having managed a jump like that," said Mihambo.
"Today I showed I am capable of such a great jump. I am over the moon."
Ukraine's Maryna Bekh-Romanchuk took silver with 6.92m, edging out Ese Brume by one centimetre, the Nigerian having to settle for bronze.
Mihambo was the only jumper to get over seven metres, doing so on each of her last three attempts, but after the opening two rounds she was closer to exiting the competition than topping the podium.
After a modest 6.52 with her opening effort and faulting on her second, Mihambo needed something special to get into the top eight and remain in the medal hunt and she delivered that and more by unleashing the best jump in the world this year.
"I can barely realise this," said Mihambo, after jumping further than anyone in the last 15 years.
"There was a really tight moment for me in this competition, my third attempt.
"My first attempt I had too many quick steps and 6.52 was not enough. My second attempt was a default.
"The third attempt it had to be, it had to work. I do not know if I will ever jump that far again in my life."