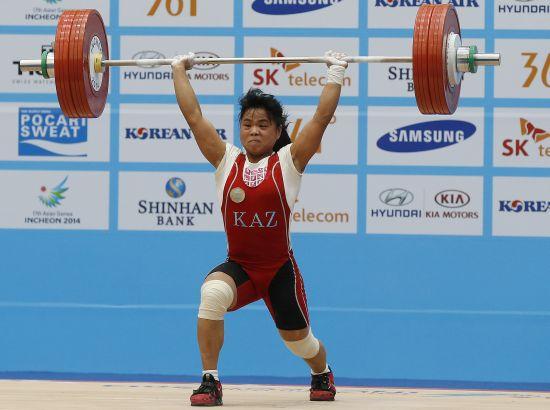 Kazakhstan's Zulfiya Chinshanlo breaks world record for the clean and jerk on her second attempt in the women's 53kg weightlifting competition with a lift of 132 at the Moonlight Garden Venue. Photograph: Olivia Harris/Reuters
Kazakh weightlifter Zulfiya Chinshanlo broke her own clean and jerk world record in the 53kg category at the Asian Games on Sunday, but it was not enough to snatch gold from Taiwan's Hsu Shu Ching, who also set a new combined world mark of 233kg.
Chinshanlo had set the world record by lifting 131kg in 2012 on the way to becoming Olympic champion in London and bettered the mark by 1kg in Incheon.
Hsu, who had finished runner-up to Chinshanlo two years ago, turned the tables on her by beating Li Ping's combined mark of 230kg, set at the Guangzhou Asian Games in 2010.
Hsu lifted 101kg in the snatch and also lifted 132kg in the clean and jerk, but Chinshanlo, by virtue of being the lighter lifter, was credited with the record.
"I am so happy," said Hsu, adding that her lift in the clean jerk surprised even her. "I never dreamed of breaking the record, even in training practice I never lifted that much."
Hsu said taking things slow and steady had been the key to turning the result around from London.
"Enough resting, and slowly building power for today's competition was a key for today's result, since I am still young," added the 23-year-old.
Chinshanlo's coach Alexy Ni was philosophical about the result.
"Second place is okay. She will work harder for two more years for the Rio Olympics," said Ni.
The records were the second and third to fall at the Games in Incheon after North Korea's Om Yun Chol set a new mark in the men's 56kg event on Saturday.