Celebrations abound for Shweta Chaudhry's friends and family after she bagged the bronze medal in women's 10-metre air pistol at the Asian Games in Incheon, South Korea on Saturday.
Shweta's win also brought India its first medal in the 17th edition of the Asian Games.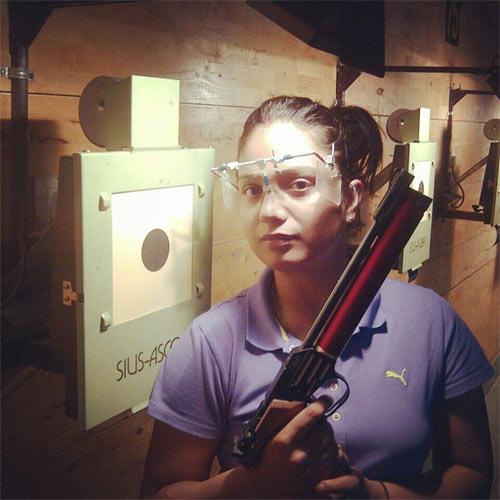 Ecstatic at Shweta's win, her father Ramesh Chaudhry said, "Winning an individual medal in Asian Games is a big achievement, we are very happy. In the coming days, a lot more medals are to come."
Beaming about her daughter's achievement, Shweta's mom said that she had put in a lot of hard work for the Asian Games.
Zhang Mengyuan of China won the gold, while Jung Jeehae from South Korea bagged the silver medal in the 10-metre air pistol event.
Shweta Chaudhry defied odds, a travel-weary schedule and absence of her regular weapon to provide India with their first medal, a bronze, in the 17th Asian Games.
Shweta was ecstatic to give the country the first medal on the opening day action.
"I am happy I got the first medal for India, it's a bronze but a medal is a medal. This is the biggest medal for me till now. I was thinking of first or second place in the beginning when it was good but in the middle I lost a bit. That 8.4 was a bad shot (leading to shoot-off)," the Faridabad shooter told reporters after winning the bronze.
Shweta later said that she had to fight without her regular weapon which had been held up at the Korean customs over the last three days as the number sent to them from India did not match with that on the weapon. But she did not want to blame anyone as she said the shooters keep changing their weapons.
"My weapon has been stuck with the customs officials here for the last three days. I changed my weapon recently and there was a problem with the serial numbers. I had trouble sorting that out," she said.
"After three days of talking with the Korean customs officials my weapon was delivered to me at 8am today but my event started at the same time, so I could not use it. I decided to fire with the spare weapon. Both of them are of the same make but I would have wanted to fire with the new weapon. I'm glad to have won the bronze with this," she added.
Shweta also complained about jet lag after reaching Incheon in a round-about way from Spain where she took part in the world championships in which she finished her competitions on September 12.
"I could not perform up to my expectations in the world championships, which is my worst performance to date. Then I had lot of difficulties reaching here from Spain and I was yet to get out of the jet lag. But I was confident that I had the potential to win a medal here and I am happy to achieve it," she said.
She also said the medal here was a great boost for her ahead of the Olympic Games in 2016 in Rio for which she has to qualify.
"This bronze is great motivation for me and I hope to build on it. The next year is a very crucial year with World Cups and many quota places for the Rio Olympics up for grabs. My goal is to make the cut for the Olympics. I've been working hard for it."
Shweta also said that she has had to fight and overcome an injury to her shooting arm and she was now looking ahead towards qualifying for the Rio Olympic Games in 2016.
"The injury is on the shoulder of my shooting arm. The injury is due to shooting only. Because of the injury I've not been able to fire my best," she added.
Photograph: Shweta Chaudhry/Facebook