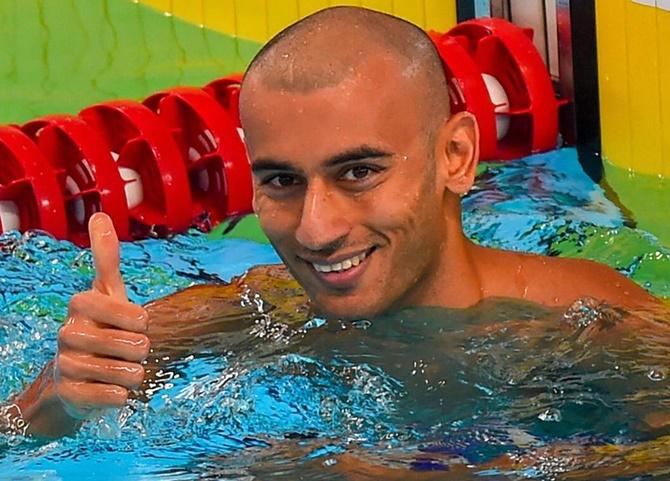 Virdhawal Khade bettered his National record but missed out on a bronze medal in the men's 50 metres freestyle by a whisker at the Asian Games, in Jakarta, on Tuesday.
After finishing third fastest overall in the heats, he was a medal contender in the final but missed bronze by a hundredth of a second. He clocked 22.47 seconds while bronze winner Shunichi Nakao of Japan timed 22.46s.
China's Hexin Yu (22.11s) won gold, ahead of Katsumi Nakamura (22.20s).
In the morning session, the 26-year-old Indian swimmer marginally bettered his own long-standing National record by clocking 22.43 seconds, which was a better effort than his 22.52s, set in August 2009 at the Asian Age group Swimming Championships in Japan.
"The National record does not matter to me now. I would have been happier if I timed 25 seconds and won a medal. It, unfortunately, did not happen today," Khade, who won a bronze at the Gunagzhou Games in 2010, said.
Khade returned to swimming only 18 months back after being out of action due to his job commitment with the Maharashtra government. He is posted as a Tehsildar at Sanjay Gandhi Niradhar, which manages a social welfare scheme.
"It's strange, but the government rule states that I have to do it (job) properly, so I can't miss office to train."
But if swimming is his passion, why can't he pursue a career in sport?
"It's simple. Financial issues! I can't invest from my own pocket. Money is not coming into swimming from anywhere. Had I been in TOPS, today's result would have been different. I would have trained better. When I was posted to Malvan, there was no swimming pool. I was there for two years.
When pointed out that to be considered for TOPS he has to compete regularly internationally and produce results, he quipped: "But I did compete at the Commonwealth Games (in Gold Coast). From there the funding would have helped. I would have just trained harder without worrying about my job."
Khade though is pleased with his improvement after making a comeback to the pool.
"After nearly 10 years (eight years), I am competing at such a big event. I was also at the Commonwealth Games also, but there I could not perform to my potential. I had timed 23.11 seconds there, so it is half a second fast. Hopefully, I will be able to cut down more and get a medal soon."
"I have worked on strength and fitness since January with my coach in Bengaluru. I have improved since January in every competition. Regular competition has helped me."
Khade's campaign is not yet over; he will compete in 50m butterfly and 100m freestyle.
Meanwhile, Anshul Kothari could not qualify for the final as he finished 28th with a timing of 23.83s. He was fastest heat 1.