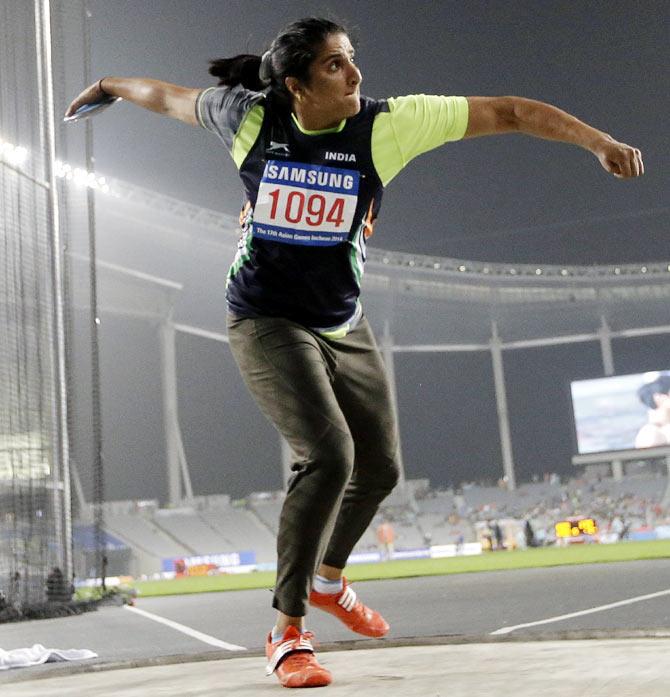 Seema Punia of India. Photograph: PTI
Putting behind a controversial past and bringing home an Asian Games gold medal is no mean feat. Discus thrower Seema Punia says, despite lack of government recognition, gold was all she dreamed of at the recently-concluded continental games in Incheon.
The Asian Games gold medal couldn't have come at a better time for Seema Punia. The discus thrower, who had to put some hard times behind her, clinched gold at Incheon with a personal best throw of 61.03 metres.
"Going into the Asian Games, my target was nothing less than a gold medal. That's all I could think of while eating, while sleeping… there was no question of a silver or bronze," said Punia, on the sidelines of a felicitation ceremony in New Delhi.
Punia, who had a tough eight years with a doping controversy haunting her, was relived to get the yellow medal at the recently-concluded continental extravaganza.
"I cannot tell you how I've spent these last eight years. We were financially broke, and I hope no one else faces my kind of situation," the 31-year-old said.
She lamented that despite bringing glory to the country she was denied the deserved respect.
"There has been no recognition from the Haryana government. Not even a phone call. Recently, couple of people had gone to my mother and asked her to show proof that we are originally from Haryana," moaned Punia.
But the lanky lady isn't bothered.
"I won the gold medal for the country and I've proved my detractors wrong. I'm not a greedy person so I will not do anything about it. If they (Haryana government) want to recognise my achievement well and good, otherwise let it be," she added.
'We need funds for world-class training before Rio Olympics'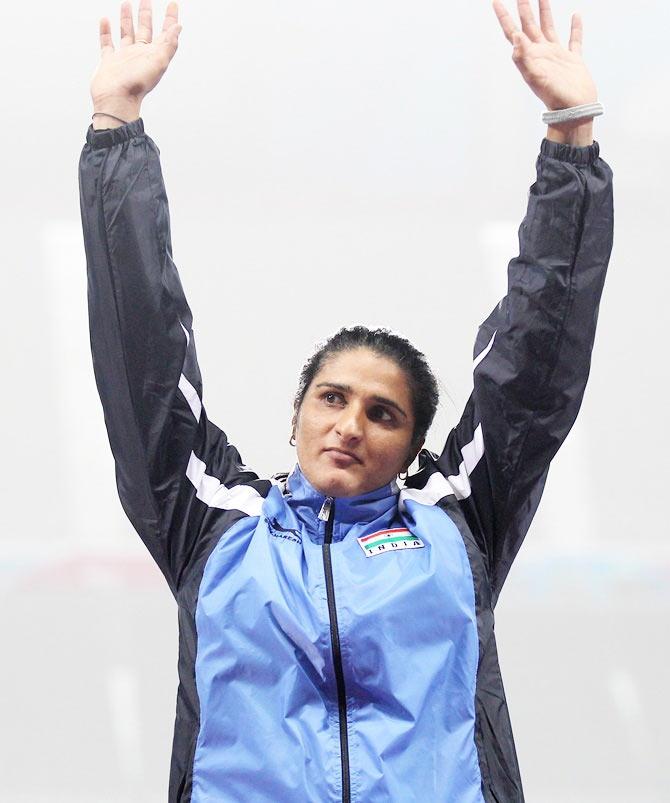 Gold medalist Seema Punia of India celebrates on the podium during the victory ceremony for the women's Discus Throw of the 2014 Asian Games at Incheon. Photograph: Chung Sung-Jun/Getty Images
Seema was embroiled in a doping controversy early in her career. She was stripped off her gold medal in 2000 World Junior Championships in Santiago after testing positive for a banned stimulant -- pseudoephedrine -- though she claimed at that time that it was due to a medication she took for common cold while on her way to Chile from India.
Six years later, she tested positive for banned substance, Stanozolol, prior to the 2006 Asian Games.
The Haryana athelete said that despite her achievements and leaving behind her dark past, people still "look upon her with suspicion".
"I am a junior World Championships medallist. I have won medals in three successive Commonwealth Games before I won a gold in Incheon. I think that should be enough to say about me as an athlete. But I have been looked upon with suspicion whenever I have achieved something and that is unfair," said Punia.
With the Rio Games still couple of years away, the discus thrower aims to end her career on a high with an Olympic gold.
"It's a dream to win an Olympic gold, and that should be my last one as well. Unless I feel that there is something more left to be proved.
"But we need funds to have world-class training. Sports Authority of India gave us an opportunity to train abroad for two months and the result is there for everyone to see.
"US coach Tony Ciarelli mentored me before the Asian Games. I have received an offer from former German discus thrower Lars Riedel to train under him. But I can't afford his training due to lack of funds.
"We need to take baby steps in our preparations before Rio. I won silver at the Glasgow Commonwealth Games, gold at the Asian Games at Incheon. My next step is the 2015 World Championships in Beijing and then 2016 Rio Olympics.".