'Even if we ate our chappatis with pickle, we ensured proper food for Sumit.'
Wimbledon boys' doubles champion Sumit Nagal's father tells Manu Shankar/Rediff.com about his son's tough rise, Mahesh Bhupathi's incredible support and the hurdles ahead.
Image: Suresh Nagal and Krishna Nagal at their Nangloi home. Photograph: Manu Shankar/Rediff.com
When you enter Nangloi, west Delhi, and ask for directions to the Nagal home, you observe a glint in people's eyes. A hint of pride.
Sumit Nagal's home is now a local landmark.
Local residents may not know precisely what the teenager has achieved, but the constant buzz about him on television has added to their curiosity.
Some say he is a kabaddi star, some tell you he won a medal in judo while others assert that he was part of the junior hockey team that won a medal.
They could, I guess, be excused for their ignorance since the mother and sister of Wimbledon's latest boys' doubles champion were national kabaddi and hockey players themselves.
Meanwhile, Suresh and Krishna Nagal are waiting for yet another journalist who wants to chat with them about their son's success at Wimbledon.
Sumit, partnering Vietnam's Nam Hoang Ly, defeated Reilly Opelka of the United States and Japan's Akira Santillan 7-6, 6-4 to win the boys' doubles title at the All England Lawn Tennis Championships, only the sixth Indian to win a Grand Slam junior title.
Yuki Bhambri was the last Indian to taste similar success at the junior level when he won the Australian Open boys' singles title in 2009. Ramanathan Krishnan (Wimbledon, 1954), Ramesh Krishnan (French Open and Wimbledon, 1979) and Leander Paes (Wimbledon 1990, US Open 1991) are the other Indian junior Grand Slam singles champions. Sania Mirza won the Wimbledon girls' doubles title in 2003, partnering Russia's Alisa Kleybanova.
Suresh Nagal, a teacher at Delhi's municipal school in Nangloi, looks back on his son's steady rise: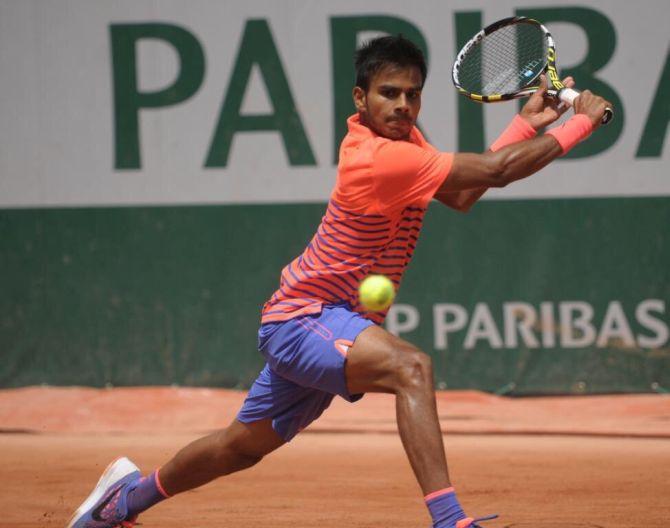 Image: Sumit Nagal. Photograph: Kind Courtesy Sumit Nagal
How did Sumit get into tennis?
We got Sumit enrolled at the DDA (Delhi Development Authority) tennis academy in Paschim Vihar, when he was 7. We are fond of tennis, so wanted him to get into the sport. Everyone sends their kids for cricket coaching, so I thought of putting Sumit into a different sport.
When he turned seven, I got him a Head tennis racquet, which was expensive at that time. It cost Rs 2,000 and I could see he liked the sport very much.
Cricket is commercialised these days and that's why I wanted Sumit to play tennis. It is such a beautiful game!
At what age did Sumit win his first medal?
Sumit won his first medal, a gold, when he was 8 at a tournament organised by the DDA, in the Under-10 category. He had talent and his coaches used to tell me that tennis comes naturally to him.
When he was 10 he would convincingly beat the Under-14 or Under-12 boys. After that he won several medals outside the country, in Germany, Canada.
Tennis is an expensive sport. What were the difficulties you faced?
Sumit practiced at the Siri Fort Sports complex, which is about 27 km away from Nangloi. So the travelling took its toll. We used to travel in packed buses.
While studying at the Modern Child School, he used to come back by 1:30 pm, have his lunch and then leave for coaching, as he had to be there by 3.
We ensured that he had a proper diet, as this is a very physical sport. Humnein chahe achaar se roti khayi ho, ladke ka dhayaan zaroor rakha (Even if we ate our chappatis with pickle, we ensured proper food for Sumit).
It was after buying a racquet for him that we built our upper floor so that he could practice upstairs by hitting the ball against the wall.
The school authorities accommodated us a lot. There were several occasions when he had tournaments, they would adjust his schedule and allow him to come to school after his matches.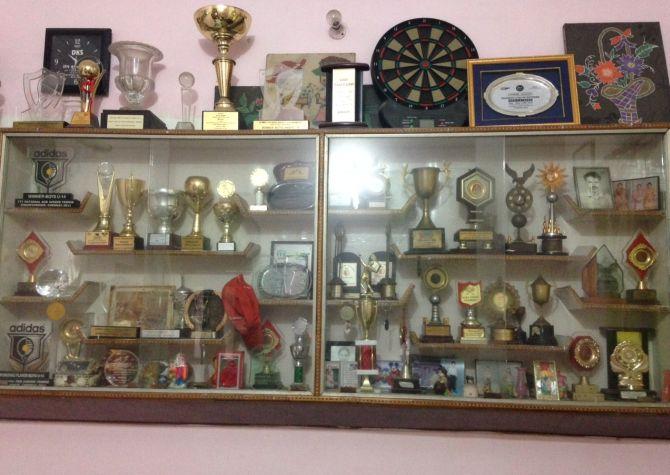 Image: The cabinet filled with trophies Sumit has won. Photograph: Manu Shankar/Rediff.com
When did the jump from DDA's coaching to the RK Khanna Academy happen?
In December 2007 Apollo Tyres asked Mahesh Bhupathi along with foreign coaches to conduct a nationwide talent hunt. They would selected 14 bright prospects and train them for the future. They had four rounds before the final selection process in Delhi.
It was there that Mahesh spotted Sumit and said there is talent in the kid. Frankly speaking, I didn't expect him to do so well. There were more than 5,000 kids in the trials and I wasn't expecting him to bag a place, let alone work with Mahesh.
Sumit was the youngest of them all and had to go to the academy in Bengaluru.
What has been Mahesh Bhupathi's contribution to Sumit's growth as a tennis player?
Whatever Sumit has achieved today is due to Mahesh Bhupathi's help and blessings. During the Apollo Tyres talent hunt, Sumit held Mahesh's hand and urged him to come see his game. He was pretty impressed by the kid's confidence level.
His mother, who accompanied Sumit to the trials, did not know who Mahesh was. Once he got into the academy, Bhupathi ensured that Sumit played in Europe to gain exposure. He supported us financially big time too.
They (Mahesh and Sumit) are pretty close and speak on a regular basis, discussing finer points of the game.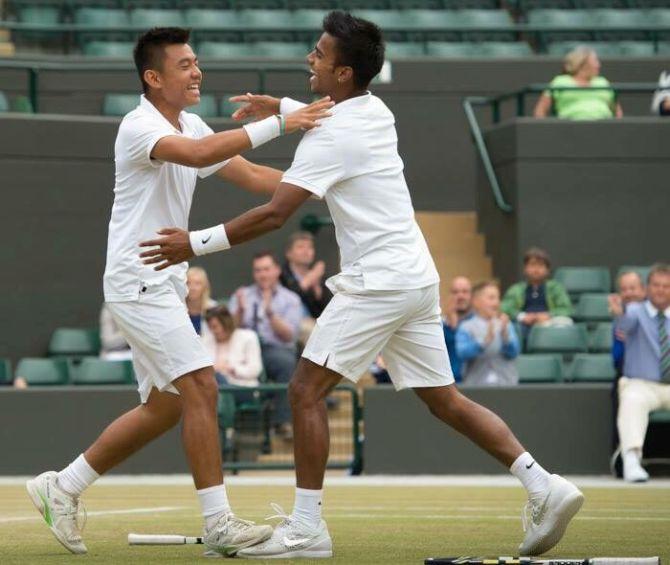 Image: Sumit Nagal and Nam Hoang Ly celebrate after winning the junior boys doubles title at Wimbledon. Photograph: Kind Courtesy Sumit Nagal
Sumit also took part in the singles at Wimbledon, but failed to go through. Were you disappointed?
He was aiming for singles glory at Wimbledon, but there were lot of complications which may have hampered his singles game.
First and foremost, his visa was delayed. He could only go to Wimbledon a day before the tournament commenced.
Secondly, at the airport, the Air India staff were not letting him fly as he was under 18 and asked him to bring along either a coach or guardian. His coach Mariano Delfino was supposed to meet him at Heathrow.
After spending considerable time explaining that he was going to represent the country in Wimbledon Air India let him fly.
In the commotion he missed the direct flight to Heathrow and had to travel to Germany, then take a train to London before just making it to the tournament.
Naturally, he was jet-lagged and tired. How can one expect him to do well?
Despite that he took the game against Juan Pablo Ficovich in the first round to the third set.
Coaches play an important role in the development of one's game. Do you rue the fact he doesn't have a personal coach?
A personal coach will enhance his game. At the moment he is missing one. A coach reads match situations better and is able to tell you the difference between a correct shot and a wrong one.
In Germany, when he practices, the coach records his practice games and then points out the mistakes so that he can work on his game. Otherwise, it's like two friends playing the game.
At the same time, we want someone who is good. Often you find people who won't even know the full form of AITA (the All India Tennis Association) or ITF (the International Tennis Federation) and are in the position of coach at various academies.