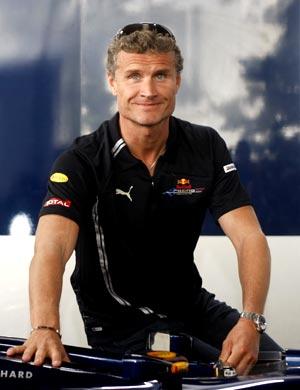 Formula One's newest circuit in Abu Dhabi could prove trickier this weekend than any other track introduced in recent years, according to former racer David Coulthard.
The Scot, a grand prix winner with Williams and McLaren before retiring last year, said he had plenty of respect for the Yas Marina track after driving reporters around it earlier this month.
"There are a lot of challenges on this track," he said.
"It's more difficult to learn initially than the likes of Turkey, Bahrain and Shanghai," he added.
The tight and twisty Abu Dhabi harbourside layout incorporates several novel features, including a hotel straddling the anti-clockwise track and a pit lane exit that brings cars back out on to the circuit after a tight left turn through a tunnel.
There are also fewer run-offs thanks to the use of new Tecpro energy-absorbing safety barriers.
"The big surprise first of all is that it has a real street-circuit feel to it," said Coulthard, who will be at the season-ending race as a pundit for BBC television.
"I think there will be a few of the drivers saying, 'this looks a bit tight'.
"In many ways they have got used to having tracks with lots of run off and you go to Suzuka (in Japan), which is a track with not a lot of run-off, and kids are throwing it (the car) in the wall. I actually think we need an element of that in Formula One," added the Scot.
"There has to be a penalty for going off a circuit. It should not be a big crash that ends up hurting you, but there has to be a price to pay. And I think this track has redefined the FIA safety standards because of the safety barriers."
Coulthard was less impressed by the pitlane exit, which he dubbed "a bit silly."
Abu Dhabi will be the first race to start in daylight and end at night, with the track fully floodlit throughout, and that could pose as many problems as the desert sands.
"Everyone will get on with it, and they will finish the grand prix. But there is no question that it is more difficult to drive at night," said Coulthard.
"It just is. It is the same when you drive your road car through the town. But is it impossible? Of course not, so you will get on with it. Is it going to be challenging? Definitely, because you will start with all the bright light and you will fade away to the darker light," he added.