Home > India > Sports > Formula One > Reuters > Report


Discuss |
Email |
Print | Get latest news on your desktop

Coulthard to retire at end of F1 season

July 04, 2008 12:00 IST


| | |
| --- | --- |
| David Coulthard | |
| | |
| | |
| | |
| | |
| | |
| | |
Former Grand Prix winner David Coulthard announced on Thursday he would retire from Formula One at the end of the year after 15 seasons in the sport.
The 37-year-old Scot, the oldest driver on the starting grid, said he would remain actively involved after that as a consultant to his Red Bull team and did not rule out an occasional test drive.
"I have had a growing feeling that this year is the right time to make it my last year in F1," he told a news conference at his home British Grand Prix.
"After 15 years I am clearly not going to battle for a world championship and am unlikely to win another Grand Prix unless something remarkable happens this year.
"I will be 38 next year and nothing lasts forever. I have enjoyed my racing and now is the right time," added the veteran of 236 races, more than any other British driver in the 58 years of the championship.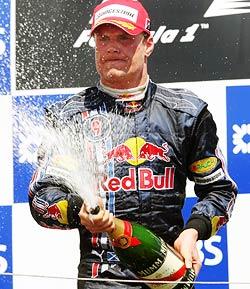 Coulthard, who is expected to be replaced by Germany's [Images] Sebastian Vettel, said he has also not ruled out competing in the future in some other form of motorsport.
Vettel, who celebrated his 21st birthday on Thursday, is currently racing for Red Bull's Ferrari-powered Toro Rosso sister team.
MCLAREN SUCCESS
Coulthard has won 13 Grands Prix, two of the victories coming at Silverstone, in a Formula One career that started with Williams in 1994 after the death of Brazilian triple champion Ayrton Senna.
His greatest success came in his nine seasons with McLaren, with the highlight being in 2001 when he finished overall runner-up to Ferrari's [Images] Michael Schumacher [Images].
In 1998 and 1999, when he had a race-winning car, he was eclipsed by Finnish team mate Mika Hakkinen.
Hakkinen's win in the season-opening 1998 Australian Grand Prix came after Coulthard was ordered by McLaren to give the Finn the lead after a pit stop mix-up triggered by a radio hacker.
"That was obviously a fairly defining moment," said the Scot. "But there you go, that's the journey of life. I don't think it would be half as fun if everything was perfect all the time."
In 2000, nine days after winning at Silverstone, he survived a plane crash in France [Images] that killed the two pilots of the private jet in which he was travelling.
Coulthard finished third in last month's Canadian Grand Prix [Images], his first appearance on the podium since 2006, and he said he would "continue to race with the same focus until the last lap in Brazil [Images]."
Red Bull team boss Christian Horner paid tribute to his driver as "a consummate professional".
"He has demonstrated that he is a real team player, a fact reinforced by the statistic that he has only driven for two other F1 teams in his career," he added.
"He scored our first point, our first podium and was the first of our drivers to lead a Grand Prix. Above all, he is a gentleman and I regard him as a good friend.
"His retirement brings to a close not just his career as a Grand Prix racing driver but also a chapter in the history of Formula One, if one considers the changes the sport has been through while he has been involved with it."
© Copyright 2008 Reuters Limited. All rights reserved. Republication or redistribution of Reuters content, including by framing or similar means, is expressly prohibited without the prior written consent of Reuters. Reuters shall not be liable for any errors or delays in the content, or for any actions taken in reliance thereon.

Formula One: The Complete Coverage
Email |
Print | Get latest news on your desktop