'I have realised that to be happy, you don't need luxury in life.'
'Simple things in life make you happy.'
The six-member all-women Indian crew that sailed around the world in 254 days is back!
The six naval officers on board the INSV Tarini docked in Goa after the first-ever circumnavigation of the globe by an all-women Indian crew.
The expedition, -- Navika Sagar Parikrama, which promotes ocean sailing activities in the Indian Navy and highlights the Government of India's commitment to women empowerment -- sailed on September 10, 2017.
Lieutenant Commander Vartika Joshi led the team of five naval officers, which included Lieutenant Commander Swathi, Lieutenant Commander Pratibha Jamwal, Lieutenant Aishwarya Boddapati, Lieutenant Vijaya Devi and Lieutenant Payal Gupta.
The Tarini, the indigenously built Indian Naval Sailing Vessel, also showcased the Make In India initiative. Lieutenant Commander Joshi and her crew covered 21,600 nautical miles and crossed the Equator twice, sailing the three Great Capes -- Leeuwin, Horn and Good Hope.
Lieutenant Commander Joshi, 27, a native of Rishikesh, had only seen the sea in photographs or in the movies till she joined the Indian Navy in 2010.
"This journey has humbled us down," the lieutenant commander tells fellow Pahadi, Rediff.com's Laxmi Negi.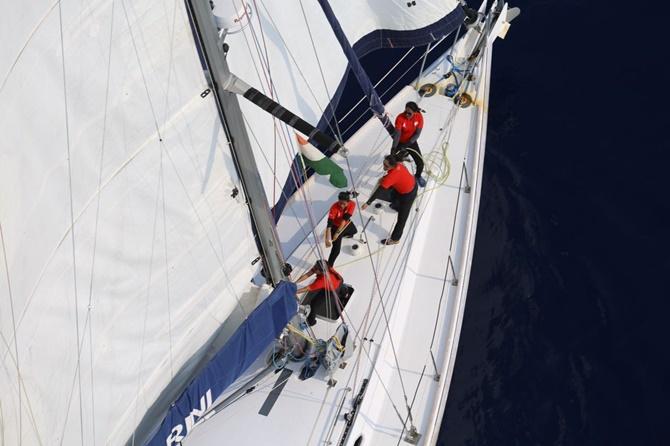 What was the first thing you did after disembarking the Tarini in Goa?
I had no time to myself, but when I got an opportunity, I took a bus to my home town.
How did you physically prepare yourself for the expedition?
Working on the boat was the best exercise.
The more we were on the boat, the more prepared we were.
Sometimes working out in the gym and building muscles won't prepare us to build the right muscles needed for the boat.
When we were raising and lowering the sails on the boat, we were building the right muscles.
So spending as much time as possible on the boat did help us.
Mentally, how tough was it to be away from home for so long?
Before the expedition we were mostly sailing. We hardly got time to be on land.
The more time we spent at the sea helped me to clam down.
What have you learnt from this expedition?
I learnt two new things: I had to lead this expedition, taking a crew of six for eight months.
I had to tune my mind to view things in a neutral way.
I had to learn to not get agitated by trivial things and look at the larger picture.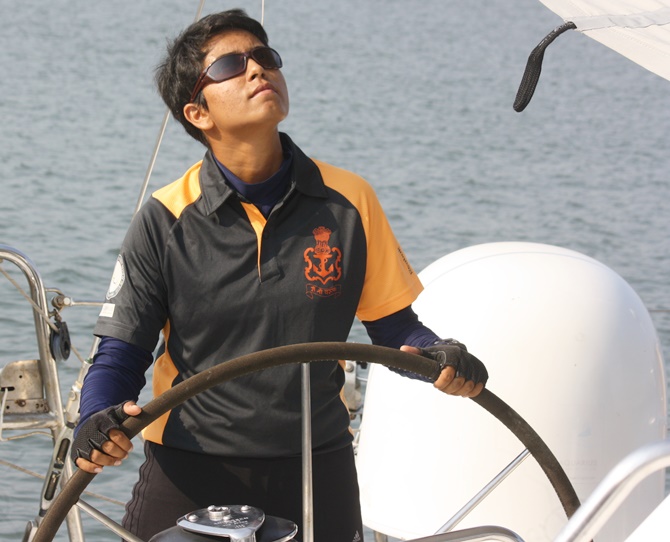 Has the experience changed you as a person and your outlook towards life?
This journey has changed something in me.
I have started seeing things in a neutral way. I have also realised that to be happy, you don't need luxury in life. Simple things in life make you happy.
This journey has humbled us down.
Earlier, I was highly opinionated; now I am receptive to others' opinion.
What kept you going?
Mentally, there was no time to delve into such feelings. I was getting prepared for this expedition for the last three years.
So when we actually set out on this expedition, it did not feel as if we were starting; it was like continuation. Basically, it's all about planning.
We were so much part of the boat that on the return leg after Cape Town, I had this sinking feeling, thinking about the journey going to end.
Which was the toughest point of the expedition?
On our return leg, the steering gear was damaged 2,000 miles off India.
We had to take a decision whether to directly come home or go to the nearest port and repair the damage.
After a lot of brainstorming, we decided to go to the nearest port in Mauritius (Port Louis).
We had to cannibalise the system.
Steering the boat to the nearest port was challenging, but once it was substantially repaired, we heaved a sigh of relief.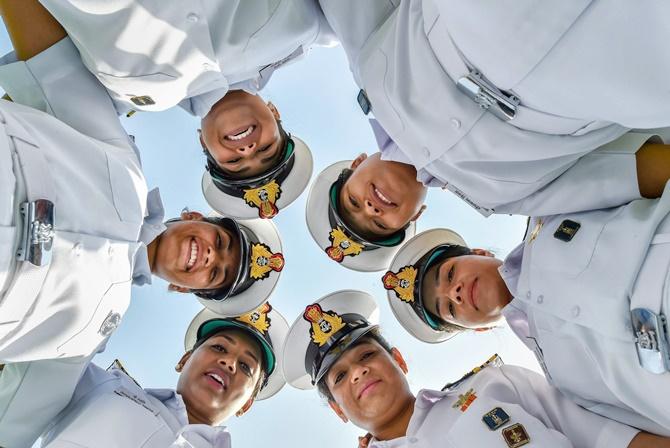 How did you celebrate birthdays or festivals?
We were fortunate to have a crew that was good and coming up with great ideas.
We celebrated four birthdays -- mine, Payal's, Pratibha's and Vijaya's; we also celebrated the boat's birthday. The crew baked cakes.
For my birthday, the crew made a cake with blue icing because they thought I was always as cool as the colour of the blue and the sea.
For Diwali, we prepared atta (flour) diyas with ghee and lit lamps.
It was not that there were no challenges, but we did not delve on those.
We just did not lose any opportunity to celebrate. It was a morale boosting exercise for us.
Tell us about the celebration after crossing the equator.
It is a tradition in the navy that whenever you cross the equator, you have to celebrate it.
It is like a ceremony. We baked a cake and offered it to Lord Varuna.
Was there any day that you couldn't eat?
Sometimes, the sea used to be so rough that it was not possible to stand in the kitchen.
We were ready for such situations with lot of meals, ready-to-eat and Maggi was always at hand.
You read a lot...
The crew was reading a lot of books on sailing and various journeys by sailors.
I read Jonathan Livingston Seagull.
I also read a lot of comics and books like Moby Dick and Robinson Crusoe.
I also read a part of the Bhagavad Gita. I had never read it, so I just wanted to experience it.