'I was determined to return with a medal from the World Championships.'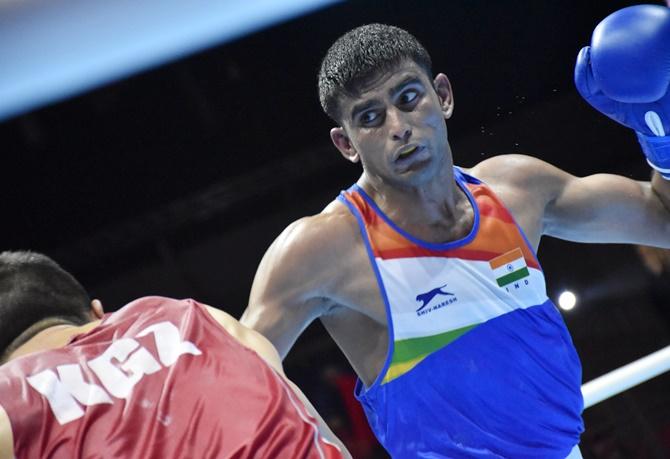 Manish Kaushik added another glorious chapter in the annals of Indian boxing after winning a bronze medal at the World Championships on debut.
The 23 year old had made his presence felt in the 2016 Nationals against Rio Olympian Shiva Thapa.
Locked in a battle for supremacy, Kaushik prevailed over Thapa for a place in the Commonwealth Games squad while the latter snatched an Asian Games place from him in 2018.
Kaushik, who earned a silver medal at the Commonwealth Games and gold at the India Open besides adding a couple of National titles to his impressive CV, was confident of returning with a medal after defeating Thapa in the trials in the 63kg category to book a spot for the World Championships in Yekaterinburg, Russia.
The farmer's son made it to the World Championships after yet another upset in a winner-takes-all contest against Thapa.
Kaushik feels those victories against the mighty Thapa were the turning point for him.
Hailing from Devsar Dham village, which is about 5km from Bhiwani, the cradle of Indian boxing, he is now preparing for the Olympic qualifiers in February, in China.
"Since I am assured of a place in the Olympic qualifiers, I am relieved," Manish tells Laxmi Negi/Rediff.com.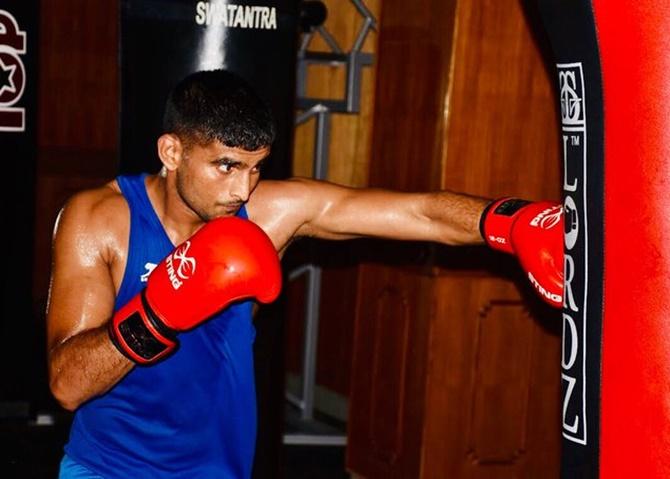 Where did you fall short in the semis?
I need to work on my strength as per my new weight class. I have recently shifted from 60 to 63 kgs, with that I need to increase my strength too.
Does luck play an important role in a boxer's life?
I believe in the luck factor, but I also believe in 101 per cent hard work. There is no replacement for hard work.
Who do you dedicate this medal to?
This medal belongs to all my coaches and seniors. Also to all the people who have stood by me when I was a nobody.
Have you started training?
I will be at Pune, training for the Olympic qualifiers.
We will need a lot of video preparation; what the opponent is good at, his strengths and weaknesses.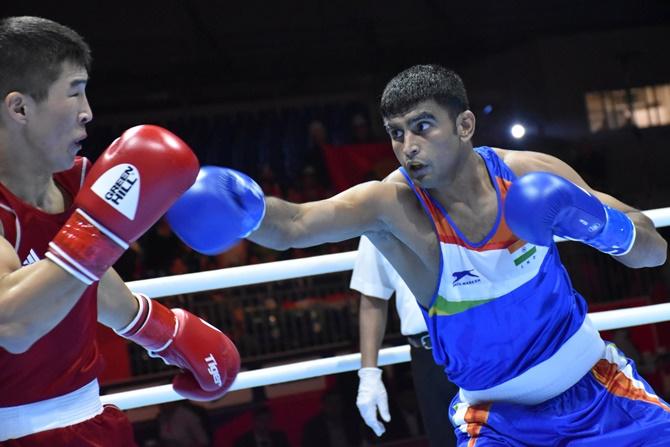 Are you relieved that you don't have to go through the trials? (Amit Panghal and Manish Kaushik have made the Indian boxing squad for February's Olympic qualifiers owing to their medal-winning show at the World Championships.)
Of course. The coach had told us before the World Championships that whoever comes back with a medal will not have to go through trials for the Olympic qualifiers.
I was determined to return with a medal.
Tell us about your rivalry with Shiva Thapa.
He is a good boxer. He is senior to me. There is just respect. There is no place for grudges or bad blood.
You have see-saw battles and the bouts are very close. Did you ever think of changing your weight category to evade Shiva?
In India, there are good boxers in all weight categories. There are no guaranteed slots. Everyone fights for their place.
The first time we met in the Nationals, it was a very close bout. So I thought to myself to stick to my weight category and fight for a place and try to beat Shiva Thapa.
After Vijender Singh and Vikas Yadav, you are another Haryana boxer to win a World Championships bronze. You think you can emulate Vijender for an Olympics medal too?
I am travelling to Pune for the same purpose. I will come back with an Olympic medal now.
Boxing is an individual sport. When the going is good, no problem. But when the going gets tough, does it get lonely?
I have been lucky in that aspect. I have always been blessed with good coaches who have been supportive.
Have you made any changes in your diet? Your coach has been vocal about a good diet.
At this level, all the boxers are good. A very small margin can be instrumental in winning medals at top level. Therefore, diet plays an important role.
I try to avoid eating out. There are temptations sometimes, but I don't give in.
The last two days I have been enjoying home cooked meals which are rare. When I reached home, I enjoyed dal bhati churma. Just two cheat days, and then I will be back to eating healthy stuff.
How do you unwind?
I listen to Arijit Singh songs. Good stress busters.