'If I make a mistake, Satwik always supports me. Usually, people would bring you down if you make errors and you end up taking more pressure and make errors. But he supports me a lot on court and that is his best quality.'
Find out what makes India's best badminton doubles pair click.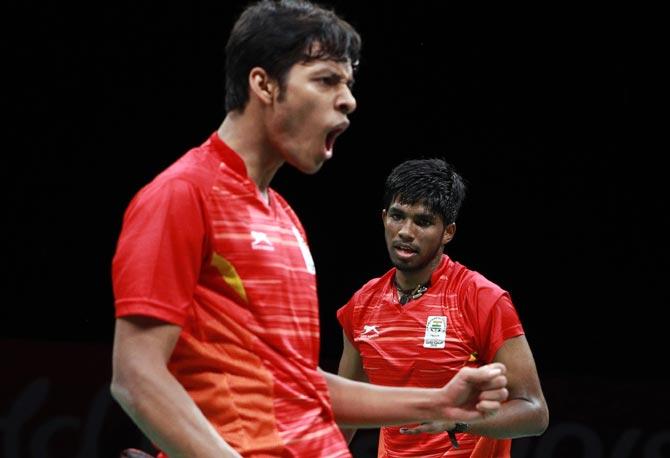 Chirag Shetty and Satwiksairaj Rankireddy created Indian badminton history by winning the Thailand Open doubles title -- becoming the first Indian pair to win the BWF Super 500 tournament.

The Commonwealth Games silver medallist's triumph is a much-needed fillip for doubles players in the country, who have traditionally seen the singles players walk away with all the accolades.

What made Chirag and Satwiksairaj's Thailand triumph special was that the tournament saw the participation of nine of the top-10 world ranked pairs.

The Indian duo outclassed Asian Games silver medallists Fazar Alfian and Muhammad Rian Ardianto in the second round, before getting the better of former world champions Ko Sung Hyun and Shin Baek Cheol in the semi-finals.

The icing on the cake was their splendid victory over reigning world champions Li Jun Hui and Liu Yu Chen in the final to win the coveted title.

However, in a major blow soon after, the in-form duo had to pull out of the Badminton World Championships because of injuries.

Interestingly, Shetty, 22, and Rankireddy, 19, didn't start off well way back in 2014 when India's former doubles coach Malaysian Tan Kim Her brought them together as a pair. They took time to get along but once their friendship grew and results started to improve and since then the duo have taken rapid strides.

Rediff.com's Harish Kotian caught up with Shetty to find out what went into their journey to the top and what makes the two young players click.

Shetty revealed quite a few interesting details like why his partnership Rankireddy is more like a 'married couple' and how the Commonwealth Games silver medal last year helped him convince his mom to pursue a career in the sport.
How disappointing is this injury setback because you had pull out of a big tournament like the World Championships where you really fancied your chances after the Thailand Open title?

Yeah it is disappointing, we felt bad that we could not participate in the World Championships. We were having a good run in the past week or so in Thailand, so it is was very disappointing.

But we had to take this decision because this being an Olympic year, we could not risk aggravating the injury and miss out on 3-4 tournaments, so it is better to rest for one tournament and then focus on the remainder of the season.
How long will you and Satwiksairaj be out of action?

Mostly, from next week onwards we will start training for the China Open and the Korea Open.
How difficult is to regroup after an injury lay-off? Does it take time especially in an event like badminton doubles to get your rhythm and co-ordination back?

If it is a long injury lay-off then it takes time, but if it is a short lay-off then it doesn't make much time. But in some ways it does because you are not playing for a couple of weeks.

However, you get time to work on a couple of things which you are not strong at, like you work on your legs if they are weak or something like that.

So, if it is not a long injury lay-off then it doesn't affect, but if it is a long lay-off then it does affect to an extent.
This being an Olympic year, how do you plan your game for the next 10-12 months leading into the Tokyo Games?

The world tour events are all throughout the year and we would hope to replicate the performances that we had in Thailand.

Our first target will be to make the quarter-finals in whichever tournament we play and if we do reach the quarters then we will take one match at a time and hope to play another win or win another Super Series title again.
It's been a couple of weeks now since you and Satwiksairaj won the Thailand Open title. How has life changed after that?

There has not been a major change but I have had a lot of people congratulating me for the win and everybody around me is very happy.
Does it feel good that finally doubles players are getting so are their due because all these years we have seen the singles players hog the limelight?

Yes. I think this is because the print media and social media as well have been posting a lot about our victory.

This is a lot different from before because it was always the singles players who usually limelight but now hopefully things will change of the better.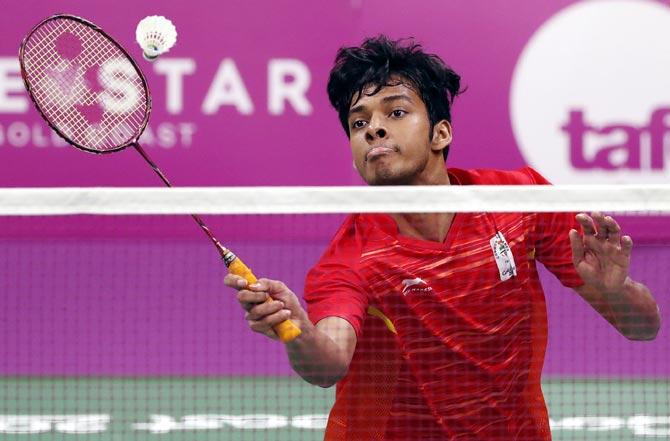 Your pairing with Satwiksairaj Reddy has been quite interesting, from two young guys who didn't get along well to now becoming best friends and one of the top doubles pairing in the world. How did the turnaround happen after the initial few days when things didn't go smoothly?

As we spent more time together we grew as friends and partners as well. I think the main tournament which changed us and our confidence would be the Mauritius tournament three years back. After that we went to win four back to back tournaments.

Even though Mauritius was a small tournament, I think we clicked as a pair and I started playing more in the front. Before that tournament we never clicked as a pair but after Mauritius we started playing as a pair and we started gelling together.
Yes, when you were paired together at the start, even your coaches were unhappy that two tall players with a similar aggressive style were being played together as a team. Was it difficult at the start to adjust? How did it all come together?

Definitely, both of us were back court players and nobody wanted to play in the front. But gradually when I started to playing in the front and got used to it, I started playing well and from thereon things changed for the better.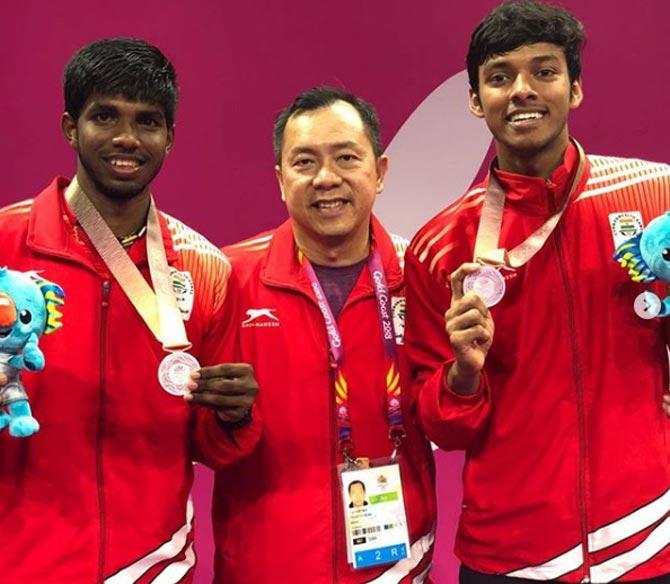 You were quite attached to former coach Tan Kim Her and were quite disappointed with his exit. How much of a role has he played in your rise?

His contribution has been tremendous. Tan was the one who brought us from the ranking of 300-400 to World No 16, and all the credit goes to him.

He brought us up from scratch. We were probably two talented players who didn't play well together and he was the one who made the changes and made us into good partners and doubles players as well, because he improved us individually too.

Tan always said that two partners are like a married couple, so they are both dependent on each other. He told us to have at least one meal together in a day so that our friendship was intact and for the pair to blossom on court.

He believed that we should have a good bonding offcourt, like a married couple basically.
So how did you bond with Satwik as a 'married couple' because offcourt your choices are vastly different when it comes to food or watching TV or movies?

We maybe quite different offcourt but we make adjustments for each other.

Satwik watches more of Telugu and I watch more of Hindi and English, so our choices are a lot different.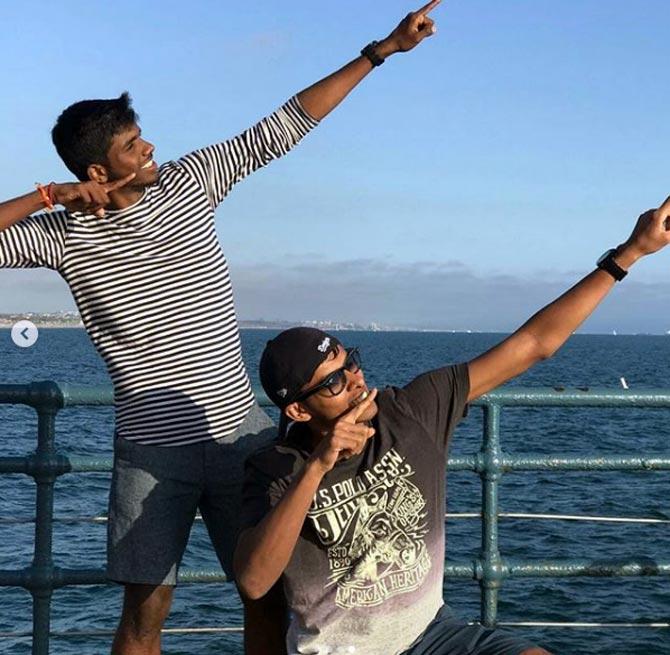 Usually, Satwik likes to have Indian food, so I would accompany him to an Indian restaurant (when outside India) most of the times. But some times now he is a lot better, because he would have Japanese food as well unlike in the past when he never used to try it.
What is the best part about Satwik both on and offcourt?

On court, he is very calm and he is very supportive. If I make a mistake, he always supports me. Usually, people would bring you down if you make errors and you end up taking more pressure and make errors. But Satwik supports me a lot on court and that is his best quality.

Offcourt he is a real fun-loving guy. If someone has a birthday, Satwik is the first one who will get the cake for him.

He is very funny and humorous and keeps us going.
When new coach Flandy Limpele took over, Satwik suffered an injury lay-off of nearly five months which meant you also could not get on to the court. How did he help you both get together after the long time-off?

Mainly, his training methods were a lot different and he focussed a lot on the physical aspect like running and power, like more of multi shuttles and all.

So our consistency became better than before.

And even though we played five good matches in Thailand right from round 1, we were never tried at the end of the final match.
How did you take up badminton because both your parents were both science graduates? Your mother was initially apprehensive because you were also quite good at studies. How did you manage to convince her?

I didn't manage to convince her till after winning the (silver) medal at the (2018) Commonwealth Games.

After that she felt a bit better because till that point she was not completely happy that I was playing badminton because she wanted me to pursue studies.

I always felt that I had a future in badminton, so after the Commonwealth Games medal she became a lot calmer.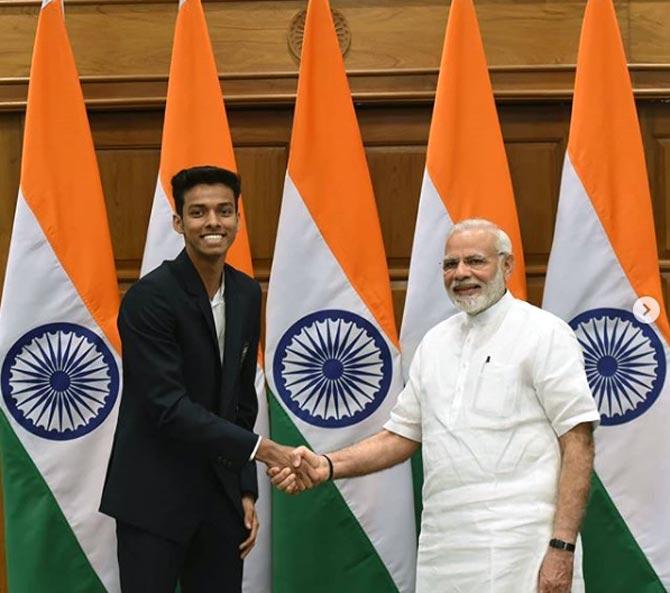 What made you take up badminton in the first place?

I started playing badminton at the age of seven under Manish Hadkar at Goregaon Sports Club (in Mumbai's western suburbs). Initially I started playing just as recreation but gradually when I started winning tournaments, my interest grew.

After completing my 10th standard I chose it as a career option. After passing my 10th standard, I had to choose between science and commerce and I opted for the latter because I wouldn't have been able to continue playing badminton if I had taken science.
So your sister Arya has also taken up badminton? Do you folks discuss the sport at home or do you discuss other things at home to get away from badminton?

We do speak about badminton but not much at home. She has also been doing quite well recently, she won a bronze medal at the Nationals.

She is also very interested in continuing badminton and hopefully she does because I don't think there is a lot of competition in women's doubles in India.
When did you decide to switch to doubles from singles? Did you ever regret making the switch because the singles players have made a name for themselves in the last 8-10 years while we barely hear about doubles?

Like as I said, I didn't start playing badminton to earn money or to earn fame, it was always my passion to play. Even when I decided to take up doubles, it was a tough decision because like you said there is not much support for doubles in India.

I was always inclined towards doubles and I always wanted to pursue doubles because I was good at it. It was never a decision of fame or money that came into the picture.

I never thought that if I become a doubles player I won't earn that much or I won't get that much fame.
Do you have any players or pairings whom you look up to in doubles?

Probably the two pairs whom I look up to in doubles would be Mathias Boe-Carsten Mogensen (of Denmark) and Mohammad Ahsan-Hendra Setiawan (of Indonesia).

Mathias Boe is also someone who helped you a lot during the initial days of your career…

He has helped me a lot. Around 4-5 years back when Mathias Boe had come to India for the Indian Badminton League, he used to visit Mumbai often and he used to visit our academy (Goregaon Sports Club).

So whenever he was in Mumbai, he used to practise in our academy. Even though he was World No 2 back then and I was just a junior player, even though I was playing for India in the World Juniors, still I was quite junior to him. Even then Mathias Boe used to train me as much as he used to do, like if he was doing five minutes, I was doing five minutes.

He used to advise me a lot on my defence stance. I am tall so I had to bend a lot while defending so he had made a lot of changes which helped me.
Badminton involves a lot of travelling, with tournaments scheduled all around the world. You must be barely getting time to spend with your family at home. You hardly spent a day or two at home after winning the Thailand Open. You are just 22, you must be missing your family a lot with so much time spent away from home. How do you keep in touch with family?

Every two months I go back home to meet my family but if I am not able to go home because of a tournament coming up, then my dad comes over to Hyderabad for a few days.

When I am travelling for tournaments in India, my dad or mom come with me but if it is outside India then we talk over the phone and keep in touch.

I had a couple of days with my family after winning the Thailand Open and I had a good time.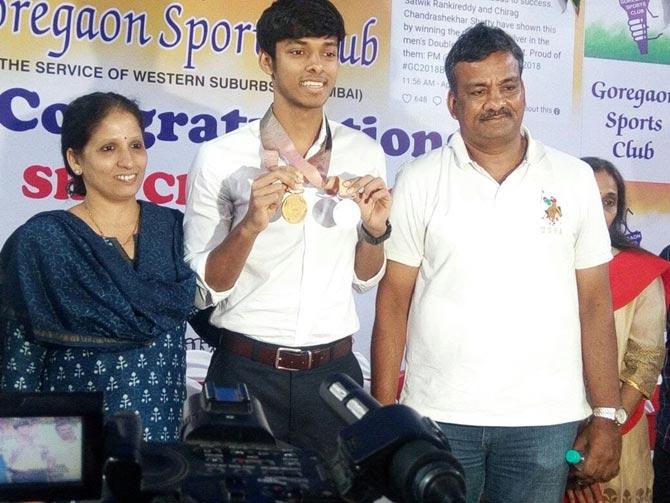 In any Mangalorean household, fish and chicken dishes are the staple food. Did you have to cut down on any of your favourite home cooked dishes to keep in shape for badminton?

Actually, I have given up sweets. I like Kaju Katli (sweet made of cashewnut) a lot but I have reduced a lot on that.

Now if I have sweets I feel that my body becomes a bit slow and I start feeling dizzy so I avoid having it.

But I don't avoid having meat and the Mangalorean fish or chicken curry is still fine for me.
And what is your favourite dish prepared by your mother?

Kori Roti (Mangalore Chicken Curry with dry rice crepes) and Pomfret Fry are two of my favourite dishes.

I had Kori Roti on Sunday at home before I left for Hyderabad.
You seem to be a big fan of TV shows. You watch a lot of Netflix shows when off the court, while you have also revealed on Twitter that you watch a lot of comedy shows and movies during tournaments.

I watch a lot of TV shows, I don't watch a lot of movies. I watch most of the top-rated shows on Amazon Prime or Netflix.
Whenever we are travelling for tournaments, as long as we are playing we cannot go out so we have to be indoors more. So usually, I watch a lot of TV shows and if I want to have a light-hearted laugh I watch comedy snippets from movies like Hera Pheri or Phir Hera Pheri.

My favourites TV shows are Breaking Bad, Narcos, Friends and Sacred Games. I just finished watching this Netflix series Broadchurch.