Men admire her ability to drive the ball in excess of 300 yards.
Women respect her talent for producing dynamic golf while looking like a fashion model.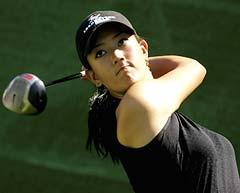 Whichever way you look at it, American Michelle Wie, the most celebrated teenage player since Tiger Woods, is a public relations dream.
The 15-year-old schoolgirl from Honolulu, who has set her sights on becoming the first woman to play in a men's major, is already one of the best known names in the game.
With her regal bearing, love of fashion and classical swing, she stands out from most of her rivals and there is a thrill of anticipation whenever she tees off.
Wie overpowers most of her LPGA Tour competitors, as well as many of the men on the PGA Tour, with booming drives. She also has that champion quality of being able to manufacture something special when under pressure.
Although yet to win a title at the highest level, Wie has come desperately close this year with three runner-up finishes and a tie for third at the Women's British Open on Sunday -- her debut in the final major of the year.
"In my mind, she is the equivalent of a female Tiger Woods because she's got it all," an American LPGA Tour follower remarked during the Women's British Open at Royal Birkdale.
"Women golfers have been waiting for somebody like this to come along. Michelle Wie stands out from the other female players because she is glamorous, tall and gorgeous and very poised in the way that she strides around the golf course.
"For club players like me she is easy to identify with. Plus she brings such a lot to the game."
For anyone watching the six-foot (1.83-metre) Wie in action, it is all too easy to forget she is barely midway through her teen years.
MOVES SERENELY
In the manner of boxing great Muhammad Ali or ex-West Indies cricket captain Vivian Richards, she moves serenely through her sporting arena as if the territory is her own.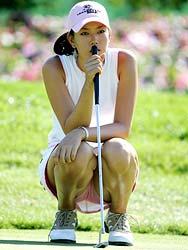 She exudes confidence, whether surveying the hole in front of her or walking purposefully down the fairway with head held high.
As with all top players, her pre-shot routine is always the same. Like a tiger on the prowl, she takes a practice swing before standing behind the ball and lining up her target, the selected club raised in one hand.
Wie then moves forward and, after a brief pause, executes the required shot.
Yet, for all her talent, she remains a typical teenager at heart.
"I love to shop and I like going out to the mall with my friends and going to the cinema," she said.
Although widely expected to turn professional on her 16th birthday on October 11, Wie still talks about her long-term plan to study business at Stanford University.
"Going to college and turning professional are two different matters and I don't connect them," she said. "I want to do both.
"But I know I am not old enough, mature enough or educated enough to handle big sums of money right now. It doesn't interest me until I am older. Right now I think being an amateur and making no money is good for me."
Wie has made no secret of her desire to go where no woman golfer has gone before.
"I really want to change what everyone thinks about the women's game, make them think a little bit more outside the box," she added.
FIRST WOMAN
"I want to play on the [men's] PGA Tour as well as the LPGA Tour, and I really want to become the first woman to play in the [US] Masters at Augusta National.
"My mind-set is that I can beat everyone in the women's game, but I don't really think that I'm the best yet."
There is no precedent for the remarkable Wie, who has effectively written her own scripts since she began playing the game as a four-year-old and fired a round of 64 at the age of 10.
In January 2004, she stunned the sporting world when she narrowly failed to become the first female to make the cut in a PGA Tour event at the Sony Open in her native Hawaii, missing out by a shot.
In her third crack at the men's circuit, at last month's John Deere Classic, she missed the cut by two shots after dropping three strokes in the last four holes.
However, it would appear to be simply a matter of time before the American succeeds where Sweden's Annika Sorenstam before her failed -- to reach the weekend at a PGA Tour event.
World number one Sorenstam, who missed the cut by four strokes at the PGA Tour's Colonial in 2003, regards Wie as the face of the future.
"She's a great young player and very talented," the Swede said at the Women's British Open.
"She's the next generation, she's the future."