The BCCI has retired the No 10 jersey in Tendulkar's honour.
But in football, number 10 signifies the legend.
After Pele and Diego Maradona, the two great strikers of the ball, Lionel Messi has made the number priceless, notes Veer Arjun Singh.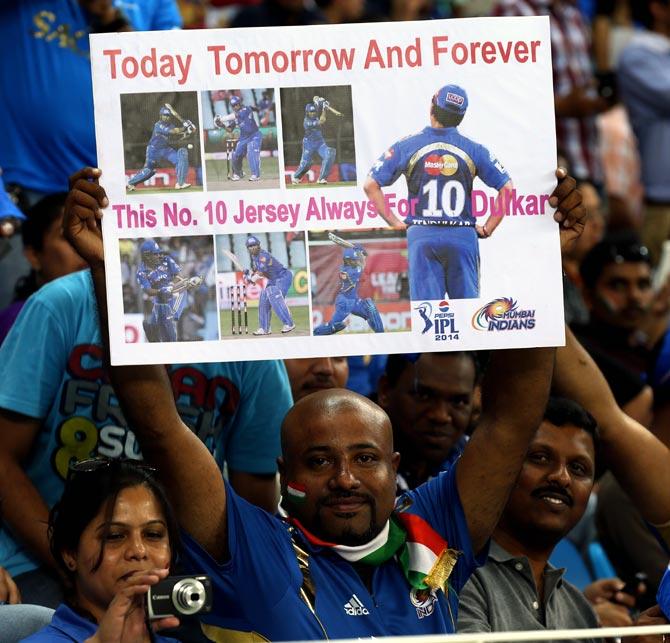 IMAGE: Sachin Tendulkar's fans make their view amply clear during an IPL game. Photograph: BCCI
The world of sports is a game of numbers.
They measure capability, set records and mark history. Sorting people by numbers often elides their individual identity.
But for sportsmen whose scores have surpassed the measure of greatness, the numbers on their jerseys have become their alternative identities. Such is the persona of legends. They make a number so unique that it immortalises them.
Among his many names, Sachin Tendulkar became known as the 'God of Cricket'. His 24-year-long career arguably made him the greatest batsman of all time. Ask the fans who still chant his name in stadiums.
His legendary batting prowess and the reverence of his fans have fiercely protected his number 10 jersey, the number which became synonymous with him.
Since his retirement in 2013, the sacrosanct number was worn by none but one Indian player, a young fast bowler, Shardul Thakur, for his debut match, and for which he was severely criticised.
The Board for Control of Cricket has learned from its mistake. In the absence of an official policy, that particular jersey has now been 'retired' from the game in Tendulkar's honour.
But a continent away, the echo of number 10 chants continue to fill the stadiums and beyond.
In football, number 10 signifies the legend.
After Pele and Diego Maradona, the two great strikers of the ball, Lionel Andres aka 'Leo' Messi has made the number priceless. The Argentinian FC Barcelona forward has five FIFA Ballon d'Or (Footballer of the Year) awards to his name, four of which he won consecutively.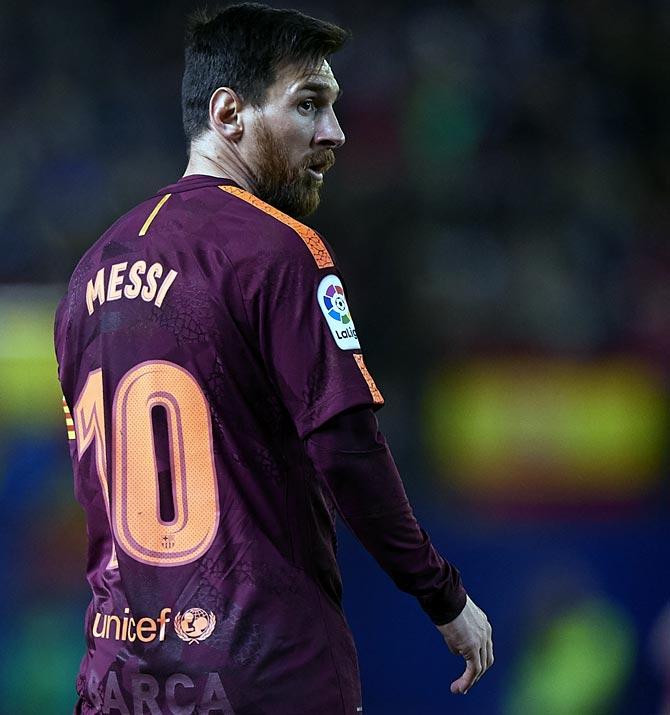 IMAGE: Lionel Messi in action for Barcelona. Photograph: Fotopress/Getty Images
The only man who challenges Messi's stature as the greatest footballer of his times wears number 7.
Since Cristiano Ronaldo recently said he may retire in the next four to five years, there has been chatter that his jersey could be retired too as a mark of his unmatched greatness.
But FIFA doesn't retire jerseys and the players in a team are numbered from 1 to 25.
Manchester United iconised the number 7, but, in cricket, a future hall-of-famer who is considered the best Indian captain of all time wears number 7.
Mahendra Singh Dhoni's retirement could likely elicit the call to (unofficially) retire his jersey too.
The practice, however, is official in other sporting leagues, and has been so for a long time. There are and have been players whose unmatched talent has earned them spots among legends in the hall of fame, along with their jersey numbers.
For those who follow America's NBA (National Basketball Association), the name of Michael Jordan towers above them all.
The Chicago Bulls star wore number 23 for most of his career, 45 briefly and 12 for one game against Orlando Magic, when his jersey was stolen in 1990.
The number 23 was retired by the NBA when Jordan finally hung up his boots in 2003.
IMAGE: Cristiano Ronaldo of Real Madrid celebrates a goal. Photograph: Gonzalo Arroyo Moreno/Getty Images
Number 23 also become footballer David Beckham's number when he moved to Real Madrid and ditched Manchester United's iconic number 7 jersey.
Beckham said he 'never owned it' -- and it was inherited by Ronaldo who went on to remake the identity of the number.
Incidentally, Australian cricketer Shane Warne, regarded as one of the greatest bowlers in the history of the game, also wore number 23. And so did Los Angeles Lakers' star basketball player Kobe Bryant aka 'The Black Mamba'.
Double the number and you have the jersey number of Valentino Rossi, the motorcycle road racer who has nine Grand Prix championships to his name.
The Italian is 38, roaring to go and always wears the number 46.
Moving from grass turf to race tracks to the ice court, Canadian Wayne Gretzky aka 'The Great One' is considered the greatest ice hockey player of all time.
After a career that spanned over two decades, the number 99 is the leading scorer in National Hockey League history and the only one to have scored over 200 points in a single season.
He said he wanted the number 9, to honour his hero Gordie Howe, but settled for 99 after a teammate beat him to it.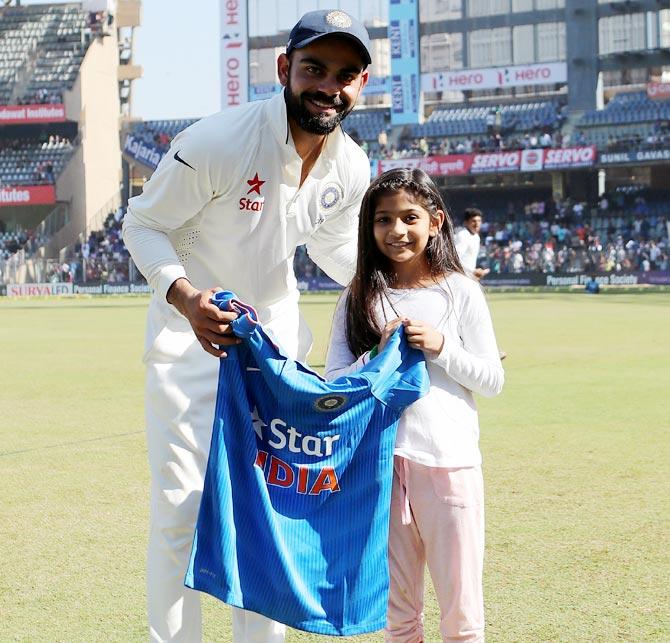 IMAGE: India Captain Virat Kohli presents his jersey to a young fan. Photograph: BCCI
Decades ago, in April 1947, Jackie Robinson gave African-Americans the hope of equality. His growing out of 'Negro leagues' into Major League Baseball was historic.
His number 42 jersey was 'universally' retired by the MLB in 1997.
One number has generally been unwanted: Number 13, believed to be unlucky in many countries. But superstition must give way to sports.
German football captain Michael Ballack wore number 13 and is among the top goal scorers in the country's football history.
But the one who truly turned the tide against the prejudice about 13 is Irish rugby player Brian O'Drisscoll, who believes that a jersey, like age, is just a number.