Roger Federer staged a single-handed takeover of men's tennis in 2004. In the women's game the Russians seized control.
Anastasia Myskina fired the first salvo for Russia at Roland Garros in June, becoming the first woman from her country to win a Grand Slam title.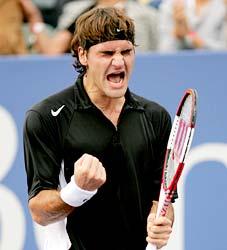 Four weeks later Siberian-born teenager Maria Sharapova demolished Serena Williams to win Wimbledon and in September Svetlana Kuznetsova powered to victory at the U.S. Open.
As the year drew to a close, Myskina inspired Russia to their first Fed Cup title against France in Moscow.
Federer's emergence to fill the vacuum left by the retirement of Pete Sampras stamped an indelible mark on the year.
The Swiss, who has a steely core to compliment an unrivalled arsenal of weapons, captivated fans across the globe as he racked up a 74-6 singles record.
By winning the Australian and U.S. Opens, and retaining his Wimbledon crown in between, he became the first player since Mats Wilander in 1988 to win three Grand Slam titles in a year.
He was unbeaten against players in the top 10, matched Sampras's 23-match winning streak and set a record of 13 consecutive wins in finals -- not bad considering he does not even have a coach.
The year was just weeks old when Federer dethroned Andy Roddick as world number one by marching to the Australian Open title against Marat Safin.
The 24-year-old then won tournaments in Dubai, Hamburg and Halle before breezing into an eagerly-awaited final against Roddick at Wimbledon.
On a rain-hit Centre Court defending champion Federer was briefly knocked out of his stride before he delved into his bag of tricks to win in four sets.
HOME ADVANTAGE
Further wins in the finals of the Toronto Masters and Bangkok gave Federer an 8-1 lead over the American by the year-end as talk of a Sampras/Agassi style rivalry proved premature.
Even with home advantage at Flushing Meadows, defending champion Roddick failed to land a telling blow on Federer, although this time it had nothing to do with the Swiss.
After steaming to the quarter-finals like an express train, Roddick's run came to a shuddering halt against giant Swedish ace-machine Joachim Johansson.
Federer ended home favourite Andre Agassi's dream of a ninth Grand Slam title in the last eight, before clinching his first U.S. Open title with an awe-inspiring 6-0 7-6 6-0 defeat of Lleyton Hewitt.
| | |
| --- | --- |
| | Also Read |
| | |
While
Federer's season concluded with another masterclass against Hewitt to win the Masters Cup in Houston, Roddick was left licking his wounds after defeat by Carlos Moya handed Spain their second Davis Cup title in a frenzied Seville.
South Americans scooped the remaining honours, Argentine Gaston Gaudio breaking the heart of compatriot Guillermo Coria at Roland Garros, winning a rollercoaster final in five sets as Coria's nerves and body failed him.
Nicolas Massu became a national hero, teaming up with compatriot Fernando Gonzalez to win the doubles in Athens and claim Chile's first Olympic gold medal.
Less than 24 hours later Massu beat American Mardy Fish in another marathon contest to add the singles title.
The women's season began in predictable fashion when Justine Henin-Hardenne beat fellow Belgian Kim Clijsters to win the Australian Open and confirm her number one ranking.
However, apart from an Olympic gold medal, the year turned sour for Henin-Hardenne as illness and injury took their toll.
RUSSIAN TIDE
By the time she lost the top ranking at the U.S. Open the Russian tide was proving unstoppable, with even the Williams sisters being swept aside.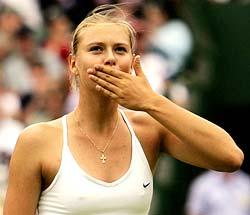 Myskina's 6-1, 6-2 victory over compatriot Elena Dementieva in the French Open final was a non-event for the fans, but it was a watershed for Russian tennis with thousands waiting to greet the winner on her return to Moscow.
Normal service appeared to have been resumed at Wimbledon where defending champion Serena Williams powered to the final for the loss of just one set.
However she was comprehensively outplayed by the dazzling, 17-year-old Sharapova in the final as the aura that had surrounded her in the previous two years faded.
American veteran Lindsay Davenport rolled back the years to capture four consecutive titles on American hardcourts during a run of 22 victories.
That run fuelled her rise to the world number one spot for the sixth time, although it was halted by yet another Russian in the semi-finals of the U.S. Open.
The 19-year-old Kuznetsova burst from the shadow of Myskina and Sharapova to beat Dementieva in the final, making it the first time since 1979 that three women from the same country had won Grand Slam titles in the same year.
With seven Russians ending 2004 in the top 15, next year could follow a similar pattern although there are already rumblings of a tennis uprising in China.
Li Ting and Sun Tiantian won gold for China in the Olympic doubles tournament and the development of tennis in the world's most populous country's will be watched with interest.