A Joseph Antony salutes S Krishnan, one of India's finest sports editors.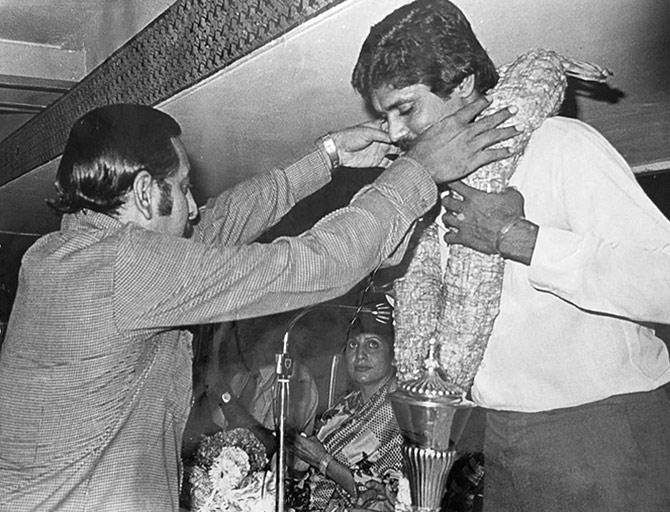 Success in sports stems mostly from teamwork. Now and then there comes a captain on whose singular strength an entire squad makes huge strides. One such titan, now departed for the Elysian Fields, was The Hindu's Sports Editor Srinivasaraghavan Krishnan, 'Kichan'
A university level cricket and tennis player, his fondness for horse racing took him to the sport's leading centres at Bangalore, Ooty, Mumbai and Hyderabad. When he was invited to assume the mantle of sports editor of one of India's oldest dailies, he was initially reluctant.
Gone were the days, when he could 'horse' around and his serious nature surfaced. For a huge responsibility had been entrusted to him and sure enough, he rose to the task.
His day at the newspaper's Mount Road headquarters began by bowing in homage to an image of his maternal uncle S Parthasarathy.
A senior member of the 142-year-old publication's management, Parthasarathy was known for his sterling qualities. Like many good people before and after him, he died young.
While Kichan was not free of flaws, with an odd favourite or two, he was by and large fair. Evidence of this lay in the coverage of sports seen as small or insignificant such as carrom or kho-kho.
So much so, that the national level tournament or championship of almost every sport had a reporter and photographer from his team covering it.
Meticulous planning ensured reportage, especially of widely followed sports, was from start to finish, even if an event ran for a week, fortnight, month or even longer.
If a reporter failed to file a day's dispatch or the editorial desk inadvertently missed its publication, the fireworks from the boss were bound to follow the next day.
The results of a match or tournament were sacrosanct and had to be carried in full. This often resulted in even children, participating in an event, buying the newspaper, simply to see their name in it, regardless of whether they had won or lost !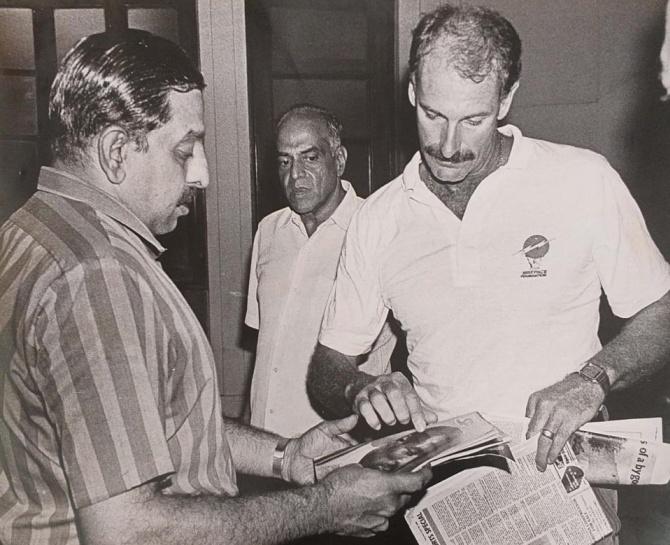 Far ahead of his times, he saw the connection between reader and newspaper right from the grass-root level. Local coverage from city to state and regional levels was therefore ramped up.
Aware of The Hindu's strong south Indian presence, he ensured no major event was missed in that territory but stepped up smartly with distinct coverage relevant to the north, when its Delhi edition was launched.
Critics complained about huge column space being set aside for horse racing.
Not many knew that according to independent market surveys, the equestrian sport stood second only to cricket in terms of followers.
Wisdom of such extensive coverage was borne out by just one move to undermine it.
In later years, it was decided to scale down racing reportage, something he would have resisted.
'Track notes,' an essential ingredient of racing coverage pertaining to timings of horses in early morning training, was stopped. The result was immediate.
Circulation of the paper dropped by 2,000 copies a day in Malakpet area alone, where the Hyderabad Race Club is located !
To lend muscle to in-depth analysis, he enlisted Prakash Padukone to cover badminton, Michael Ferreira for billiards, Bobby Sinha for bridge and Manuel Aaron for chess among others.
Sunil Gavaskar's weekly piece in the Saturday Sports Special had a wide following too.
So was material sourced from international experts in tennis, cricket and other sports.
If the sports pages sprang to life through high quality images, Kichan wouldn't hesitate to pay huge prices for razor sharp photographs from the likes of Patrick Eagar or Adrian Murrell.
Nor was he averse to pick up articles from leading feature agencies such as Compass or The New York Times Service.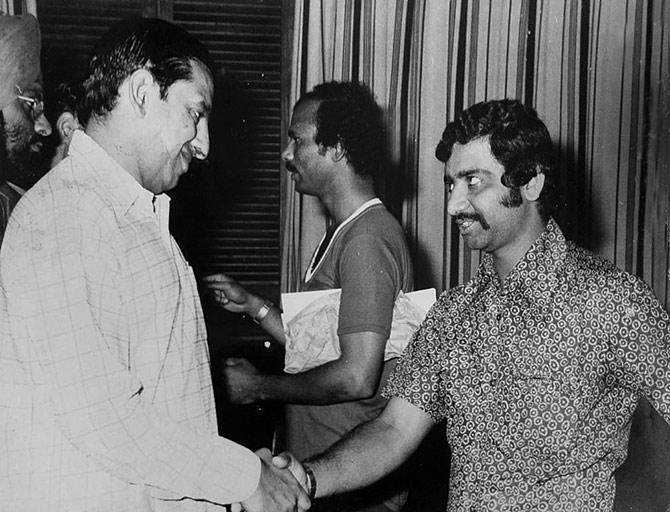 International standard articles were perhaps a challenge to The Hindu's own correspondents for whom bylines were gold dust.
A reporter had to win his spurs through original stories, which were genuinely exclusive or written well.
Not surprisingly, it took him or her quite a while to enjoy the satisfaction of seeing his or her name in print above an article.
Kichan's gruff voice and aloof demeanour were enough to scare people away. But behind that exterior was a man who was by and large open to reason.
Although accused of a slant towards reporters and against the desk/editorial, one incident should dispel that notion.
A senior correspondent's report was once cut to size. Sure enough, he went whining to the sports editor.
Going by the principle of balance that The Hindu is known for, Kichan summoned the sub-editor guilty of 'mauling' the correspondent's report.
A printout was duly brought to examine whether the editing was actually required or whether the sub-editor was simply indulging in one-upmanship.
After taking a good look at the changes made, Kichan asked the sub-editor to give his reasons for the changes.
It became clear to him that there were many superfluous words, sentences in the report, which could be removed, without adversely affecting the report's content.
With many sports and reports jostling for space, tight editing was the need of the hour. The sub-editor was exonerated, with Kichan convinced there was no malafide in his work ethic.
All this happened with the accuser and the accused facing other and with complete transparency.
When Kichan was at the helm, Sportstar was launched by The Hindu group. Its centrespread posters soon became a hit not just with sports lovers, but even leading cricketers of the day.
So much so, that when it was relaunched in different avatars, almost every city saw the presence of sporting greats at the functions.
Under his stewardship, the glossy, all-colour, only-sports magazine, one of its kind in the world, touched dizzying heights. It left Australian spin legend Shane Warne wondering if it was published from India!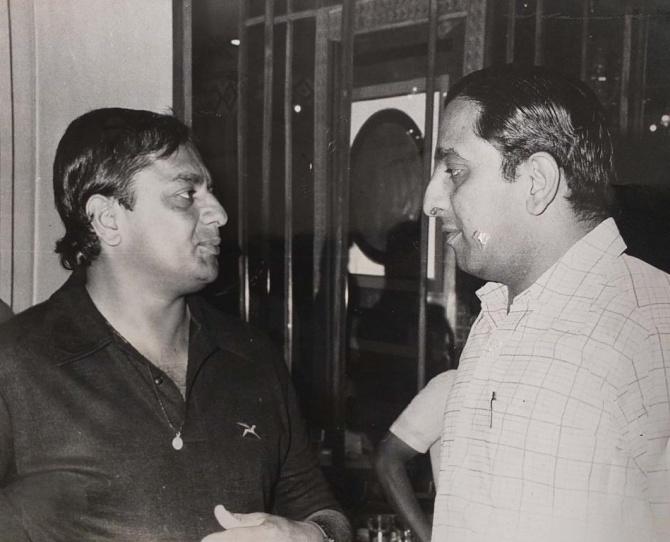 While he was largely of a no-nonsense kind, his man-management was a lesson for many. He never got personal when he pulled someone up.
The strongest condemnation in 12 years that this former correspondent got for bungling was, "What kind of a reporter are you?" Most importantly, in minutes after the scolding, the foul-up was forgiven and forgotten.
With growing interference from higher-ups, Kichan stood by his men, even when they made the most glaring mistakes.
He said he would sort out things himself and rigidly refused direct intervention from the powers-that-be.
At a time when the press workers union, affiliated to the state's ruling party, breathed fire, he came down on the unionists like a ton of bricks when they tried to browbeat his sub-editors.
So was he courageous to stand by the reports published, even with litigation likely.
He was quite capable of seeing through strong arm tactics often used by sports officialdom to get aggrieved sportsmen to retract their allegations.
In Kichan's eyes a rebuttal was not just admittance of guilt but a lack of confidence in his man on the field.
Similarly, he never dropped names of several cricket celebrities he knew personally, even after he had rubbed shoulders with many.
While reporters and the desk were free to call him anytime of the day or night, he took particular care never to call anyone beyond 9 pm or before 9 am.
When his innings came to an end in 2003, he showed much grace in parting, individually calling those he cared for, to bid farewell.
Production: Rajesh Alva/Rediff.com